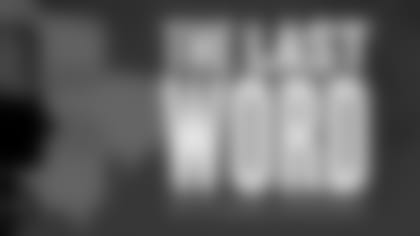 Welcome to The Last Word with Dave Spadaro, a question-and-answer feature that runs weekly and highlights some of the provocative players, coaches and faces who have shaped this Eagles franchise. Today: Eagles pro scout Ted Williams, who coached tight ends, running backs and tight ends again for this team from 1995-2014.
Dave Spadaro: How many people named Ted Williams have you met in your life?
DS: Never the Ted Williams?
TW: Never. The closest I ever came was when I met his fishing boat captain's daughter. She was a cab driver. And when I told her what my name was, she broke out laughing and said, "My dad is his fishing boat captain in Boca Raton, Florida."
DS: How many times have you been confused with the Ted Williams?
TW: Once. I had a hotel desk clerk stay up all night in Spokane, Washington. I was coaching at Washington State and I was flying from Spokane to Minneapolis and I stayed at a Ramada Inn and the desk clerk waited up all night to meet me. I got there and he said, "Oh, you're Ted Williams." He tried to disguise his disappointment.
DS: What has been the secret to your success? You've been in the NFL a long, long time.
TW: I tell people all the time that the secret to any success in any situation is humility. Understanding that you aren't greater than the sum of the whole and understanding that you have a job to do, a role to play and a contribution to make and if you do those things with dignity and pride, somebody will notice. But never try to promote yourself.
DS: How did it all start with the Philadelphia Eagles?
TW: A guy by the name of Jeremiah Davis, a scout who came by to watch tape when I was in college, saw that I was sending out résumés long ago and he said, "Ted, you are going to get to the NFL. But a résumé isn't going to do you any good. You're going to get a job when someone calls you up and says, 'Ted, I've got a job for you. Do you want it?'" I thought he had gone off the deep end. It turned out to be true.
I knew Ray Rhodes before he became the head coach here. I was at UCLA coaching inside linebackers and I went on a visit to the San Francisco 49ers and the coach I was visiting was busy. He put me in a film room until he had time. Ray came by and he took me to lunch to discuss a player there that I had coached in college. So I knew Ray from years before.
When Ray got the head coaching job here, John Wooten, then in personnel here, promised me he would get my name in front of Ray for consideration. The first job that came up was to coach running backs and that went to Dick Jamieson. Check that one off. The next job was linebackers. That went to Joe Vitt. Check that off.
John told me that the next job that came up was tight ends. He told me to expect a call. No call came throughout the weekend. I got another call from John telling me the job was open. He told me to expect a call. No call.
I go home and have dinner with my wife, Theresa, and said, "I've come to this conclusion: God answers all prayers. Sometimes the answer is 'No.' I've come to grips with that and I'm fine with it." This is a Monday night at 7 o'clock. I go to sleep and the phone rings at 5 a.m. "Ted, this is Ray Rhodes. I've got a job for you. Do you want it?" How did he know?
DS: Had you ever coached tight ends?
TW: No. I learned the playbook and the scheme first and then I became a teacher. Coaching is 99 percent teaching. That first year, 1995, we had a lot of tight ends coming and going. William Fuller, a defensive end here, used to laugh at me and say, "Ted, it might be you." But I was blessed to have Jimmie Johnson and Ed West here, two veterans who knew the game. They would say to me, "Ted, what do you need? We will take care of you and we will find a way to get it done."
DS: You had your greatest success with the running backs here – eight times a running back went over 1,000 yards under your direction. Legendary names here. How special was that group?
TW: I was about to start my third year as tight ends coach and Ray calls me and asks me to coach running backs. He says, "You OK with that?" I said, "I need to talk to you about this." I knew that Ricky (Watters) and Charlie (Garner) would be a big challenge. I wanted to get the ground rules set before we started. All I wanted from them was their respect, because I knew then that players just want a coach to make them a better player. That is our job. I told that to both Ricky and Charlie and I needed them to understand that and if they did, we would be fine.
DS: What is your scouting report on the long line of backs you worked with here?
TW: Ricky was the consummate worker. He was blessed to have been in the shadow of Jerry Rice with the 49ers. Jerry held him accountable. Ricky always worked. Strong, powerful runner. Very gifted individual. Charlie was probably the best athlete of the group. Fast. There were things he could do with the football that defied explanation.
Duce Staley was the consummate team player. He came in as a running back, but he wanted to get on the field and they asked him if he would play fullback and he said, "I'll play anything." He was able to learn two positions, which is very difficult at this level. Very smart guy. What he did as a rookie was far beyond what any rookie ever did. Duce did it all.
I remember Brian Westbrook's workout day here and he brought a guy with him to throw him the ball. Guy couldn't hit the broad side of the barn. Threw everywhere but to Brian, but Brian caught everything. He put on a show as far as versatility. Brian was so humble. Had a knee injury, went to a small school at Villanova. I don't know if he had a chip on his shoulder, but he played like he had one.
Correll Buckhalter was a joy to coach. He knew how to work and he had a quiet confidence about him. He never backed down from anything. He had those knee injuries, and that's a shame.
LeSean McCoy was one of my favorites. He was so young when we got him. The way he made people miss in a small area was so rare.
DS: Then you went back to tight ends and had success with Brent Celek and Zach Ertz. How was that?
TW: Great. They are football players. Professionals. They understood the partnership between the player and the coach.
DS: What is a gameday like for a coach?
TW: When I first got to the NFL, I was so thrilled. I saw all these things on television and I thought, "Wow, I'm really here." That wears off. We went 1-3 in my first four games and I realized how hard the NFL is. The thrill of gameday is watching guys prepare to go out there and see all of their hard work pay off. They take that first hit and you see if the players are up to the task. I relish in the success of the people I've worked with for so many years have had. I enjoy the camaraderie. The only thing that lasts is the relationships that have been built.