When Chip Kelly named Michael Vick as his starting quarterback on Tuesday, he did so with the hopes that Vick could recreate his 2010 season, during which he lead the highest-scoring offense in Eagles history (439 points) en route to NFL Comeback Player of the Year honors.
The key to whether or not Vick can return to that form may just be the men up front. The Eagles offensive line features two players who did not play for the team last season - tackles Jason Peters and Lane Johnson. On the left side, you have a five-time Pro-Bowl selection who is considered one of the best at his position. On the other side is Johnson, the fourth-overall selection in this year's draft and a player who will be counted upon in his rookie season. While their situations and backgrounds are different, they share a common goal of protecting the quarterback.
"We want to try to be the best," Peters said. "(We want to) try to give up the least sacks ever in Eagles history. That's the first goal, and then try to get a championship. We've got an athletic line and if we come together, we're going to win games because it's going to start with us."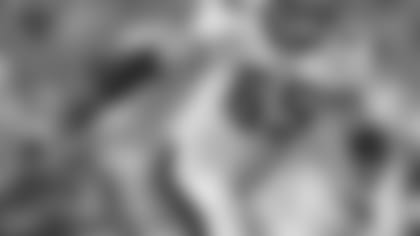 The most interesting similarity between the two tackles is that neither started off their football careers playing as offensive linemen. Peters was originally signed as an undrafted free agent by the Buffalo Bills as a tight end, while Johnson started off his collegiate career as a quarterback, before moving to tight end and then eventually to the offensive line.
"We're built differently," said Johnson, who will protect Vick's blind side. "I think we're both pretty quick, but he's lower to the ground. His center of gravity is a little bit lower than where I am, so he's probably a little bit better for handling the bull rush and things like that.
"(Having Peters back) makes everybody play better. I know he's one of the best in the league, if not the best. He drives me to be better every day, so hopefully one day I can be like him. Going into every practice I try to emulate him. I watch him on tape and try to emulate everything that he does."
Entering his first year in the league, Johnson has turned to Peters early and often in order to learn everything that he can about opposing defenses.
"(He's helped me with) just reading different guys and knowing what sets to use on them and just different moves," Johnson said.
Meanwhile, Peters has been impressed with what he's seen from Johnson.
"He's an athletic guy," Peters said. "(He's) willing to learn and he's going to be a great right tackle or left tackle or wherever they put him at."
After missing the entire 2012 season with an Achilles injury and the first two preseason games because of a hamstring problem, Peters has been back practicing with the team and will see his first game action in over a year on Saturday night in Jacksonville. His presence in the lineup will give Eagles fans their first opportunity to see the projected starting offensive line to play together, and Peters is excited about what the Eagles offense could do in the upcoming season. 
"I'm very excited just to get back on the field," Peters said Wednesday. "I haven't been out there in over a year since I was injured. I'm just excited to get back out there and run around. ... I felt good out there today. I got a little work in yesterday and I felt good. So far so good."
Offensive tackle isn't necessarily the most glamorous position. Often times, the tackles are only noticed when they commit a penalty or allow a sack, but the position is much more valuable to an offense than one might imagine.
"It's kind of on us," Peters explained. "The tackles make most of the calls. We have to look at the defense and make our call and get the play going. It starts with us."
Keeping in mind the importance of the position, it will be interesting to watch as Johnson adapts to his first road test of his NFL career when the Eagles take the field against the Jaguars.
"I think it will be a good test for us," Johnson said. "They're probably the best pass-rushers that we've seen. Jason Babin used to play here and he's over there now so it's going to be a good test for us. I'm looking forward to it. It's obviously my first NFL game on the road. It's going to be a first so I'm excited."
Peters is returning to the Eagles lineup with lofty expectations for both the offensive line and the rest of the team. For Peters, being part of a good unit won't cut it. He wants to be a part of the best offensive line that the franchise has ever seen, and he wants to bring a Super Bowl championship to Philadelphia.
Protecting Vick will go a long way towards accomplishing those goals.