Another day, another key veteran locked in long term for the Eagles. On Saturday it was center Jason Kelce's turn as he agreed to terms on a one-year contract extension through the 2021 season. The news on Kelce came after defensive end Brandon Graham, slated for unrestricted free agency on March 13, agreed to terms Friday on a new deal through 2021.
Kelce's deal is different in that he had two seasons remaining on a seven-year contract that he signed prior to the 2014 campaign. Now the Eagles have Kelce under contract for a total of three seasons.
Isn't this fun? Howie Roseman has said repeatedly that he won't let the Eagles' snug salary cap situation negatively impact the team's aggressive approach in free agency and he's backing up his words with action. Keeping Kelce with a third contract gives the 2011 sixth-round draft pick a chance to play his entire career in Philadelphia.
"Obviously, it's a tremendous gesture by the team," Kelce said in an exclusive telephone interview on Saturday morning. "They didn't have to do anything like this. I'm really happy to be in Philadelphia – I have been my whole career. I love being part of this organization. For everything to continue to go this week, for the team to be how good it is, for the coaches to be as good as they are, I just feel extremely lucky to be in this situation.
"I thought, after I signed my second contract, that I didn't know that there would be a third contract. I've always taken this one year at a time. Being a sixth-round draft pick, I didn't have expectations, really. I was just like, 'Let's go to work and see how everything turns out.' It's pretty crazy when you look back at things to realize that you're going on Year 9 and on your third contract in the NFL. It's kind of a surreal feeling when you look back on it."
At the top of his game, Kelce in 2018 was named first-team All-Pro by The Associated Press after allowing only one sack in 16 games started. He was integral in helping block for a unit that ranked third in the NFL in offensive points per game (27) from Weeks 12-18, when the Eagles finished the regular season 5-1 on the way to their second consecutive playoff berth. Kelce has two Pro Bowls along with his two All-Pro seasons, and he's established himself as the best of the best in the game. Kelce was first voted to the Pro Bowl following the 2014 season, becoming the first Eagles center to reach the Pro Bowl since Jim Ringo did it in 1967.
He's also the best center in the history of the franchise, combining great athleticism, leverage, and intelligence to stand out. Kelce battled a variety of aches and pains to play 1,037 snaps, 95 percent of the offense's activity, in the regular season and then he played 100 percent of the snaps in the two postseason games.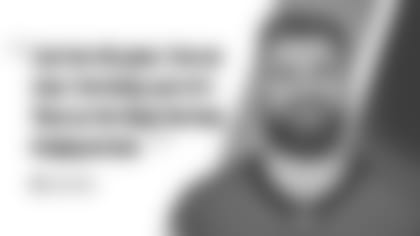 "Everything that we do on the offensive line begins with Jason Kelce," offensive line coach Jeff Stoutland said during the 2018 season. "He's the engine. He makes the protection calls, he communicates to the rest of the linemen, and he's aware of everything going on around him. Jason is at a different level and there is no question that he makes everyone around him a better football player."
The 191st pick in the 2011 NFL Draft, Kelce no question goes down as one of the best draft picks the Eagles have ever made, and he's far from finished. A full offseason of recovery, rest, and training will give Kelce the opportunity to begin his ninth Training Camp healthy. That's going to be important as the Eagles still have some questions that need answers up front, including the health of right guard Brandon Brooks, who suffered a torn Achilles tendon injury in the playoff loss at New Orleans, and the status of left tackle Jason Peters, a hot topic with regards to his future when reporters had a chance to talk to Roseman on Wednesday at the NFL Scouting Combine in Indianapolis.
Those answers will come soon enough. For now, the story is Kelce's contract extension and the Eagles' ability to have more options when free agency begins.
"The way our team looks and our expectations, that's one of the biggest reasons I feel so fortunate being in Philadelphia," Kelce said. "We have a tremendous amount of talent with a lot of really, really good players. We're really fortunate. The front office has done a tremendous job of assembling a great team, so obviously we have very, very high expectations next year. We didn't quite meet them this past season, but we all feel that we're doing nothing but getting better here."
Kelce reflected on Saturday morning about his career and the success he's had, crediting those around him, Stoutland for sure, and understanding that Kelce has put in so much time in the film room and in the weight room to prepare for each week's challenge. Those aches and pains add up, and when 2018 ended, reports circulated that Kelce was considering stepping away from the game. Those reports were true. Kind of.
"For the past two years, you kind of re-evaluate where you're at at the end of each season," he said on Saturday. "As you get older, the seasons become harder to play. The injuries that you've had for a long time start to add up and at different in the season and at the end of the season when all of the injuries have added up, you sit back and think about it. My wife (Kylie) and I have discussions, and we've had them for the last two years about what's next and where we're at and whether I can do another one and whether it's in the best interest long term for my health. At the end of the day, once I'm on the field, once I'm in the building, I just love this game. I love our team, I love being a part of it. Those are the things that keep bringing me back. Those things will never go away. It's just how much longer can the physical aspect hold up."
Of course, the legacy of Jason Kelce was established when the first of his Pro Bowls and All-Pro bids happened, and then he became a downright living legend when, dressed as a Mummer, he delivered the all-time incredible speech on the steps of the Philadelphia Museum of Art during the Parade of Champions following the Eagles' Super Bowl LII win over New England in February, 2018.
"It was a very real moment for myself and I think that the fans and really everybody watching it picked up on that as well, that it was really coming from the heart," Kelce said. "It wasn't some sort of show, even though it might have looked like it with the Mummer outfit and all the spectacle around it. It was something that came from a burning place down inside that had been engrained through a lot of hard work, a lot of failures, a lot of success throughout my entire career, and the same thing with the city and this entire organization."
Well said. And well done once again by the Eagles to get a second veteran contract done in as many days, and by Kelce for lining himself up to be an Eagle for his entire NFL career, a remarkable career path for a sixth-round draft pick at one of the game's most demanding positions.