Lonny Cades was 5 years old when he attended his first Eagles game. But he can remember it like it was yesterday.
It was November 21, 1955. The Eagles lost a heartbreaker to the Los Angeles Rams at Connie Mack Stadium by a score of 23-21 on a late field goal. The quarterback for the Rams was future Eagles legend and Pro Football Hall of Fame inductee Norm Van Brocklin.
Lonny attended that game with his father, Abraham, who has been an Eagles Season Ticket Member since the late 1940s. Besides occasional sick days or vacations, the Cades have been in attendance for just about every home game since.
The Eagles are something Lonny, now 67, shares with his whole family. Abraham, 93, still attends every game he can. Lonny began bringing his son David, now 36, to games when he was 2 years old and needed a potty chair with him at Veterans Stadium.
And on Thursday, when Josey, David's 3-year-old daughter and Lonny's granddaughter, joins the family at the Eagles' preseason opener against the Steelers at Lincoln Financial Field, four generations of the Cades family will see their beloved team together for the first time.
"It'll just be so neat," Lonny said. "I went with my dad when I was really little, and now it's my son and his daughter. I don't know how much she'll remember, but we'll have pictures of her there and hopefully when she gets a little older, my grandson gets a little bit older, they'll be able to come in for some regular games."
Lonny, who has seen too many great Eagles players to name just one or a few as his favorite, was 10 years old when he sat in the cold bleachers of Franklin Field for the 1960 NFL Championship Game against the Green Bay Packers. He remembers seeing Tommy McDonald catch the game-winning touchdown pass and crash into a snowbank outside of the end zone as the Eagles became the only team ever to beat Vince Lombardi in the playoffs.
Lonny remembers his seats being in the lower level of Franklin Field close to midfield and under cover of the upper deck. When the Eagles moved to Veterans Stadium in 1971, the Cades sat in the open on the lower level and once again had a fantastic view.
Lonny recalls sitting near Pro Football Hall of Fame defensive end Claude Humphrey's wife during his time in Philadelphia and bringing her hoagies on Sundays. And he can still visualize the special moment when Wilbert Montgomery broke free for a 42-yard touchdown run against the Dallas Cowboys in the 1980 NFC Championship Game.
"It was Wilbert's run that did it," Lonny said. "It was an incredible game and the game was over, we just had them at that point. It was great."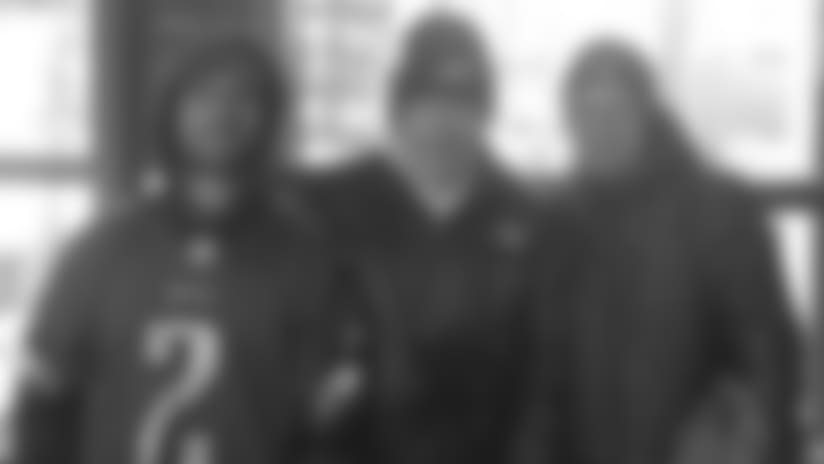 When the Eagles moved to Lincoln Financial Field in 2003, the Cades had amassed 24 tickets under Lonny's name. It had expanded to friends, clients, and other relatives. But at its heart were still Abraham, Lonny, and David.
David now lives in Chicago but makes a point to come to as many games as possible, just as he did while in college in Boston and working in New York after graduation. Abraham is unable to see in one eye and partially blind in the other but can watch thanks to binoculars.
While the trio had seen scores of games and made countless memories together, with Abraham seeing nearly the entire franchise's history, they, like all Eagles fans, longed to see the Eagles do what they had never done before: win the Super Bowl.
Six months ago, their wish came true.
"I never thought, my father never thought, and at this point, my son never thought we'd ever see the Eagles win the Super Bowl," Lonny said. "And to win it, and play the way they did, it may have been the most exciting game I've ever seen. It was just great."
Lonny and Abraham attended each home game in 2017 and David flew in for the playoff games against the Falcons and Vikings. When the Super Bowl came around, they were unsure about going. But with Abraham turning 93 the day after the big game, they knew they had to see this game together.
So, they made the long journey northwest to Minnesota. Stationed in the lower level between the 10-yard line and the midnight green end zone, the three men - Abraham in a throwback sweatshirt, Lonny in a kelly green Chuck Bednarik jersey, and David in a David Akers jersey - watched the game they waited their whole lives to witness.
When Brandon Graham strip-sacked Tom Brady with 2:16 remaining in the fourth quarter, Abraham put his head in his hands and dropped his head onto his seat. Fans around were concerned. But Abraham was more than OK. Just a little overwhelmed.
"There was a combination of just shock and crying," Lonny said. "It's just hard to believe that the Eagles actually won the Super Bowl. It's hard to describe. It was just amazing. You couldn't ask for anything more."
Now, as Lonny heads into his 63rd season watching the Eagles, he said there is a different feeling. The Eagles are champions. His father got to see them win it. He will get to stand by his father's and son's side and watch the Eagles raise a Super Bowl banner to open the season on September 6. And on Thursday, he will see a new generation come to the field for the first time.
It's a new era for him and the Cades family.
"Most of my friends, my son, my dad, and I all say it's going to be so different this season," Lonny said. "There's no anxiety.
"Our family has grown up watching and playing sports," he added. "Last year was the No. 1 highlight in sports for us. And being able to share it with my father and son, all three of us there, you can't ask for more than that. The bucket list is done."