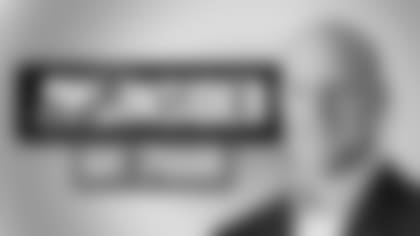 BOCA RATON, Fla. -- The national reviews are positive, encouraging and consistent: The Eagles have done a fine job in this offseason of cleaning up the salary cap, lopping off some unsavory contracts, locking up good, young talent and improving draft positioning. But as Chairman and CEO Jeffrey Lurie said on Tuesday, so much hard work remains.
"At the moment, couldn't be more pleased," Lurie said at the NFL Annual Meeting. "We have a lot more work to do. By no stretch are we satisfied. We've got a lot of work to do and a lot of opportunity to really improve the team and it's great having the eighth pick in the draft as well."
Lurie stood on Tuesday in a very different place from where he was 12 months prior after an organizational re-structuring that left then-head coach Chip Kelly also in charge of personnel. It was a move that fizzled in 2015 as the Eagles lurched to a 6-9 record before Kelly was let go, a move that Lurie looked at on Tuesday from his perspective and called "an expense in time."
"I think it was a necessary way to go to find out if Chip was the right guy," Lurie said. "Let him be responsible for all the decisions that he wanted to inject and make, and there's no question I have that it was the right way to dissect whether Chip was going to be the right guy going forward or not. We dissected it and decided that even with some of the great things he brought, he wasn't the right person going forward, and it was helpful to have him be accountable for those decisions so that we could move on in a great way."
The Eagles have moved on in a big way, overhauling the coaching staff with Doug Pederson in charge, signing eight players from the 2015 roster including some ascending young talent along with quarterback Sam Bradford, trading running back DeMarco Murray, cornerback Byron Maxwell and linebacker Kiko Alonso to improve their draft standing in April (and the fourth round of May 1) and then executing their plan in free-agency decisively.
With much more work to do to restore this football team to a place of annual Super Bowl contention and then some.
"We expect to compete for the division title this season, but at the same time all decisions -- Howie (Roseman) and Doug and I have talked about this – it's maximizing short term, maximizing mid-term and maximizing long-term," Lurie said. "One of the reasons for changing the resource allocation and making those trades was a change in the preference of how we wanted to allocate the resources. And that's a short-term impact, mid-term and long term. We wanted to re-allocate to other positions and other players.
"A key element in the whole thing was re-signing our best young players. We have a lot of really good young players. We wanted them all with us for the long run. You see it less and less in the NFL, but there is an opportunity and we've always been trying to do this for years: Find and identify your best core talent. If they're good people and teammates, if they're good in the community and they're real talented, make sure you get them and be Eagles for a long time and get them early.
"Re-signing your best young players, I think, is still the best strategy for success."
Signing Bradford to a two-year contract and bringing Chase Daniel in via free agency solidified the quarterback position, and Lurie understands how vital those moves were in a league collectively searching for the franchise player.
"Very, very happy to bring Sam back and Chase as well," Lurie said. "I think Doug is very confident in both of them and I think we've got two solid quarterbacks. They will be very competitive – Sam clearly No. 1. It's a great situation to be in. And we're still looking for a third quarterback. Somewhere in the draft, and I think, like we used to do, we would always, each year, every other year, try to draft a quarterback. At some point, that will probably continue as long as there is quality throughout the draft and you can identify how you want to develop a quarterback over time. If it's not somebody who has to step in, then hopefully we can find somebody throughout the draft."
Lurie intends to hire a head of player personnel after the draft, and he explained in detail Roseman's role as the head of football operations, which entails overseeing the personnel head and department, sports science and emerging technology. That comes in the near future. In the meantime, the Eagles leave Florida on Wednesday and head back to the NovaCare Complex as they dig in with their draft preparations.
They've made good strides in the months since the 2015 disappointment ended. Many challenges remain for a team that has not won a playoff game since 2008 when the Eagles advanced to the NFC Championship Game in Arizona.
Progress? Yes, for sure. Lurie met the media on Tuesday and spoke enthusiastically about the steps the team has taken. But by no means is anyone satisfied that the job is done. Far from it, actuallly.
The next step, actually, is the most important one to long-term success for every NFL franchise: The draft in April is vital for a team with nine selections, including No. 8 overall.
"The bread and butter of every organization is how well you draft and how well you develop players, how well you pick coaches," Lurie said. "That's it. You have free agency, but I think you want to draft really great."
With that, the challenge ahead is in sight as the Lurie and the Eagles focus on draft and continuing their efforts to build a championship team.