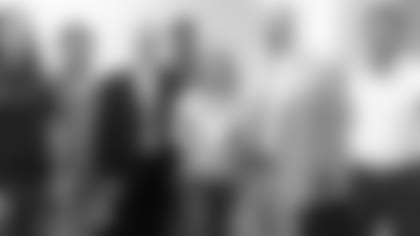 FT. WORTH, TX -- Angie Mowery was all smiles on Saturday afternoon when the Eagles arrived at their team hotel in Texas. And for Mowery to be all smiles means something given that she has been undergoing extensive cancer treatment and hasn't had a whole lot of energy these last few months.
"I can't believe this! This is a dream come true," said Mowery after she and her family were invited by the Eagles for a meet and greet with the team and presented with tickets for Sunday night's game against the Cowboys. "To meet these people, and the graciousness of the Eagles organization, it's just amazing."
Mowery grew up in Camden, N.J. before embarking on a career in the military. She has lived just outside of Dallas for the last 25-plus years and has always maintained her love of the Eagles while in the Air Force. A co-worker contacted the Eagles' community relations department weeks ago and the event was scheduled, much to Mowery's delighted surprise.
Head coach Andy Reid, team president Don Smolenski and a handful of players, including quarterback Nick Foles, stopped in to visit Mowery for hugs, kisses, plenty of pictures and the kind of goodwill that lifted Mowery higher than she has been in a long time.
"I've always loved the Eagles, even being here in the heart of Texas," she said. "This has been just a wonderful day, something that is so unbelievable to me. I'm so touched, so happy. Go Eagles! Beat the Cowboys!"