The NFL is all about staying in the moment and looking forward with the goal, of course, of being better tomorrow than you are today. This is the mindset, the ritual. It is what keeps players in their zone with a tight focus that the only thing that is important is what is right in front of them.
In the case of defensive end Brandon Graham, there is a moment of, upon being asked, to put what is right in front of him, his 14th season as a Philadelphia Eagle, in some kind of perspective. Graham's 14th Eagles season ties him with Pro Football Hall of Famer Chuck Bednarik for the most seasons with the team in franchise history, something of which Graham takes enormous pride.
"It is special. It means a lot," Graham said. "It's been a lot of work, a lot of people helping me along the way and for me, just learning what is right for my body and then how to work to do what I want to do on the football field. I'm still doing that – working every day and just doing what I can to contribute to this football team.
"I have always given the effort, I learned to take care of what I'm putting in my body, and doing the right things off the field – the people you hang around, keeping it about my family when I'm not here (at the NovaCare Complex). Making sure I spend time with people who have my best interests in mind. It's been an emotional roller coaster for me."
Graham's career really has been a remarkable one, with much more, it seems, to go. He played in 43 percent of the defensive snaps last season (474 total) and for the first time reached double digits in quarterback sacks (11). This after tearing his Achilles tendon in Week 2 of the 2021 season, an injury that can end a veteran's career just like that.
But Graham isn't any veteran. For that matter, he isn't just any football player. He is idolized by Eagles fans for making one of the biggest plays in the history of the team – the strip-sack of Patriots quarterback Tom Brady late in Super Bowl LII to help secure the first Lombardi Trophy for Philadelphia, a play he has been asked about "probably a million times," Graham says, smiling. But there is a whole lot more to his career, a lot of downs and twists and turns that he had to overcome to make it to this point.
A first-round draft pick in 2010 – remember, if you are old enough, that the Eagles traded from 24 to 13 in the first round of the 2010 NFL Draft, sending the 24th pick and two third-round selections to Denver to move up and take Graham out of the University of Michigan – and it wasn't like he just slid into stardom.
Graham recorded three quarterback sacks as a rookie before tearing his ACL in December of that season and he didn't come back until late in the 2011 season, by which time plenty of critics had questioned the move up to take Graham and his ability to play at a high level in the NFL.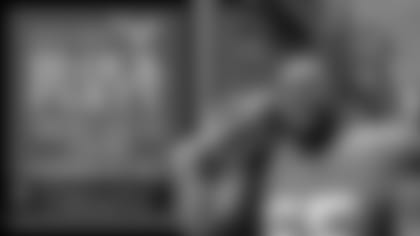 Kelly Green Block Party
August 31st at 5-10 PM
Grab your Kelly Green Gear and join us for the first ever, Eagles Kelly Green Block Party!
Celebrate the long awaited return of Kelly Green on Fairmount Avenue surrounded by birds fans. This event is FREE for Eagles fans of all ages and does not require a ticket to attend.
Just when Graham was really, really coming around and getting the hang of the league in 2012, the Eagles changed head coaches in 2013 (moving from Andy Reid to Chip Kelly) and bringing in a new defensive scheme that moved Graham from a hand-in-the-dirt defensive end to standup outside linebacker.
"Tough move but I had to learn the position to play, to get on the field," Graham said. "You have to adjust in this game. That was a test for me, but I think it made me a better player overall. It just gave me a different perspective of the game."
Doug Pederson replaced Kelly in 2016 and the Eagles moved Graham back to his spot at defensive end and his career since then has been a model of consistency and production. Graham says it clicked for him, truly clicked, in the 2017 Super Bowl Championship season. He was named a team captain for the first time, and that meant so much to him, to be recognized as a leader, for how hard he worked and the attitude he brought to the locker room and the field and the meeting rooms and the hallways of the NovaCare Complex every day.
"That season is when it all came together for me, for the team, and I feel like this team has that same kind of work ethic and purpose," he said. "These last two years have been so much fun. I'm having a great time."
And he's having a historical time, even if he's not thinking in those terms. Graham admits he doesn't know a lot about Bednarik – one of four players immortalized on huge scrims in the auditorium of the NovaCare Complex along with running back Steve Van Buren, wide receiver Tommy McDonald, and defensive end Reggie White – but vows to learn more. As he enters his 14th season ranked fourth in franchise history in quarterback sacks (70) and career games played (178), Graham pauses to put it in perspective.
"I don't look back," he said. "I don't reflect. I will someday with my kids and I'll remember the early years and I know what people were saying about me. The players, and the coaches we've had and the moments with the guys – I will look back at all of that. Now, it's just about being right here with this team. That's what is important to me. That's my focus."
The moment says that Graham is a valuable piece of this defense, this locker room, the City of Philadelphia. It's "go" time for the 2023 season and Graham couldn't be happier.
"This is a great group of guys and we all are working for the same thing," he said. "Work hard, share in the success, and make sure we help each other. I know we're all going to be so excited when we start this thing up in New England."