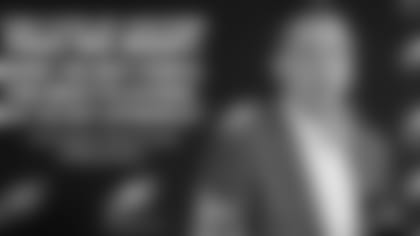 The final week is here prior to the 2015 NFL Draft and the Eagles have work to do: Finalize the board, set up the draft room and complete every draft-weekend scenario with the 31 other teams. There is a lot of work to do.
I've got some thoughts on the draft, on the 2015 Eagles schedule and what's happening around the NovaCare Complex as the team moves into its second week of the offseason program, Phase 1 ...
Nobody has a handle on the Eagles at No. 20. There are still some who have the sense that the Eagles are going to make a dramatic move up into the top 5-6 picks, despite the many statements from head coach Chip Kelly and vice president of player personnel Ed Marynowitz that the Eagles want more picks, not fewer, than the eight they currently have or that the Eagles won't "mortgage the future" to move up. Whatever. The pre-draft winds continue to blow ...
Will the Eagles draft a safety? Maybe. We'll see. But as Marynowitz said, finding a good one in the NFL these days is tough to do. "I think the safety position, or the traditional safety position, is a little bit of a dying breed," Marynowitz said on Thursday. "You don't see as much of the true box-down safeties anymore. It's becoming more of a pass happy, spread league and the majority of the guys with size and length are playing corner now. I mean, there is certainly an affinity for those guys to cover the big wideouts now. So a lot of those guys, especially the ones that we look for, we're looking for guys that can cross-train and maybe play both. The way we play our safeties, we like those guys to be able to roll down and play slot coverage. In order to play man coverage, they have to have the athleticism to do that. Typically, the traditional box-safeties don't have that."
As important as it is for the Eagles to make the right calls in the early rounds, they also benefit greatly with some late-round success. Don't get the idea that the Eagles want to be as active in the future as they were in free agency this year. The formula is to build through the draft and supplement in free agency. Sparingly, teams hope.
Tune in to PhiadelphiaEagles.com on Thursday at 7:30 and join me and the great Merrill Reese for Eagles Draft Central. We're live all the way through the first round on Thursday night, and we'll be with you every step of the way when the Eagles are on the clock on Friday and Saturday. This is going to be one of the more interesting Eagles drafts, don't you think?
NFL Network's Mike Mayock held a national conference call on Thursday and was asked about the Eagles and Kelly, of course. The topic of Kelly's specific height-weight-physical characteristics was one of the questions, along with Mayock's feel on what Kelly is looking to add to this roster.
"I actually think it's a plus," Mayock said of the narrowing of the Eagles' draft board. "And I think the teams that draft the best have the smallest draft boards, believe it or not.  And what that means is they do a great job of eliminating players that don't fit them for whatever reason. And you can go back to Bill Parcells as far as big bodies.  And Bill Parcells has a pretty good coaching tree and a GM tree. 
"I think Chip has got his own plan and I don't know what it is. I have no idea what his plan is, other than he likes big, fast, smart football players, which sounds simple. But he does. And beyond that, I think we're just going to have to wait and see."
On quarterback Tim Tebow, and some of the reaction I've seen since the Eagles signed him: Why is there such a rush to knock Tebow for what he hasn't done in his NFL career? Can this be a case of the Eagles, specifically Kelly, looking at a player and seeing what a player can do and trying to fit those positives into a system? Is there any harm in giving Tebow an extended look? Seems a lot of people want to see him do poorly just because ... why? He's a hugely positive person who has the singular goal of playing in the NFL. There are no guarantees here. Root for a man who is determined to attain his goal. Isn't that an admirable quality to have?
Coming in a couple of days: A story on running back Ryan Mathews and wide receiver Seyi Ajirotutu, who were teammates at Fresno State, with the Chargers and now with the Eagles. They are better than best friends. "We're like brothers," Mathews says. Really good stuff from those two.
Looking good: Offensive tackle Lane Johnson passes the eyeball test and looks leaner and stronger and ready for his third NFL season. I feel like that young man is going to take a huge step after starting off 2014 with a four-game suspension. Johnson could some day slide to left tackle to replace Jason Peters, but for now he's primed to be one of the best right tackles in the NFL. 
Dallas defensive end Greg Hardy has been suspended by the NFL for 10 games and, if that holds, he won't play in either regular season game against the Eagles or the Giants. That would be a tough, tough loss for the Cowboys, who signed Hardy as an unrestricted free agent. Even if Hardy has his suspension reduced to, say, six games, how effective would he be missing last season and then the first month and a half of this year? 
I like the schedule, but I'm one of those guys who always likes the schedule. Line 'em up and beat 'em. Doesn't matter where or when. An opening stretch on the road and a home stretch in December is fine by me. 
I love this note about the schedule:  After travelling 17,530 miles to and from away games during the 2014 regular season, the Eagles will have a much shorter distance to travel in 2015, accumulating just 6,820 miles to opponents' stadiums, per travelmath.com. Philadelphia will only leave the Eastern Time Zone once during the 2015 season with a trip to Dallas (Week 9). Great stuff. Will make recovery easier, I would imagine.