Philadelphia Eagles Pepsi Gameday Poster Playlist Series
Eagles Gameday Poster Playlist
This is the Eagles Gameday Poster Playlist presented by Pepsi: a vibrant, loud love letter to Philly's thriving music and arts scene. The Eagles teamed up with a different visual and musical artist for every home game this season and challenged them to create a poster and music track that encapsulated that week's matchup.
Make sure to check back each home game for the next soundtrack release.
WEEK 18 POSTER & SOUNDTRACK
Week 18: Giants vs. Eagles
Artist: James Boyle
James Boyle is a local illustrator, long time Eagles fan and creator of the popular Philly Tarot Deck. A frequent contributor to Philadelphia Magazine, James' work has appeared in publications across the country, both online and in print. As a father of two young children, James just wishes he had more time to draw!
WEEK 17 POSTER & SOUNDTRACK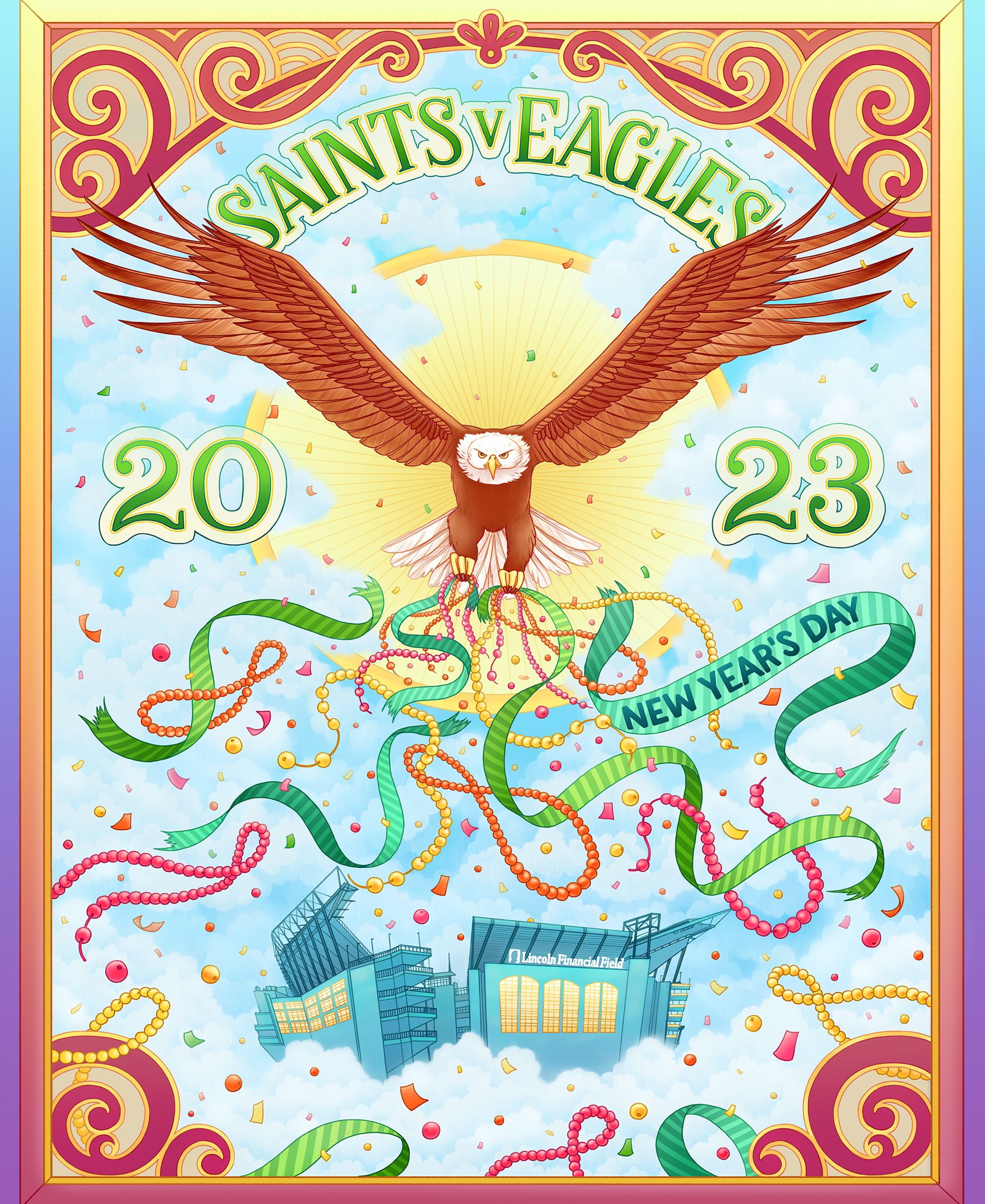 Week 17: Saints vs. Eagles
Artist: Hannah Agosta
A freelance illustrator from Philadelphia, currently working in Denver, Colorado. She received a BFA from the University of the Arts where she studied Illustration and Art History. She uses digital processes and mixed media to create illustrations that can be described as whimsical, playful, and bright. She has worked for a variety of clients such as The New York Times, Washington Post, Wall Street Journal, Boston Globe, Philadelphia Magazine, Science Magazine, and more.
WEEK 13 POSTER & SOUNDTRACK
Week 13: Titans vs. Eagles
Artist: Jason Piperberg
An illustrator, comic artist, and storyteller currently living in Philadelphia, Jason has worked on projects such as: Raising Dion, (adapted as a Netflix series in 2018), covers for Archie Comics' Sonic and Mega Man titles, the Patriot Tales comics for the Valley Forge Tourism Board, the Champions of Hara comics and board game, and his creator-owned sci-fi adventure comic Spaceman and Bloater.
WEEK 12 POSTER & SOUNDTRACK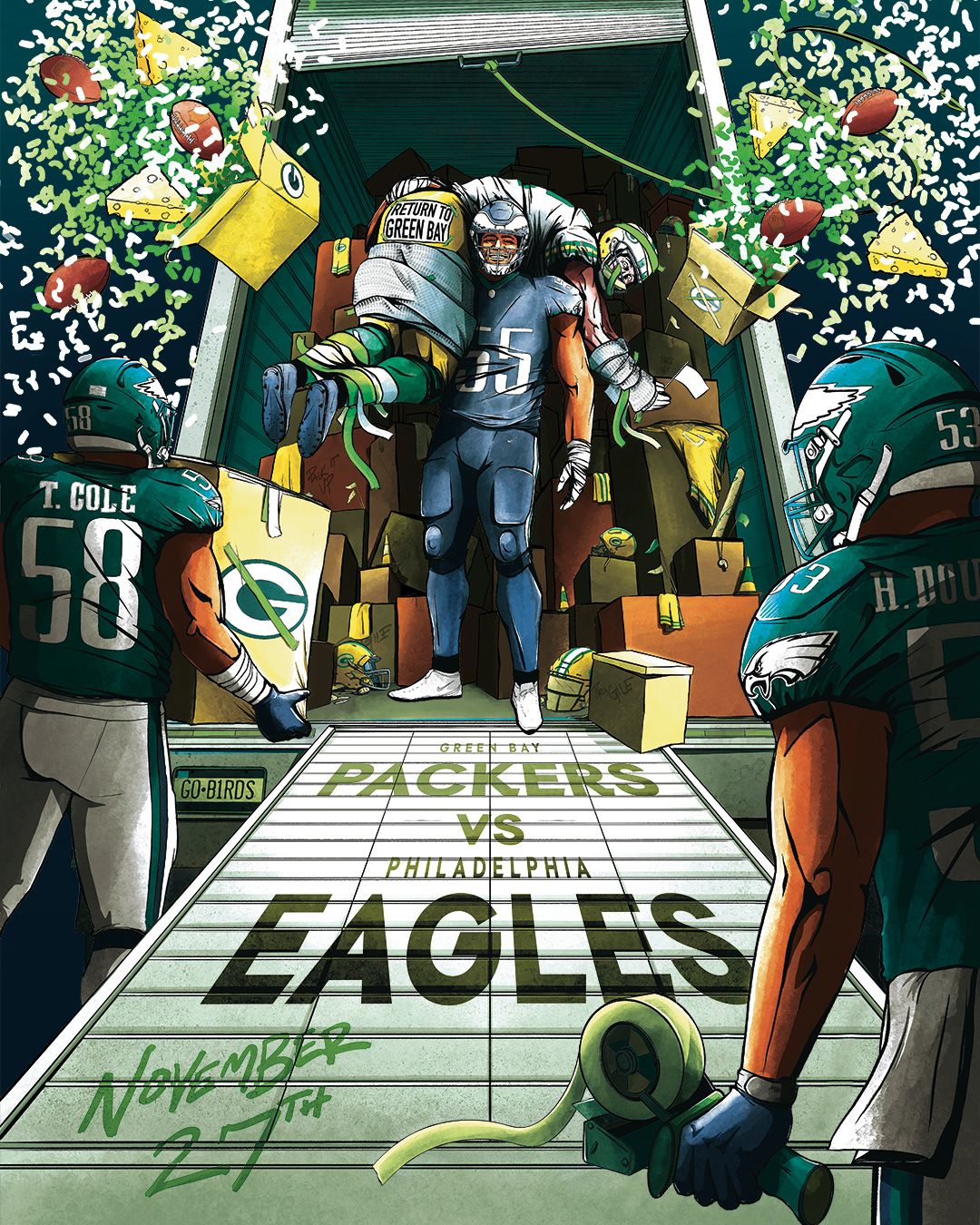 Week 12: Packers vs. Eagles
Artist: Hap
Hap is an illustrator by trade. From character design to environmental design to world building design, they try to cover all the illustrative conceptual bases. Their work combines intricate line-work, intense lighting, striking color palettes, and complex perspectives. Hap has experience in a variety of conceptual design fields as well as comics, children's books, and puzzle illustrations.
WEEK 10 POSTER & SOUNDTRACK
Week 10: Commanders vs. Eagles
Artist: Tiff Urquhart
Tiff Urquhart is a contemporary artist based out of Philadelphia, PA where she immerses herself in the culture and opportunities Philly has to offer. Growing up in Florida, Tiff has practiced in the field of visual arts since childhood with inspiration stemming from the unique surrounding natural landscape. In high school, Urquhart's works could be viewed at the Florida state art show, the Capitol building in Washington, D.C. and many places in between.
WEEK 8 POSTER & SOUNDTRACK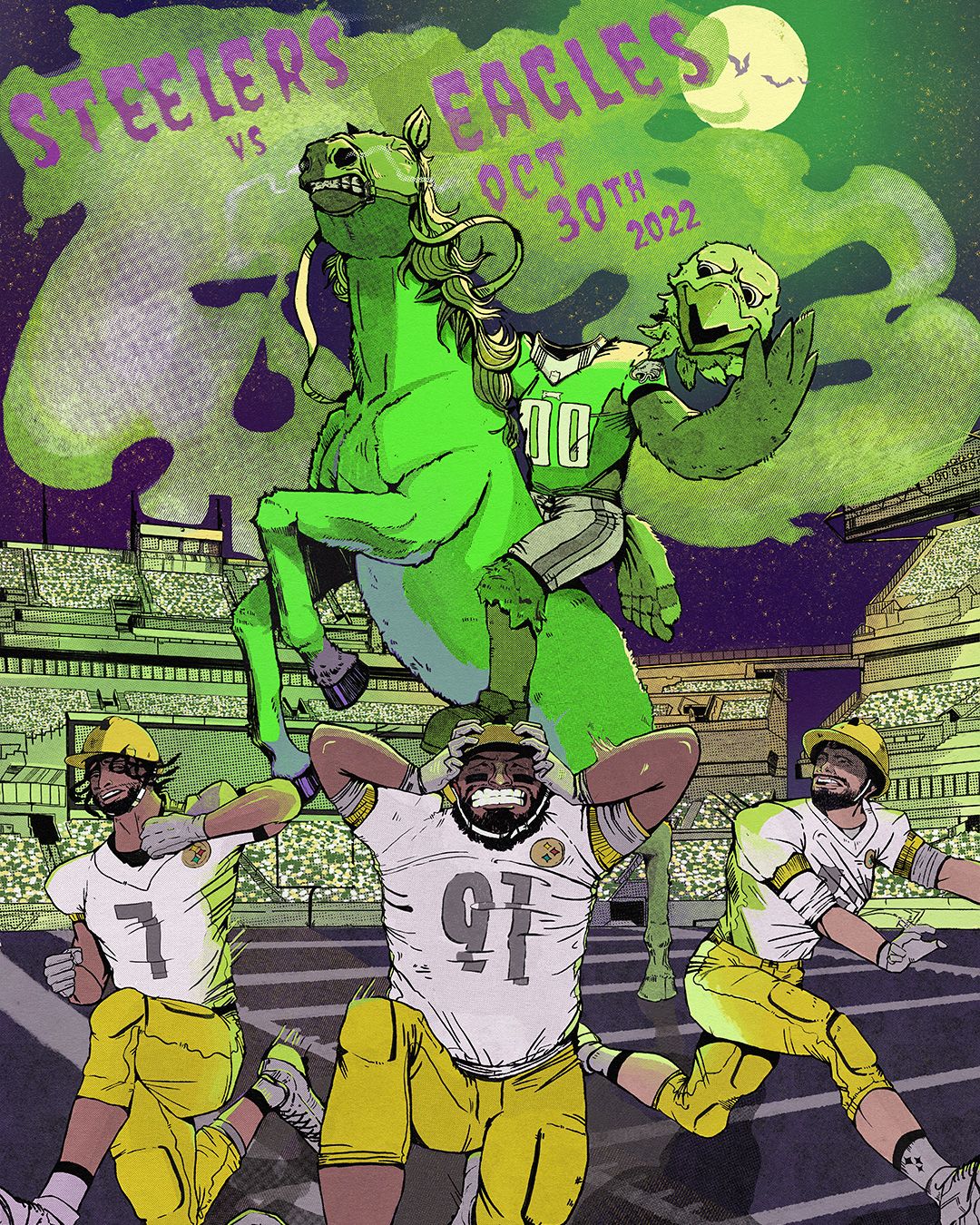 Week 8: Steelers vs. Eagles
Artist: Veronica Gilman
Vero is an Illustrator originally from NY, that received their B.F.A in Philadelphia and is now pursuing a Master's degree in Art Therapy. Vero's art uses rough and gritty textures to invoke a nostalgic horror comic feel. Their portfolio consists of: anatomical work, self-branding, and a love for spooky imagery. Their dream one day is to have one of their illustrations featured in The New Yorker.
WEEK 6 POSTER & SOUNDTRACK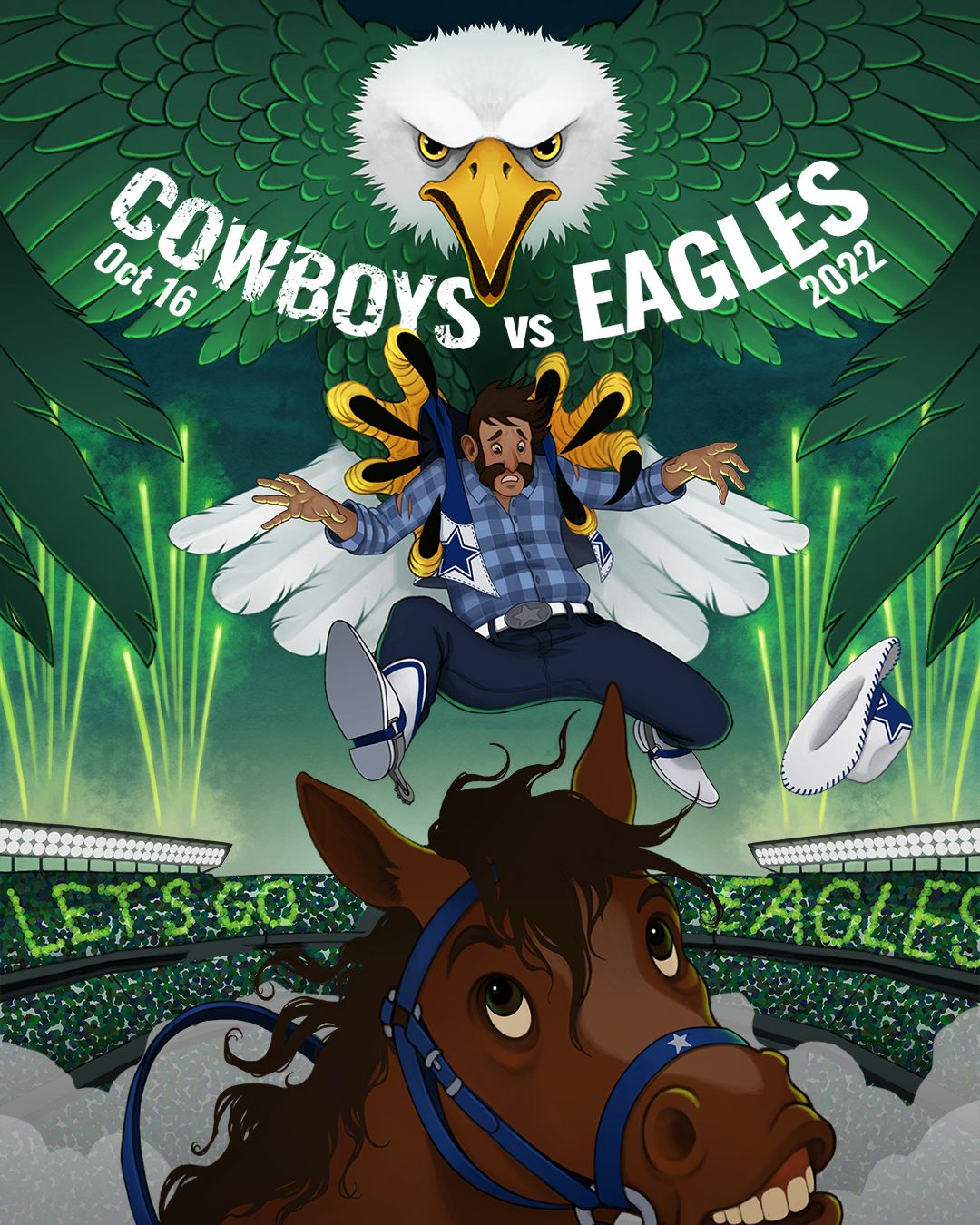 Week 6: Cowboys vs. Eagles
Artist: Rachel Perciphone
Rachel Perciphone is an artist and professional illustrator creating empowering fantasy art that encourages the viewer to confidently explore their own stories. Rachel uses symbolism, shape, and both natural and supernatural elements to explore narratives and emotions. Through depictions of vibrant, feminine, and engaging subjects, her work showcases the idea that our inner strength is both multifaceted and beautiful.
WEEK 4 POSTER & SOUNDTRACK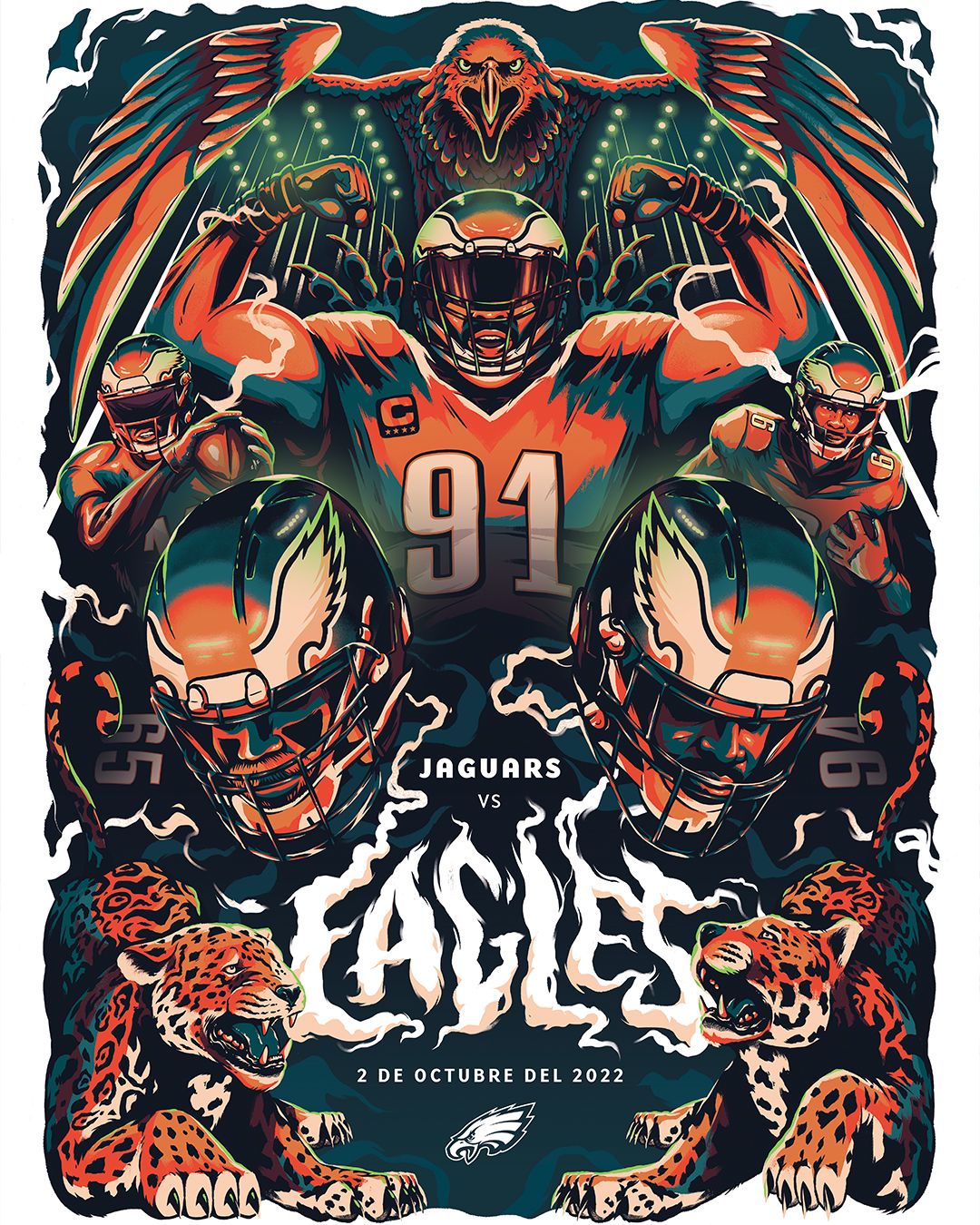 Week 4: Jaguars vs. Eagles
Artist: Ryan Lynn
Ryan Lynn is a freelance illustrator and lifelong Eagles fan based in the Lehigh Valley, Pennsylvania. He has spent 10+ years in the creative industry before becoming a full-time illustrator in 2016. Now, he is thrilled at the opportunity to be able to combine his 2 favorite things: art and football.
WEEK 2 POSTER & SOUNDTRACK
Week 2: Vikings vs. Eagles
Artist: Keni Thomas
Keni Thomas, more popularly known as Thomcat23, is a visual artist from Philadelphia, PA. His work's often focus on social, political, and environmental issues, while pushing unrelated forms and visual puns together. Showing the absurd, preposterous, and comical nature of his thought process is why Thomcat23's work falls into Pop-Surrealism.