Death doesn't have to be the final whistle. People can live on through memories, via the stories friends tell about them and the legacies they leave behind. In some cases, they can achieve a bit of immortality from the grave.
When the Philadelphia Eagles hoisted the Lombardi Trophy on February 4, 2018, there seemed to be an angel on their shoulder pads. Maybe there was. All-Pro defensive tackle Jerome Brown would have turned 53 that day, if a horrific car crash hadn't taken his life prematurely in 1992. The Eagles had finally fulfilled an old promise to a dear friend.
Bring it home for Jerome.
Now, the Eagles find themselves in what appears to be another championship run. They own the NFL's best record at 6-0 and next on the schedule is the Pittsburgh Steelers, their cross-state rivals from the AFC North. Before looking ahead to the matchup, a punk rock band from Scranton, PA wanted to focus on the past.
The Menzingers – Greg Barnett (guitar, vocals), Tom May (guitar, vocals), Eric Keen (bass guitar), and Joe Godino (drums) - were tasked with creating the soundtrack for the Eagles Gameday Poster Playlist presented by Pepsi for Week 8. The chart-topping band wanted to send a message by writing a memorial song for a dear friend and fierce supporter, someone they wished to anonymously tribute.
"The song is called 'Bad Actors,'" said Tom May, guitarist and vocalist. "It's a memorial song for a dear friend that passed. He was a poet, a musician, a huge football fan, and one of the kindest people I've ever known."
"Bad Actors" checks off all the emotions conveyed by May, while staying true to their beautifully distorted sound. The track belts like an electric carnival, one streaming live from the corner of Cottman Avenue and Frankford Avenue in Northeast Philly – whizzing, whirling guitars backed by boisterous drums. It's a perfect theme song to celebrate friends and football.
"I hope listeners feel a little closer to those they love and enjoy the moments together while they are happening," May said. "In the end, they can look back with a laugh or a smile."
The Menzingers are full of laughs and smiles whenever they visit Philadelphia, a place that cradled them as young artists trying to make it big. That was 14 years ago. And they never forgot their blue-collar roots.
"The Philly music scene is a vibrant and die-hard place full of lovely, wild, and weird people," May said. "Other cities we visit around the world constantly talk about 'what's in the water' and it's even become a meme of sorts to say, 'every band is from Philly.' The city punches above its weight in many ways, the music scene included. So many incredible artists either came up in Philly or still call it home. It's not letting up either."
May and his bandmates are currently on tour in Europe, but they have a date at Union Transfer in Philadelphia on November 26. It's part of a 10-year anniversary tour which hits the United States to promote the reissue of their critically acclaimed third studio album, "On the Impossible Past." Come out and say hello, says May ... before adding: "Go Birds."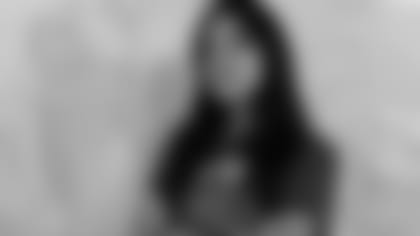 Headless SWOOP: Meshing Halloween Vibes, Great Collaboration
The Halloween energy will be high inside Lincoln Financial Field when the Steelers come to town. Expect to see Batman capes everywhere, along with some creased up and broken-in underdog masks. Veronica Gilman (@verofactum) was trying to conjure up what the scene might look like in the seats as she started mocking up designs for Week 8. It was a "lot to process" when the Eagles first called to ask her about doing a poster.
"I really enjoy the fact that they are so open to my feedback and that they gave me creative freedom," Gilman said. "Everyone has been so great, just a great experience."
The result is a dreamy scene that reimagines SWOOP – the fun-loving Eagles mascot – as the Headless Horseman sitting atop his fiery steed, ready to thwart the enemy Steelers. Three Pittsburgh players are seen running away in fear while smoke menacingly billows up from the horse's nostrils, all the way up to a harvest moon, and spells out Steelers vs. Eagles.
Gilman holds a bachelor's degree in illustration and art therapy from the University of the Arts. Traditionally, she sources from "life and growth, the physical and metaphoric aspects of the world around us." For this? She channeled posters from old-school slasher flicks: scribbly, rusty line work, color bleeds ... "a traditional pen that looks like it ran out of ink." It's campy and horrific at the same time.
"I just wanted to create something people can remember, something that is a positive experience," Gilman said. "I hope everyone enjoys the piece. It means a lot when I can get people to just smile for one second and enjoy what they're seeing."
Gilman's art is purposefully messy, roughly scrawled, and outside the lines. All of it is intentional. She listened to every album put out by The Menzingers in a calculated attempt to match their twisted guitar riffs and warped melodies.
"It was important to get their aesthetic into the art piece," Gilman said. "Their music is a great genre to mesh the Halloween vibe."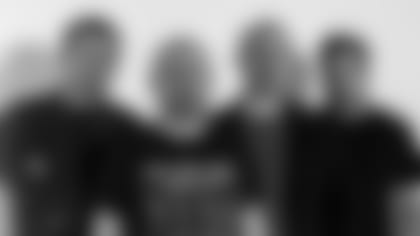 Favorite Eagles Memories: Drinking in Belgium, Makeshift Instruments
The Menzingers were on tour in Belgium, desperately searching for a worthy watering hole to watch the Eagles take on the New England Patriots in Super Bowl LII. They found a quiet pub that had it on and settled in – pints in hand, of course - for a night to remember.
"The moment they hit the Philly Special, the four of us went completely insane in this empty Belgian pub," May said. "Well, it was empty save for the handful of Patriots fans in the corner. We stayed up well past 4 AM carrying on to watch the end."
You see, The Menzingers are Eagles die-hards. So, the organization first reached out to gauge their interest in contributing a song, there was no question or debate. They said yes without even knowing the assignment.
"All they had to say was Eagles," May said. "We heard some whispers in the wind from some friends close to the Eagles organization. It was very exciting, but we didn't get our hopes up. Pretty sure we all said yes before even knowing exactly what the project was."
Meanwhile, Gilman is a bit of an Eagles convert after growing up in the Hudson Valley region of New York. She came to Philadelphia in 2017 to attend the University of the Arts, moving into a dorm room on South Street. That team started 5-1 and Gilman caught the midnight green fever.
Five years later, she still can't shake it out of her bloodstream.
"I wasn't big into football before the Super Bowl, then I realized how big the football culture is in Philadelphia," Gilman said. "Everyone was talking about the Eagles going to the Super Bowl and what a big deal it was. I'm from New York, so I didn't really get it. I was like, 'So what?' But the hype kept building and building until I finally got what they were trying to tell me."
Not only did she get it, but Gilman also hosted a Super Bowl party in her dorm room. She was all in, especially after a friend told her that students would likely get a day off from school if the Eagles won. Then 41-33 happened.
"Everyone was in the streets," Gilman said. "Our school's music department had a marching band out there performing and making a ruckus. I took an empty pizza box and started clapping along with the Eagles fight song."