The first time the Philadelphia Eagles commissioned Ryan Lynn to work on an art project, the franchise went on a wild, unexpected playoff run and walked away with their first-ever Lombardi Trophy. Doug Pederson was the head coach of that squad, an important nugget considering Lynn's name is on the gameday poster for Week 4.
This is a nostalgic matchup between the Eagles and Jacksonville Jaguars at Lincoln Financial Field. Life imitating art. Lynn – a card-carrying Philly fanatic – started doing NFL illustrations in 2016 after partnering with Miller-Coors on a variety of branded art projects. He had worked with roughly 16 teams but never his hometown Eagles. He had been patiently waiting for them to call him for a long time. And when they finally did, Lynn poured his heart and soul into it. This marks his 12th poster.
"This is the crown jewel of my career, for sure," said Lynn. "I saw that other NFL teams were trying to copy what the Eagles were doing with animated posters and stuff. And I wanted to amplify the message for my hometown team."
Lynn's first assignment for the Eagles was a screen-printed billboard for Miller-Coors that soared high above I-95 during that 2017 Super Bowl season. Unknowingly, Lynn's art would hang up there as a precursor to a championship banner and turn the Lehigh Valley graphic designer into a drought-buster. Or, at least, that remains his unabashed take on the situation.
"What the Eagles needed to do was hire me sooner," Lynn said jokingly.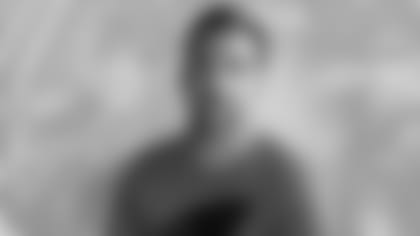 Buckle up because he's back. Lynn's newest design is part of the Eagles Gameday Poster Playlist presented by Pepsi. In it, players are portrayed in an intoxicating dream sequence of varying shapes and sizes as they emerge under the cover of smoke from the end zone tunnel. Fletcher Cox flexes in the middle, flanked by Lane Johnson and Josh Sweat, underneath an ominous bald eagle. They are letting two saber-toothed jaguars know they are not welcome here.
"It's a warning message to the Jacksonville Jaguars," Lynn said. "Here we are, come and get us. The Philadelphia Eagles are ready. We're all coming out of this tunnel right now and we're all coming out together."
It follows a surreal style derived from the screen-printed posters of the early 2000s. Think dark hues, keylines, limited color palettes. Lynn was experimenting with these designs in high school on the back of tests, much to the chagrin of his teachers who instructed him to "stop it" and "focus." He went to Kutztown University with the intention of becoming an art teacher, then switched gears and majored in Communications Design. He's been a graphic designer for 10 years now.
"That was an avenue to combine my love for art and still make a living wage," Lynn said. "I think that actually helped me in the long run. I come at everything with a problem-solving approach."
The mysterious, wavy figures on the poster are meant to back the soundtrack created by North Philadelphia singer/songwriter Brianna Castro. Her Pepsi playlist song is a Spanish-inspired track entitled "Acercate," which translates to "come closer" in English, an ode to Hispanic Heritage Month around the NFL. The Week 4 anthem lulls listeners into a trance with screeching flutes and vibrating güiros before Castro takes over with her honeyed vocals, cutting the South Beach vibes with smooth Philly soul.
Amid a driving bass beat, Castro begs to "saque al calle," or "take it to the street" – an impressive verse since she had never made a Spanish record until executive producer Chill Moody enlisted her for the project. The most challenging part? Learning how to pronounce the lyrics in a foreign language – and spit them out in rhythm.
"I was very excited. I love all things Philadelphia. I love sports. So, it was a no-brainer. I was just all in," Castro said. "To be honest, I wanted to try something new, fresh. I had never made a song in Spanish, so it was a great opportunity to do that. Definitely (hard), just the way we pronounce things. I don't know how else to say it. Not weird, just the mouth movements, just totally different."
Castro is a rising star in the music industry and her silky collaborations on the hit track Do It Again (2021), plus her debut single Numb (2020), helped earn her a deal with Interscope Records. The music video for Numb saw half a million views on YouTube. She started her career by singing in the church choir and never looked back, repping the City of Brotherly Love through it all.
"This project makes me so proud because it's so Philadelphia, just to be part of that," Castro said. "It's a great feeling."
Kind of like what she felt on February 8, 2018, when the lifelong Eagles fan attended the Super Bowl Parade of Champions. Streets were shut down. People were climbing trees and light poles. And Brianna Castro walked from Center City to Northern Liberties to celebrate her favorite football team finally doing what many thought was impossible.
"The Super Bowl was my favorite memory because I was with my family. My dad was so happy. He's been a huge Eagles fan my whole life," Castro said.
Meanwhile, Lynn fondly recalled the Super Bowl victory, but he has a different memory etched in his brain. He was sitting in the stands at the Linc in 2014 when the New Orleans Saints beat the Eagles 26-24 in a nail-biter of a Wild Card playoff game. Nick Foles (not the Foles of folklore at the time) was the quarterback, although Lynn's eyes were fixated on something else. He was staring at someone who wasn't in uniform.
"They showed Brian Dawkins on the big screen," Lynn said. "He wasn't playing, just sitting in the owner's box or a suite, and all he did was reach his finger up to his ear and motioned to the crowd like, 'Let me hear you.' The place went nuts! Insane, crazy, and he didn't have to say anything. They didn't show it on TV. It was just for us, the people in the stadium that day. If you were there, you understood."
That unbridled passion, that raw emotion, is what outsiders sometimes misconstrue for lunacy. Eagles fans wear it like a badge of honor and that's what Lynn wants people to see staring back at them after viewing his Week 4 poster.
"I want people to look at this and think, this guy gets it. He made this for us because he's one of us," Lynn said. "That my artwork is something they want to put up on their wall. I'm not just some fan or some random guy. I'm a true Eagles fan."