Defensive coordinator Bill Davis faced many challenges when he took over the Eagles defense this offseason. Implementing a new scheme with a slew of new players is no easy task and it certainly takes some time. While the defense as a whole appears to be improving every week, there was one immediate goal that Davis wanted to execute right away. He wanted the Eagles to stop being a big-play defense.
Last year, only one team in the NFL allowed more big plays in the passing game than the Eagles. Twenty-five passes against the Eagles netted at least 30 yards, which tied for the second-highest such number in the league. Through seven games this season, the Eagles defense has allowed only six such plays, which ties them for fifth in that category.
From the moment Davis took over the job of redesigning the Eagles defense, he placed an emphasis on not allowing opposing receivers to get behind the defense.
"It's just something we focus on, focus on staying disciplined," said safety Nate Allen. "It's really about staying disciplined on doing your job on the specific play and not getting sucked up in play action when you're a pass guy and ultimately being a pass guy when you're a pass guy."
Unsaid by Allen is that part of the reason the Eagles' safeties were so often vulnerable to the deep pass last season was schematic. Because of the now-taboo "wide-nine," safeties were often given primary run responsibilities, which made them much more susceptible to play action.
"It was tough sometimes, but we like what we're doing now and they put us in position to make good plays and be successful and so far we've done pretty well with that," said Allen.
Of those six 30-plus-yard passing plays against the Eagles this season, only four were actually completed deep. Clearly, the safeties have been coached to keep the play in front of them.
"Well, I think one of the biggest things is we are not giving up those deep ones and that's what one of the main goals was," said Davis. "The intermediate ones we've now got to tighten down on.  The ones that are getting to the 15 to the 25s, that immediate coverage – I do believe the guys are getting a better understanding of the deep to short and coming up.  
"Really the trick is to play the vertical game first and be able to break and get tighter on the slant game."
Preventing The Big Play
Year
30-yard Passes Allowed
Avg. YAC
Takeaways
2012
25 (t-30th)
6.2 (30th)
13 (t-31st)
2013
6 (t-5th)
5.5 (14th)
12 (14th)
Aside from the positioning of the safeties, the Eagles defense has also kept opponents at bay with much improved tackling in the secondary. The Eagles have allowed an average of 5.5 yards after catch per reception, which ranks 14th in the league. That may not sound like a world-beating rate, but consider where the team is coming from. The Eagles ranked 30th and 31st in 2012 and 2011 with 6.2- and 7.0-yard averages, respectively.
The logical offshoot of making the opposing offense work harder for its points is that while the Eagles prevent the big play, they have more opportunities to create a big play themselves. If the offense can't strike quickly, they have more opportunities to make mistakes. To wit, after finishing tied for last in the league with 13 turnovers last season, the Eagles already have 12 in 2013.
"Those big plays, they can swing the game," said Allen. "They're big swing plays, momentum and all that stuff. If we can limit that, that's always a positive."
The Eagles' ability to prevent the deep pass will be tested this weekend by the Giants, who registered 26 pass plays of 30 yards or more last season, tied for the second-highest total in the league. They only have eight thus far in what has been a disappointing season, but the personnel at quarterback and receiver remains the same.
"I think that's the one thing we try to pride ourselves on is we're not getting the ball thrown over our head," said head coach Chip Kelly. "But this team more than any team we've played, and we expect it again on Sunday, is going to challenge us from that standpoint. They're going to try to take some shots over the top, and we've got to be in position to make plays."
Prior to the start of the season, the Wulf's Den predicted that the 2013 Eagles would challenge the franchise record for team rushing yards and every week we keep track of that race. The Eagles' rushing offense has slowed a bit of late, but they still remain slightly ahead of the pace set by Steve Van Buren and the 1949 Eagles.
Franchise Record: 2,607 yards
2013 Eagles Pace: 2,640 yards
Locker Room Costume Party
Weren't we all a Power Ranger once upon a time? With Halloween fast approaching and the scramble for a last-minute costume in full force, allow the Eagles locker room to serve as an idea board as they reflect on the best costumes they've ever worn. For some, like Clifton Geathers, the top Halloween moment came in elementary school. For many others, adulthood has provided the best creative canvas.
We'll begin with an award winner …
Colt Anderson: One year I was Michael Jackson, but my best costume was one yeah when I was – who was Katy Perry's old boyfriend? Oh yeah, Russell Brand. When I was with the Vikings, I was voted funniest Halloween costume for that one and my wife was Katy Perry. Any time you win funniest costume? Come on.
Earl Wolff: I haven't worn a Halloween costume since I was little, but my best was probably my Wolverine costume. I loved X-Men. Like I loved X-Men, and Wolverine was always my favorite. It's so ironic because, you know, Brian Dawkins.
Mychal Kendricks: The best Halloween costume I've ever had was a handmade Power Ranger costume. The White ranger. I was 6 or 7. I have pictures. My mom made the costume from scratch, she's a seamstress. I had homemade costumes every year, but my favorite one was the Power Rangers because it was me and all my cousins and my mom made all us costumes. Remember when that movie came out?
Casey Matthews: My best one was Boba Fett, the bounty hunter from Star Wars. That was third or second grade. I pulled out all the stops for that one too. My worst one, I'm ashamed to admit this, is the blue Power Ranger … (I'm ashamed because) wasn't the blue one kind of like the loser? He was the geek.
Julian Vandervelde: The best costume I've ever worn was two years ago, here in Philadelphia, I dressed up as Michael, Mike Myers from Halloween. It was really good, I'd creep up behind people and just stand behind them, freak out a lot of girls. The best costume I've thought of that I want to do, I might do it this year but probably next year, is I want to get a pair of arms off of a bear costume and a big white T-shirt, write the number 2 on the front of it and write the second amendment on the back and just walk around as the right to bear arms.
Connor Barwin: My second year in the league, I broke my ankle … So I went as Lieutenant Dan (from Forrest Gump).
Dennis Kelly: In college, I did a group where we did the characters of MarioKart and I was Luigi. There was Mario, Wario, we had the whole plethora of them. We had the Toad, which was actually kind of funny with the helmet.
Jason Kelce: Me and my brother went dressed as the Mario Brothers in High School. I was Mario.
Donnie Jones: It's been so long since I've dressed up for Halloween. I was Pee-Wee Herman one year. I had the dance and all.
Clifton Geathers: I was a Mummy back in elementary school. I won the competition. My mom wrapped me in toilet paper all the way around. I left a little trash around the place.
Nate Allen: In college, I was Kimbo Slice. My sophomore year in college. I had a huge beard. I had a Tapout shirt, fights shorts on. I put blood and cuts all over my face and I had the do-rag how he wears the do-rag. The beard was good, it was a good one. And then I had a big chain, like literally like a chain-link chain around my neck. It was pretty good.
Brandon Boykin: I was one of the Chippendale dancers my senior year of college. I got a lot of attention that night.
Brent Celek: I was the Tin Man, my whole family was the Wizard of Oz. I was about 13. Everybody played a character. I was the greatest Tin Man ever. I had silver paint all over my body.
Zach Ertz: In sixth or seventh grade, I was the Will Ferrell cheerleader from (Saturday Night Live).
Patrick Chung: Mine was the Joker. I was the Joker with straight curly hair, face kind of drippy, I was acting like him and everything. You know how he licks his lips and stuff? I was in character. I want to say 2009, 2010. A couple years ago. 
Damion Square: I really don't dress up for Halloween a lot, but one year in college my girlfriend, who's my wife now, convinced me to dress up. Batman had just come back, so I dressed up as Joker and I put on an all-black costume. I had some … friends that I would chill with but they had some extended friends who I really didn't know. They had a Halloween party at their house. Mind you, I knew about four people in the house and everybody else just knew me from the T.V. I have the mask on and I'm wearing all black and I walk in, stand in their living room in the middle of the floor and just look at everybody and everybody was like, who's that? Then I took the mask off and they were like, "Oh (shoot)." They were really spooked. I'm talking about people looking like it was their last day on Earth.
Todd Herremans: The Brawny Man. Two years ago.
Evan Mathis: I was the puppet from Saw.
Jon Dorenbos: Kip Gandy. It's my alter ego. His name's Kip Gandy. I have a mullet, a onesie, I get all tatted up with Aviators and then my friend is Magnum P.I. and he rents a 1982 Ferrari. We did it in Nashville. Kip Gandy is my alter ego.
Cary Williams: I was Batman when I was young. I don't know if it had muscles in it. I think it didn't, it was just a plastic painted on suit with a plastic mask … I was Joker too one Halloween … Karate Kid at one point … Last year I was Buzz Lightyear. That was for my daughter.
Brandon Graham: My junior year in college I was the Burger King.
Chris Polk: Reptar from Rugrats.
Vinny Curry: Oh, without question Ric Flair. I'm a huge wrestling fan and Ric Flair was always my favorite. It's on Youtube.
All of which leads us to the Eagles Haunted House. Click to check it out up close.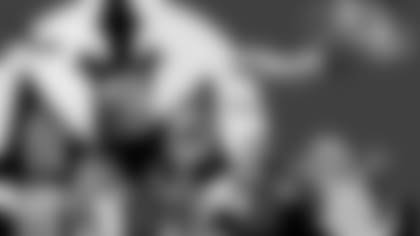 ](http://events.lincolnfinancialfield.com/halloween/halloween.html)
Each week, we'll sit down with a member of the Eagles to discuss something you may not know about him. This week's subject is cornerback Roc Carmichael, who is the son of legendary Eagles wide receiver Harold Carmichael. The elder Carmichael is the franchise leader in receptions, receiving yards and receiving touchdown and currently works for the team as the Director of Player Development and Alumni. He will be the honorary alumni captain on Sunday at Lincoln Financial Field ...
Bo Wulf: So what was it like when you found out that your destiny had been fulfilled, that you had become a Philadelphia Eagle?
Roc Carmichael: It felt good. At first, it felt kind of weird, but like I tell people, when I got drafted, when they called my name, I had on all green and a Philadelphia Eagles hat, when I got drafted by the Houston Texans. I was at my brother's spring game, he plays for Towson, my whole family was there and they called and said, 'You're going to be playing for the Houston Texans,' and I had an Eagles hat and like a green shirt and green shoes on. I didn't even think about it, that's just what I had put on that day. So I definitely think I'm where I'm supposed to be.
RC: Yeah, man, definitely.
BW: Is it funny looking back on your childhood? I guess you were 10 years old when Harold starting working for the Eagles.
RC: Crazy story about that, you remember when kids were wearing the throwback jerseys and things like that? I wanted an Eric Dickerson jersey and my dad, for Christmas, brought me home a Harold Carmichael jersey --
BW: He brought you home his own jersey?
RC: No, no. Well, yeah, that's what he said. He's like, 'This is our jersey.' So I'm like, 'Who is Harold Carmichael?' I didn't even think twice about it or whatever and I thought he had just gotten it made. Then I did my own research and started to check out some things and I ended up coming here and meeting him and telling him that story and he couldn't believe it. We're actually trying to see if we have our family, where we can link it.
BW: Wait, you're not related?
RC: I don't know, his family and my family are from the same place but they don't know each other.
BW: I thought he was your father.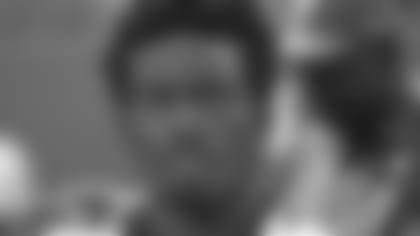 BW: Alright fine, I'll play along like he's not your father. But is that part of the reason that you were a defensive back, because he was a receiver? You could guard him.
RC: No, I never thought about that. Me playing defensive back, I was really an offensive guy myself. I was a running back, slot receiver, returner. I got to Virginia Tech and they were low on corners, and they said, 'You're built like a corner.' I've been over there ever since.
BW: He's 6-foot-8, do you feel like you got the short end of the stick?
RC: I definitely got the short end of the stick, man. Everyone else in my family is 6-foot-5-plus and looks just like this guy (Harold Carmichael), except for me. I'm the only one who's a little offset.
BW: I know you want to downplay the connection because you don't want other people to think twice around the office, but is it nice to come to work and he's here?
RC: It is, man, He shows all the players love and respect, man, but I always stop in there just to talk to him more than just to see how I'm doing on the field but just to talk. Just because it's a Carmichael, I feel like it's somebody I can relate to.
BW: Is it intimidating that he has such a legacy here?
RC: It's big shoes. It's real big shoes to fill. You hear it all the time from the coaches, 'You're coming in behind Harold. Our last Carmichael was this great guy.' So I'm going to try to be the next generation I guess.
BW: So he was No. 17, you're No. 21. I think that's as close as you can get for a defensive back since no one here is wearing No. 20 because of Brian Dawkins. Maybe that's a bit of a tribute?
RC: Yeah, it's definitely a bit of a tribute. It would be something big if I was making some big plays, catching some interceptions, at least I could put my hands on the ball like he did.
BW: Who's got better hands?
RC: I think I do. I think I do, man. He's still out there though every day, early and late with the quarterbacks throwing and catching the ball. But I think I could keep up with the hands.
BW: Alright last question. Jump ball in the end zone tomorrow, he's 6-8, against you. Who's coming down with the ball?
RC: I'm winning that every time. Every time. When he goes up, I'm going to wait for him to come down, then I'm going to go up and go get it.
**Harold Carmichael is not Roc Carmichael's father.