SAN FRANCISCO -- You know you've sat in your seats at Lincoln Financial Field or in the comfy confines of your living room and yelled at least once in recent years, "Throw the fade!"
You asked. The Eagles delivered.
Without Kevin Curtis or Reggie Brown, the Eagles aggregate of receivers and tight ends stepped up huge in Sunday's season-changing 40-26 win over the San Francisco 49ers at Candlestick Park. DeSean Jackson finished with six catches for 98 yards. Hank Baskett had 38 yards and a score. Greg Lewis contributed three catches. Jason Avant's one catch was good for 17 yards and a first down, and tight end L.J. Smith made the most of his grab, it went for a 2-yard touchdown.
It was Baskett, however, who satisfied the fans' appetite for a big, physical receiver who could come down with a jump ball in the end zone. Leading 7-6 in the second quarter, the Eagles faced third-and-goal from the 49ers 2-yard line. The Eagles' struggles in the red zone had been well-documented up to that point. This time, however, would be different.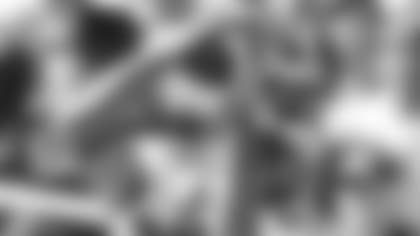 WR Baskett goes up for TD grab
Baskett lined up to the far left and tight end L.J. Smith set up in the slot. McNabb took the snap from center Jamaal Jackson, dropped back and looked in Baskett's direction.
You knew what was coming, yet you couldn't believe it. McNabb tossed a perfect ball in Baskett's direction. Baskett turned around, jumped up and hauled in the score. Cornerback Walt Harris never had a chance and the Eagles had extended their lead to 14-6.
"You're giving guys opportunities to make plays and they are taking full advantage of it," McNabb said. "When you have guys like this, you want to continue to reward them."
In the team's recent losses, the lack of a big pass play down the field was evident. McNabb showed early on that Sunday was not going to be an ordinary day. On a third-and-two from the 49ers' 29-yard line, McNabb threw up a pass for Baskett along the right sideline over safety Mark Roman that was hauled in for the first down. Four plays later, Correll Buckhalter punched the ball in for the Eagles' first points of the day.
The passes just kept coming. Greg Lewis caught a 13-yard pass over the middle on a play-action fake. Baskett had another 10-yard gain on a quick slant. Jason Avant came up with yet another great third-down catch. It was Avant's only grab of the day, but it came on the drive that was capped by Baskett's touchdown catch.
Jackson provided his big play on a 27-yard grab that was thrown perfectly over his shoulder so only he could catch it. It was redemption for a drop he had on the first play of the game.
"We knew we could do it even though San Francisco is a great team," Jackson said. "The last couple of weeks were tough, but we believed in ourselves and wanted to come out here and do our thing."
In addition playing without Brown and Curtis, the Eagles were without their biggest playmaker - running back Brian Westbrook. Smith said that he thought not being able to lean on Westbrook meant that McNabb had to put more trust in his receivers to make catches in tight situations.
Trailing 26-17 late in the third quarter, the Eagles look poised to score inside the red zone. McNabb looked for Smith over the middle. Smith went one way and McNabb threw the other and in-between was former Eagle Takeo Spikes, who intercepted the ball at the 49ers' 11-yard line. All hope and faith was not lost. On the next drive, Smith caught his 17th career touchdown pass - all within the opponents' 20-yard line. Smith's 2-yard grab was remarkable because the ball was sliding through his arms and nearly came out.
And now the Eagles are 3-3. In two weeks, the Eagles could very well get all of their weapons back. Imagine that. More tools for McNabb. Increased confidence in the offense. New wrinkles from the playbook. It's all coming together at the perfect time. It's amazing what one win can do. PHI vs. SF 10-12-08