It's hard to believe that DeSean Jackson is his sixth NFL season. Wasn't it just yesterday that his electric play and dynamic skils had the Monday Night Football crowd talking as he crossed the goal line without the football in his rookie season? Doesn't it seem so fresh in our minds that Jackson became the first player in NFL history to earn a Pro Bowl spot in one season at two positions (wide receiver and punt returner)? And how could it be that his return to win The Game against the Giants, the Miracle Play At The New Meadowlands, happened three seasons ago?!?
Time flies. Players age and evolve and, well, it sometimes isn't so smooth a transition. Jackson's numbers and performance the last couple of years weren't exactly where he wanted them to be. The Eagles didn't find enough ways to get him the ball as often as they wanted. The coaches spoke frequently about teams "taking away" the deep ball, as if that was the only way Jackson was a viable threat in the offense.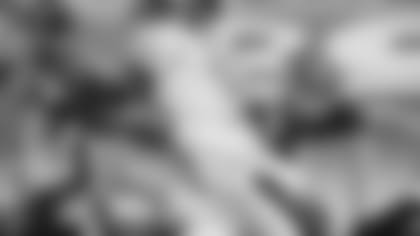 Oh, it wasn't like Jackson's game flushed away into nothing. He was still a good receiver who had 58 catches and 4 touchdowns in 2011 and then 45 receptions and 2 scores in 2012, but he wasn't the free-wheeling, score-from-anywhere-on-the-field Jackson who lit it up earlier in his career.
Enter a new coaching staff and a new offensive approach and a new way to use Jackson. We're seeing the early results -- Jackson ran under Michael Vick's perfectly thrown 47-yard pass on Friday night in the preseason opener against New England and caught it for a spectacular touchdown -- and this is just the beginning.
"I'm loving this offense and I'm so happy to be part of it," said Jackson. "It's exciting. We're all looking forward to the possibilities, to making this offense go. We all think it can be a special thing."
Head coach Chip Kelly ran an explosive offense at Oregon and provided a taste of that in Friday's game, rolling up 452 yards, mixing in some of the no-huddle approach that we're going to see this year and doing it with remarkable cleanliness (just 4 offensive penalties and none with the first team on the field). It was fun, fun, fun and just the beginning. Kelly's offensive imagination ranges far beyond what we think we know, and it includes a variety of ways to get Jackson involved.
It's fair to say that Jackson is as valuable as anyone in the offense. The Eagles need him to stretch defenses and make deep secondaries respect the long-ball threat he brings to the table, but they also need him to go over the middle and run away from trailing cover men, and to catch and bubble screen and make a defender miss, and to take a handoff on a jet sweep and beat the defense to the edge of the field.
In short, the Eagles need Jackson to supply the week-in, week-out threat that forces defensive coordinators to spend long nights figuring out ways to minimize Jackson's impact.
Jackson seems up to the task. He is in a great place mentally and the new scheme has energized his game. After some "bumps" early on finding his place in the offense, Jackson has emerged as the most productive player of this Eagles summer. He has been dynamic, unstoppable and a whole lotta laughs to watch. See DeSean fly down the sideline! Watch him catch a pass on a post and zoom away from the defense! Look at him leave exhaust fumes on another cornerback trying to keep up with Jackson's blazing speed!
"I think it's a great system and is going to give me a lot of ways to get some touches and help us win games," said Jackson. "At first, it took some time to get used to what Chip wanted from me, but we got on the same page and I feel so much positive energy and so much love.
"Whatever they want from me, I'm going to give it to them. We have big plans."
Jackson is a focal point here, and without question the biggest of the big-play makers in this offense. No matter who wins the starter's job at quarterback, No. 10 is going to be a first read much of the time. And instead of having a limited range of routes -- which seemed to narrow down in the last few season to a "go" route, a "stop" and an occasional screen -- Jackson is doing it all.
The results are impressive.**
"He's playing great football," said quarterback Michael Vick of Jackson. "Running great routes, getting open and catching the football. That's what you want. DeSean is a great weapon for our offense to have."
Jackson may not be an 80-catch kind of wide receiver, then then again, who knows? Will Kelly opt to spread the passes around to all of his receivers, including the healthy glut of tight ends and running backs on the roster? Or does the head coach want to make sure that Jackson is featured in the passing game?
We'll see. This much is true: Jackson has his groove back. If there were any concerns that he was becoming a one-dimensional receiver, Jackson has erased them with a scintillating summer.
The man has scored 32 career touchdowns and 23 of them have covered 30 or more yards. That's a staggering statistic, one that the Eagles hope is increased even more as Jackson's game is taken to a new level.*
*