Another day of practice, and another day without wide receiver Reggie Brown. He is listed as doubtful for Sundays' game against the Rams, and head coach Andy Reid will find out a lot about his team in Sunday's season opener.
Already without Kevin Curtis, the team's leading receiver last season, the Eagles will likely be without the services of starting wideout Reggie Brown, who missed a second straight day of practice due to a hamstring injury.
Reid officially listed Brown as doubtful for Sunday's game against St. Louis. Brown practiced Wednesday, but re-aggravated it.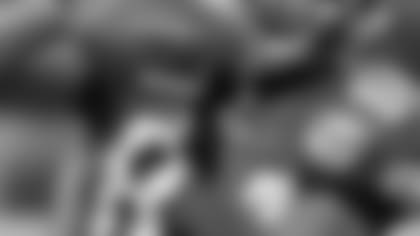 WR Hank Baskett could start Sunday
"He went out and practiced and it just didn't feel too right to him," Reid said. "He stretched out for a ball and felt a kind of a tug in there, so we backed off immediately on him.
"We'll see how he does here in the next day. Right now, obviously, it's what it says, it's doubtful."
Reid did not name his starting receivers for Sunday, saying that he'll use a "by committee" approach that would include his four healthy receivers - Hank Baskett, Jason Avant, Greg Lewis and rookie DeSean Jackson. Brown could be in that mix, too, if he is medically cleared to play.
Regardless, the team is confident in the receivers that will play against the Rams.
"People like Greg Lewis and Hank Baskett, they're sure-handed guys," Avant said. "They've been doing well. We're not even worried about it. We know we can go out there and play well."
The coach noted that the receivers who typically play on special teams will continue those roles as well, including Jackson as the punt returner.
"Anytime if you have an injury or injuries, you have a chance to find out about the backups," Reid said. "It gives you an opportunity to see some guys play that might not have had the opportunity.
"I'd love to have them (Curtis and Brown); but I'm not worried about it either."
Reid didn't seem to be too concerned about the weather forecast, either. Torrential rain is expected on Saturday, when Temple is scheduled to host Connecticut at Lincoln Financial Field. That means there's a chance the field will be a mess on Sunday.
"Not necessarily," Reid said. "We had a chance to play in the rain against Carolina and we learned some things there, some things we can get better at so coming out that game, I expect improvement after that. At least we had the opportunity to practice in it."
Safety J.R. Reed said that weather is the great equalizer.
"It kind of balances out, because the receivers have a harder time because it's wet," Reed said. "They'll have a harder time catching the ball. But they have an advantage on the first cut because they know where they're going. We have to make harder plants on the ground, and if the ground gives, we're falling down and they're running free."
According to Reid, no matter what Mother Nature doles out, director of grounds Tony Leonard can fix it.
"That field normally holds up pretty good," Reid said. "It drains very well. There's a lot of sand base to it, it seems to drain easy. I'm sure there will be some wear and tear after the Temple game, but I don't think it will too much. Tony does a great job – he's probably the best in the business at what he does. He'll put back together what needs to be put back together."