Brian Dawkins' grandfather had told him the stories of the 1940s. His father had told him the stories of the 1960s. For black men, life at one point was almost too difficult to imagine.
That's why the Eagles' free safety stayed up into the wee hours Wednesday morning watching as a black man, Barack Obama, was chosen – popularly and electorally – to ascend Capitol Hill as the 44th President of the United States. For all the impossibilities Dawkins had personally conquered or heard tales of, a black man might just have taken down the biggest one.
On Jan. 20, 2009 a black man will be leader of the free world when President-elect Obama takes the oath of office.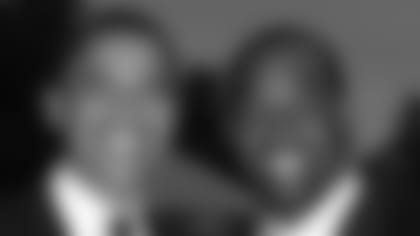 President-elect Barack Obama with McNabb in 2005 at the White House
"Here it is. And for me, I've always been one that as I grew up, I said that I can make it and play professional football because I saw guys in professional football that looked like me, that talked like me," Dawkins said.
"You hear people say, 'I want to be a doctor' because you've seen doctors that are African-American, 'I want to be a lawyer' because you see lawyers that are African-Americans. But people who say when you are little, 'I want to be president,' the likelihood of that happening was not high, but now it is. Not just for African-Americans, but for minorities in general."
The Obama movement that had captured the nation's interest for most of the past two years had grabbed hold of some in the NovaCare Complex locker room, as well. Some who had never voted in the past casted their ballots, and some who never watched the results waited awake.
And some who had merely a passing interest were now emotionally invested. Quarterback Donovan McNabb had never registered to vote in the past, but the emergence of Obama forced his hand.
McNabb often seems to find himself – mostly unwillingly – involved in discussions when a race-related issue in sports comes up. But this issue is bigger than sports.
"Obviously, growing up and seeing and hearing how some people may feel about having an African-American president, I didn't think it was possible," McNabb said. "But, when you have an individual who people have truly looked past his skin color and just listened to his thoughts and what his gameplan is of what he wants to do in office and how he would go about it, that's the positive thing that I think people should truly focus on – how people have looked past his skin color and look to support him as an individual in what he plans to do."
Obama made his name as a community activist and lawyer in McNabb's native Chicago, and McNabb met him for the first time at the White House Correspondent's Dinner in 2005. The conversation, McNabb said, immediately turned to sports, another area in which Obama's well-versed.
McNabb noted the parallels between historic black sports figures, like Jackie Robinson, and Obama.
"No one expected it to get to that point, but now we have," he said. "We can make change, just like Obama said, and change will be made."
McNabb said he has a photo with Obama he wants autographed and framed, an uncommon position for McNabb to be in. But as McNabb tends to do, his focus shifted back to sports, and he mentioned the conversation he wants to have with President Obama in the near future.
"The thing that I think about now is, wouldn't it be special if we make it to the Super Bowl and win and I get the phone call from Barack Obama?" McNabb said. "That would be excellent."