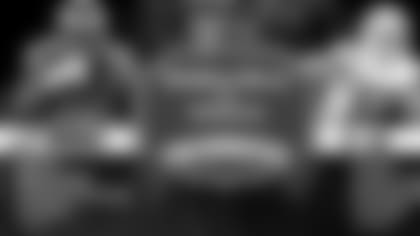 As a member of the Cowboys last season, DeMarco Murray tore through opposing defenses en route to a league-best 1,845 yards and 13 touchdowns. But through six games with the Eagles, the results have been somewhat mixed.
Dealing with a hamstring injury early in the year and running behind a struggling offensive line, he rushed for just 11 yards on 21 carries through his first two games. But after taking a week off to rest his leg, the 27-year-old running back bounced back, gaining 296 yards on 67 attempts (4.4 yards per carry) in the four weeks that followed.
Now, the All-Pro rusher will look for vindication in his second and final regular season meeting against his former team. In Week 2, Murray rushed 13 times for just 2 yards against the Cowboys at home, but he's not worried about redemption for his own performance in that game. Instead, he's simply focused on coming away with a win after he and the Eagles suffered a 20-10 loss at the hands of the division rivals.
"I'm not looking to go down there and make a statement individually. I'm just looking to go down there and help these guys get a win," he said of the upcoming road meeting with Dallas on Sunday Night Football. "They played a good a good game against us last time, (their) defense played well, but I'm not worried about the yardage. We just have to go in there and do what we do – play hard and play physical."
Murray spent his first four seasons in Dallas before signing a long-term deal with the Eagles this past offseason. With the Cowboys, he had enjoyed the lion's share of the reps with 80 percent of the team's carries. He knew that playing for the Eagles, whose backfield features Ryan Mathews and Darren Sproles and whose offensive line wasn't nearly as solidified as that of the one in Dallas, Murray knew the transition would be a challenge. But his faith in head coach Chip Kelly's system and his belief that Philadelphia was a team poised for a breakout season convinced him to make the move.
Nearing the halfway point of his first season with the Eagles, the veteran rusher is still excited about this team's future.
"I don't have any regrets," he said of leaving Dallas to sign with Philadelphia. "I didn't envision us (being 3-4). ... There's a lot new players on this team, so it's a learning process for everyone. I think we're getting better throughout the course of the week."