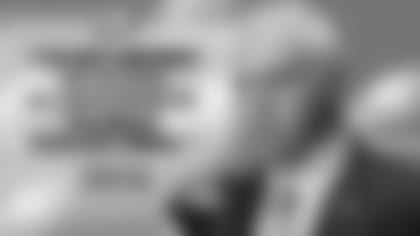 Chairman and CEO Jeffrey Lurie met with reporters for nearly 23 minutes on Wednesday afternoon to discuss the decision to release Chip Kelly. Here are the four main takeaways from the press conference.
1. On Finding The Next Head Coach Of The Philadelphia Eagles
While fielding an array of questions that asked him to look back upon Kelly's tenure as the Eagles' head coach, Lurie was also asked to look ahead to what the process for finding the next head coach will be and what the front office will be looking for in the candidates.
According to Lurie, the search committee will be led by himself, president Don Smolenski and vice president of player personnel Howie Roseman. The process of appointing the 23rd head coach in the history of the Philadelphia Eagles, and the fourth head coaching hire of the Jeffrey Lurie era, has already started.
"I'm very confident that this search will be done very, very professionally, as the last one was," said Lurie. "We uncovered several excellent candidates, and I guess Chip was probably number one on a lot of people's lists last time, and we were no exception, for those that wanted to make that bold choice.
"I'm very confident that what we're going to assemble in terms of that search will lead us and our fans to a really excellent choice. I'm excited about starting that search. We already started last night."
Lurie also explained some of the characteristics that he's looking for, both on the football field and away from it, in the next man to lead the Eagles. The biggest point that Lurie seemed to hit home was that the Eagles are looking for someone who is not only a forward thinker, but also an effective communicator with everyone he works with.
"Number one, (we're looking for someone who is) a smart, strategic thinker. That's a given," Lurie said. "You've got to be looking out for the short-term, mid-term and long-term interests of the franchise.
"(We're) looking for somebody who interacts very well and communicates clearly with everybody he works with and everybody he comes in touch with, understands the passion of our fans and understands what it's like to coach the Philadelphia Eagles. It's a unique and incredibly passionate fan base that just wants to win. You've got to incorporate that in your life, in your heart and you've got to be willing to do that. Another thing is attention to detail. I think all good coaches have tremendous attention to detail in this league.
"Lastly – among many other things, but I'll just mention a few – you've got to open your heart to players and everybody you want to achieve peak performance. I would call it a style of leadership that values information, all the resources that are provided and admires emotional intelligence. I think in today's world, the way businesses are run and sports teams are run, that a combination – and it's not easy to have – a combination of all those factors creates the best chance to succeed."
After going the college route to hire Kelly back in 2013, Lurie said that he's not averse to searching through the college ranks once again. The Eagles' plan to interview candidates with a wide variety of backgrounds, and none of the candidates will be lumped into groups because of their coaching history, but rather by their ability to prove themselves as a leader.
"No category is diminished here," Lurie said. "We're going to look at NFL coaches, NFL coordinators, college coaches, retired coaches, any category you can come up with if we think it's the best candidate. No, there will be no change in categories."
The last two hires by Lurie, Kelly and Andy Reid back in 1999, were offensive-minded coaches. Asked if he would travel down that road again, Lurie re-emphasized that an offensive or defensive background won't make or break a candidate's chances of joining the Eagles.
"We're looking for the best leader," Lurie said. "I've looked carefully at coaches around the league and where they come from, and I don't think there's any clear evidence of offense over defense or defense over offense. It comes down to the leadership ability with today's athletes in today's world. It's different than it was a long time ago, but I don't treat offense or defense differently."
2. Lurie Offers Three Reasons For The Timing
Lurie could have easily allowed the Eagles to play their final game of the 2015 season on Sunday at MetLife Stadium and then meet Chip Kelly to inform him of his release.
Instead, Lurie said that he and president Don Smolenski met with Kelly on Tuesday evening for three main reasons:
A. It gives the Eagles a jump-start on the head coaching search. The Eagles learned in 2013 how hectic the schedule is. Lurie knew the direction he wanted to go in. Why prolong the inevitable?
B. Kelly gets an opportunity to "view the marketplace," as Lurie said, and see what jobs will be available for him.
C. Lurie stressed that the most important aspect of making the decision now was it gives him time with the players. He addressed the players in a meeting Wednesday morning. He will continue to talk with players throughout the rest of the week before they leave for the offseason on Monday. That opportunity would have been lost if Lurie waited until after the game.
3. A Collaborative Approach To Player Personnel
Last January, Lurie granted Kelly the final say on player personnel decisions. Moving forward, Lurie will have the Eagles implement a "real collaborative approach" between the new head coach, executive vice president of football operations Howie Roseman and senior director of player personnel Tom Donahoe.
Lurie called Donahoe's promotion "a crucial hire and crucial position." Donahoe is a former general manager of the Buffalo Bills and director of football operations for the Pittsburgh Steelers. He has served as the Eagles' senior football advisor since 2012. Donahoe will manage the player personnel department on a day-to-day basis. Roseman will be responsible for maximizing the potential of the player personnel staff.
4. On Last Year's Decision To Put Kelly In Charge Of Player Personnel
Lurie knew when he hired Kelly three years ago that it was a bold choice. He also knew that giving Kelly, still nascent to the intricacies of the NFL, control of the team's personnel decisions at the conclusion of his second season was a risky move. But he continues to stand by that decision, even Wednesday when he spoke to reporters one day after releasing Kelly of his role with the team.
Coming from Oregon, Kelly was seen as one of the most innovative minds in football when the team hired him in 2013. His pace-oriented spread scheme was one of the most dynamic offenses in the college ranks, and in each of his first two seasons with the Eagles his teams ranked top five in both yards gained and points scored. Kelly's system was unique, and he believed it required a unique personnel group to execute it at peak efficiency. Lurie saw things similarly, and restructured the football operations side of the organization at the beginning of last offseason in order to give the third-year head coach more decision-making power. The thought was that it was a move that had to be made in order to put the team in a position to go from good – 10-6 in each of Kelly's first two seasons – to great – potentially a deep postseason run.
"There was really no choice in terms of maximizing Chip without him having the lever, so to speak, of making those decisions," Lurie said on Wednesday. "You were either all-in, or you should find a new coach, in terms of trust. ... In terms of the results, that's the reason we're here today.
"I wanted to make Chip accountable for everything he wanted to have happen. And one of the ways to make him accountable was to have him make those decisions, because that is what he insisted on decisively doing."
A number of factors led to the long-time owner's decision to part ways with Kelly, but at the end of the day the one that looms largest was the quality of the on-field product this year. Sitting at 6-9 with one game remaining this season, the Eagles will finish with a losing record for just the third time since 2000, doing so for the second time in four seasons. For a team that eschews mediocrity and strives always for greatness, the results were too disappointing to overlook.
"If you want to make those decisions, be accountable for them, and that's the direction it took," said Lurie. "There was a risk involved in allowing Chip to have that kind of say over player transactions, however (it was) risk/reward, and sometimes the risks don't work. In this case, it didn't work."