Defensive end Mike (Miguel) Flores had two of Louisville's eight sacks in its upset victory over Alabama in the 1991 Fiesta Bowl and finished his college career with 27 in all.
Choosing him in the 11th round, 298th overall, of that year's NFL Draft, the Eagles may have felt they got a steal. Flores, on the other hand, thought he was robbed.
"I was very disappointed. It's not that I didn't want to be with the Eagles because I was very appreciative," Flores says. "Of all the hundreds that came (to the pre-draft workouts), the Eagles didn't show up one time and they still gave me a shot. I was disappointed because I was an 11th-round pick, and I know I was way better than that.
"I had a great college career. I believe I led the nation in sacks. I got two sacks in the East-West All-Star Game. I was a sack master-plus. And I led my team in tackles for loss. So there was nothing besides maybe my size. I was 6-4 and maybe 257 is what I weighed in as a rookie."
Flores may have been undersized, but by joining Philadelphia's defensive ends the likes of five-time All-Pro Reggie White and Clyde Simmons, who would earn his first of two All-Pro nods that season, he was overshadowed, as well.
"I didn't expect to make the team. I said 'Man, they've got two all-stars. Why did they even draft me?' And then they had Steve Kaufusi, who was just big and a whole lot stronger," Flores says. "But Reggie and Clyde, they were pretty good at giving me tips. And mainly just being examples before me."
Tips from veterans like White and Simmons were clearly valuable, but to earn his keep and make the team, Flores would have to stand out and perform well during Training Camp. Because of some nervousness, that proved to be easier said than done.
"I remember that (Defensive Coordinator) Bud Carson had been wanting me to get more reps. Him and Dale Haupt, who was the defensive line coach," Flores says. "And I was hiding. When we first got there, they threw me this big green notebook, and it had all the plays. They went over them very fast, and said, 'When we get out there, we're going to run these plays.' So I was like, 'Man, they're going to surely cut me when I mess up these plays.'
"So I'm hiding behind some people, and Dale Haupt found me and just cussed me out. 'Flores! Get over here! I've been looking for you! You didn't run your plays!' And I said, 'Oh, snap. He caught me. Well, one thing I know how to do, I know how to get in the stance. I know how to line up. And I know how to come off the ball.'
"I said, 'They can correct me later, but I cannot get cut. I've just got to go as hard as I can go.' And that kind of helped me get through it until I was able to pick up some of the plays."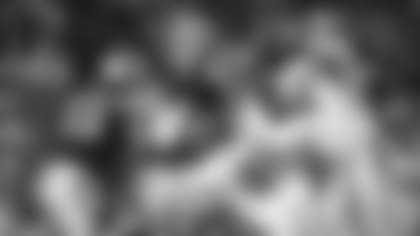 After making the team and playing in a handful of games as a rookie, Flores became a solid backup the following season. He was promoted to a starting role in 1993 after White left for Green Bay as a free agent.
"I was excited, but then I wasn't because the Eagles kept bringing in older players that had been somewhat washed-up over and over and over again. They really weren't trusting me. Especially on that left side, because that's the traffic side. I was more of a quicker, faster kind of outside linebacker-type than a defensive end at that time," Flores says.
"As I went on, I gained a lot of weight and got a whole lot stronger. But at that point, it was, 'Here comes the pulling trap. Here comes the tight end. The quarterback can see you coming, so he can get out of the way.' But I started 11 games and played pretty decent.
"But when you're filling in for Reggie, I mean, what could I do? I couldn't even tie his shoestring. So you've got all the Philly fans mad because Reggie left, and then they're looking at me trying to take an All-Pro's spot."
With the Eagles for four seasons, 1991-94, Flores and his wife, Lakia, are parents to 10 children and make their home in suburban Houston.
Now retired, much of his time is devoted to dealing with personal challenges.
"When I see these players talking about mental health, I literally want to cry because I know that pain. I know that frustration. Whatever I can do, whatever example I can be for that, I definitely want to help," he says.
In the meantime, Flores goes out of his way to help the youth in his community, coaching football and otherwise.
"I like preaching the gospel. I like promoting Christian rap music because I love the music. I try to encourage young people and I love talking to young people because I feel like this generation is going to be lost and they don't know who to listen to," Flores says.
"So I go out to football games and I mentor. Whenever I would coach, whenever I'm sitting in front of the principal or the hiring person, the first thing I would be careful to tell them is I'm not coaching for victories, I'm coaching for character. I want these kids to be better than they were when they met me. To be able to produce in society and make society better because of their character.
"And I started an organization called ACE, which means Advocates for Community Enhancement. It allows me to do whatever the community needs me to do to enhance that particular community with the principles of the Bible. I just enjoy talking to people. I tell them that God loves them and has got a purpose for their life. I live that way, and try to make sure that my family understands that the most."