David Alexander may have stretched the truth a little bit. But who could blame the guard from Tulsa who was chosen by the Eagles in the fifth round of the 1987 NFL Draft?
"Coming in as a middle-round draft pick, it was very important (to be versatile). They drafted a center, guard, and a tackle that year," Alexander said. "We'd gone through two weeks of pre-camp, with (head coach) Buddy (Ryan), that's no pads, and then we showed up at Training Camp for physicals.
"That night, I'm in my dorm room with another rookie and we're nervous, not knowing what to do. Then there's a knock on the door. 'Dave, you need to come see (offensive line coach) Bill Walsh and bring your playbook.' I'm thinking to myself, 'Man, I got cut and I didn't even put my pads on yet.'
"I go down to see the coach and he says, 'Ken Reeves had appendicitis last night. Do you know the tackle plays?' I said, 'Yeah, I know them.' I didn't know them, but I said I did. He said, 'Well, you're the second-team offensive tackle tomorrow.' The first day of camp and I'm going against Reggie White and Clyde Simmons. So, I went back to my room and learned all my tackle plays. I deep-snapped, too. I did everything I could to make the team."
And he did. While contributing mostly on special teams as a rookie, there were times when Alexander was called upon to step into the offensive huddle.
"I ended up being the sixth lineman," he said. "I played in a couple games at tackle when guys got nicked up. And I played a couple games at guard. Gerry (Feehery) made the whole season, so I didn't play any center as a rookie."
After making 12 starts at left guard the following year, Alexander became the starting center in 1989 and remained there for the next five seasons without missing a game.
"I enjoyed 1988, playing guard between Dave Rimington (at center) and Matt Darwin (at left tackle), but I was a natural center with my body size," said the 6-3, 275-pound Alexander. "That was my natural position. That's what I played most of the time growing up. But like I said, I'd do anything I could to get out on the field."
Impressed with the leadership Alexander demonstrated on and off the field, Ryan named him as an offensive captain along with quarterback Randall Cunningham. It was a role that the center learned to enjoy.
"Buddy showed a lot of confidence in me early on and that gives a player confidence, knowing that his coach has confidence in him," Alexander said. "When they named me captain, I don't know if I was ready to be a vocal leader at that point. But the next year, I kind of took over that role on the offensive side. The coach had a lot of confidence in me and gave me a lot of responsibilities that most offensive linemen don't have. It was a great experience. I'm pretty proud of everything I was able to do there in Philly."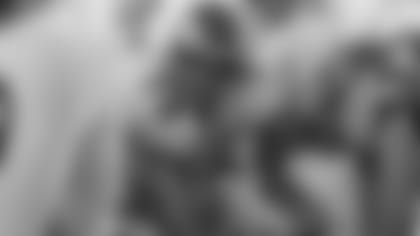 Philly's fans can be proud of what Alexander is doing now. After building custom homes in Tulsa, Oklahoma and spending two seasons as the head coach of the city's AFL2 team, the Talons, he's followed his roots and is the head coach at his alma mater, Broken Arrow (Oklahoma) High School.
"I grew up in Broken Arrow, so I'm back home," Alexander said. "Football is obviously in my blood. A friend of mine was the head coach of another school and he asked me to come coach with him. I just fell in love with kids and the process and the opportunities it gave kids. It impacted some kids' lives.
"It's just been absolutely awesome. I wouldn't change anything. I really love being here. We're a big high school with lots of great kids. It's been everything that you could ever imagine."
In his fifth season as the coach and assistant athletic director at Broken Arrow, Alexander's team went 13-0 this season and won the Oklahoma Class 6-A State Championship. It was the school's first state football title.
Success on the field, however, is just a part of the reason why Alexander enjoys coaching. The times when he sees his players grasp what he's trying to teach them is another.
"That's the best feeling in the world when they realize that hard work and dedication to something bigger than themselves really means something and that it pays off for them," Alexander said. "You can kind of see the light in their eyes. Old Coach Alexander does know what he's talking about.
"The best part of coaching high school football is two or three years after they graduate, they come back and tell you, 'Hey, Coach Alexander, do you remember when you said this to me? That really meant a lot. I understand now what you were saying.' It impacted their lives a long time after they leave."