A three-year letter winner at the University of Virginia, offensive tackle Dave Graham had choices. Selected by Philadelphia in the 1960 NFL Draft, he was also chosen by Houston in the AFL Draft and by British Columbia of the Canadian Football League.
"I was drafted as a future. In those days, they did that, and so I played another two years (at Virginia) before I actually went with the Eagles," Graham says. "I grew up as a Giants fan in Connecticut, and I just wanted to see if I could make it in the NFL. I had a job (lined up) with General Electric because I didn't know if I was going to make the team or not."
Graham made the Eagles in 1963 and was the starting left tackle. The following season under new Head Coach Joe Kuharich, Graham was joined on the O-line by newly acquired 11-year veteran center Jim Ringo and two-year veteran guard Lynn Hoyem. And also, by future Hall of Fame tackle Bob Brown, who was Philadelphia's first-round draft choice, chosen second overall, that season out of Nebraska.
"We worked hard and we had good coaching. Dick Stanfel was our line coach and he was a stickler for technique, getting the right foot, the right step, so we worked on that all the time," Graham says. "Bob Brown came in as the first highly paid player. I think he was making $200,000 or $300,000, and we were all making about $20,000. He wasn't the most welcomed person on the team in those days."
Eventually, the players warmed up to Brown.
"He was a nice kid. It was more that we were doing the same thing and he's getting paid a hell of a lot more than we were," Graham says. "It wasn't a big thing, but it was the reckoning in those days of the coming salaries and the coming draft choices and those kinds of things."
Graham played seven of eight seasons from 1963-69, missing the 1967 campaign, for Philadelphia at every position along the offensive line except center. What makes him most proud of his career that spanned 83 regular-season games?
"Probably making the All-Rookie Team," he says. "I was starting and then I tore a cartilage in my knee in the last game. I had it operated on right before the (following) season and played the year, but it was a little too early. But in those days, we didn't have a lot of players and you were expected to do a lot of things that you wouldn't probably do today."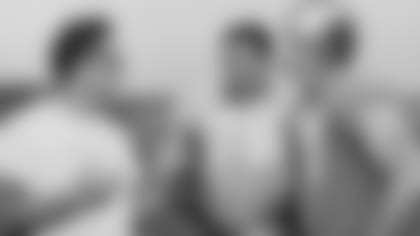 The Eagles only had one winning season during Graham's tenure, a 9-5 finish in 1966. However, he witnessed Philadelphia lore during a 1968 contest at Franklin Field.
"I played in the famous (1968) game when Santa Claus was booed," Graham says. "The fans were frantic, and they still are. They were really nice to us, but they also had high expectations. I remember one game, I was leaving the stadium and I backed into a car, just touched it, and a guy tapped on my window and says, 'Graham, that's the first person you've hit all day.' The people were great. For the most part, they were gracious and did a lot of nice things for us."
Following football, Graham returned to Northern Virginia and began a second career in education.
"I always wanted to be a teacher and my parents were not supportive because in those days, teachers didn't make enough earnings to take care of a family or anything. But I just always wanted to do that," Graham says. "Football gave me the opportunity to go to graduate school, and when I got out of there, I went into teaching. I taught one class of history and the rest of the day was as a guidance counselor.
"Then I got into administration and was a principal for about 20 years (at Marshall Middle School in The Plains, Virginia, and then at Fauquier High School in Warrenton, Virginia). It was almost the same thing as playing football, being part of a team and having people work together and accomplish things people didn't think you could do. Probably the proudest thing was being Principal of the Year in the Washington (D.C.) area one year. I had a knack for getting along with and inspiring people to do their best, and I related well with the community.
"I retired as a principal about 15 years ago. My wife (Caroline Marshall Green Graham) had cancer, so I retired early. I took the time off to take care of her and never really went back. She had a horrible few years before she died (in 2003)."
Still making his home in Virginia with his partner, Jean Beckman, Graham has three adult children who have each followed him into the field of education. His son, David Jr., is the Fauquier Public School's executive director of administration and planning. One daughter, Caroline Campbell, is a vice president at James Madison University, and another daughter, Rebecca Graham-Hyson, is an art teacher and painter. Graham also has six grandchildren.