Leading up to the 1968 NFL Draft, Mike Evans, a center at Boston College, learned that it's always good to have someone in your corner.
"All the hype was that I was going to go in the first round. But I didn't, I went in the ninth. Word got out that I had a bad knee," Evans said. "What happened was, the trainer at Boston College left and went to the Detroit Lions, and at the time I had a knee injury. He spread the word out when he got up there that I may have bad knees and they backed away.
"Fortunately for me, Joe Kuharich was the coach (of the Eagles) and I went to school with his son, Larry, at B.C. He called his dad up well into the second day (of the draft) and said, 'Mike doesn't have a bad knee. He squats 500 pounds. He works out every day religiously.' So, they took a shot on me."
Born in Philadelphia, Evans was more than familiar with the Eagles even though his family moved to Pittsburgh when he was 5 years old. Relocating 257 miles west to Steelers country didn't lessen their loyalty to the hometown team.
"My dad went into business for himself in Pittsburgh, but he was always an Eagles fan. He loved the Eagles," Evans said. "So, it was really nice when I got drafted by them because he had kept his season tickets from the championship year in '60. I was a fan, and so when I went to the Eagles, we didn't have to worry about tickets."
And the Eagles wouldn't have to worry about the center position. Evans became a fixture there beginning in his second season. He was voted as the Eagles' Offensive MVP by his teammates in 1971.
"It was really heartfelt because we weren't winning," Evans said. "That was, I guess, one of our best years. We were 6-7-1. We thought we were on our way to getting better when four games into the season, they switched coaches.
"And if you take it from that coach, who happened to be Eddie Khayat, we won more games than we lost. Everybody was positive. So, to be honored that way in a year that we played better, it meant a lot to me. And it still does."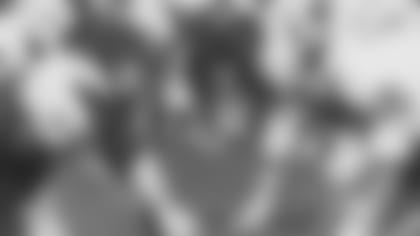 That, coincidently, was also the year when Veterans Stadium opened. It had, let's say, mixed reviews.
"It was a beautiful stadium, but the field was like playing on concrete," Evans said. "We ended up having to, because people were getting a lot of shin splints and injured ankles and knees, practice at JFK Stadium for all of the games. There was no give to the turf at the Vet. And if you're playing on Sunday and practicing on that five days a week, your legs get tired.
"But it was a nice stadium, and compared to Franklin Field, it was a huge step up. The locker rooms were bigger. There was an area where you could lift weights. Although people back then didn't lift weights like they do today."
Besides playing in a new stadium, Evans and his teammates also had to deal with new coaches. During his six seasons with the Eagles, Evans played for Jerry Williams and Mike McCormack in addition to Kuharich and Khayat.
"Every year and a half, I had a new coach if you divided it equally. So, it was quite a challenge," said Evans. "(With the playcalling) you spend a year learning that all the even holes were on the right and the odd holes were on the left. And then the next coach comes in and it's just the opposite of that.
"And then the next coach starts at the low end and all the holes are from left to right. So, you had to remember that, plus the terminology for what they wanted to name things. It was like picking up a new language."
Evans' fondest memory as an Eagle was twofold. First, it occurred during a game played on November 23, 1970 at Franklin Field when the 1-7-1 Eagles upset the 6-3 New York Giants, 23-20. And second ...
"It was Monday Night Football and we shut Howard Cosell up," Evans said. "The week before he was on with Dandy Don (Meredith) and he apologized to the people for having to go to Philadelphia where the Eagles couldn't beat an all-girls team.
"When he got there, I guess he partied pretty hard before and during the game. He left at halftime, and we ended up beating the Giants and knocked them out of going to the playoffs. That was a big deal. We all played as a team and just weren't going to be denied that night. It was phenomenal."
Following a six-year career with the Eagles that spanned 73 games, Evans and his wife, Kitty, started a business in Philadelphia called Evco Industries.
"We sold industrial adhesives for packaging," Evans says. "If you saw a cereal box in a grocery store that's glued shut, I would sell that glue to glue that box shut. And also the equipment to apply that glue at 180 boxes a minute. I did that up until January of this year when I sold my business. Fortunately for me, the timing couldn't have been better. So, now I'm retired after 46 years."
The Evans make their home in suburban Philadelphia. They have three adult children – Patrick, Kelly, and Kate – and eight grandchildren.