On the heels of a dominating defensive performance against the Pittsburgh Steelers, it was the Eagles' offense that received the majority of good news Monday.
Head coach Andy Reid updated the status of Pro Bowl running back Brian Westbrook, who left Sunday's game with an ankle injury and did not return. An MRI Monday revealed a strain, with no tears or serious ligament damage. Westbrook left Lincoln Financial Field on crutches, but was not using them Monday despite a limp, Reid said.
"It's literally a day-to-day situation. I'm sure it'll be a race to get him ready for Sunday," Reid said. "(It's) not torn or damaged, but there's a strain in there, yes."
Reid said Westbrook would be fine if he were to play without practicing, and called the injury something the Eagles "can manage." He said the injury was more day-to-day than week-to-week, and Westbrook will be spending a bit of extra time in the training room this week.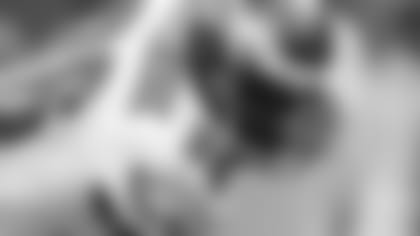 RB Brian Westbrook
Should Westbrook not be able to play against the Bears in Chicago, Reid expressed confidence in Correll Buckhalter, who led the Eagles with 87 yards from scrimmage on Sunday. Also, fullback Tony Hunt, who suffered a concussion in Sunday's game, could be back in the lineup. In turn, Reid said he didn't expect to be forced to make a roster move to sure up the running back position.
In more spurts of good news, wide receiver Kevin Curtis is expected to work on the scout team this week as he recovers from a sports hernia, and Reggie Brown suffered no setbacks in a semi-limited role against the Steelers.
"We'll see how (Curtis) feels after that," Reid said.
Additionally, quarterback Donovan McNabb should be ready to play on Sunday despite some soreness. An MRI on McNabb revealed an upper chest contusion, which McNabb said Sunday is similar to an injury he suffered in the 2005 season opener against Atlanta. McNabb missed no time after that injury, and threw for more than 300 yards in each of the subsequent three games. On Sunday, he missed the first series and a half of the third quarter while undergoing treatment in the locker room.
"Do I think he'll be sore this week? Yeah, he's sore today," Reid said. "I think he'll progressively get better as the week goes on. We'll see how he does."
The biggest concern for the Eagles right now could be right guard Shawn Andrews' back spasms. Andrews missed Sunday's contest, and Reid said the injury hasn't progressed the way the team would have liked to this point. Andrews had similar back problems in high school and college, Reid said.
"It hasn't improved much," Reid said. "Backs are crazy things. I'm not very good at predicting those. I don't think anybody is."
In tune with what he said, Reid also had no update on tight end L.J. Smith, who left Sunday's game with a back injury.