Brian Westbrook may be his own worst enemy.
Despite having two fractured ribs, Westbrook lobbied to play this weekend against the 49ers.
But head coach Andy Reid decided against that. In fact, Reid said following Friday's practice that Westbrook, along with guard Shawn Andrews, wide receiver Reggie Brown and safety J.R. Reed will not make the trip to San Francisco.
"Brian wants to go," Reid said. "He's in the mindset that he wants to play, but it's a decision that I've got to make. I've got to do what I think is best for him and the football team down the road. It made the decision a little easier for me than it is for him. Obviously, he wants to contribute and compete. He's a tough nut and I know that."
Bottom line: Entering a pivotal contest before the bye week, the offense will be without its All-Pro running back, All-Pro guard and one of its two starting receivers.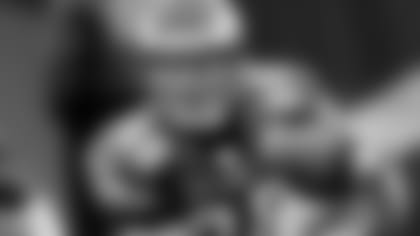 WR Kevin Curtis
On a positive note, though, receiver Kevin Curtis practiced the last couple days with the first-team offense and could see his first action of the season Sunday against the 49ers. Curtis participated fully in practice this week and is listed as questionable on the team's injury report.
"We are just gradually bringing him back in," Reid said. "He is prepared to play."
With Curtis' status uncertain and Brown out, one of the team's other receivers will have to step up once again.
"It's definitely a big game for us right now to figure out what's going on," said wide receiver Hank Baskett. "It's bad. We're back to the position we were at the start of the year with Reggie down. At least Kevin is fortunately coming back. Reggie will hopefully have time to get well.
"We have to just come out here and perform. That's what it is. That's why those guys are starters and we're their backups, in case something happens. Injuries happen all the time in this league, so now the pressure is on us. DeSean (Jackson) and I, Greg (Lewis) and Jason (Avant) know we have to step up and make something happen, especially with Westbrook being out, too."
As always, Reid is confident the players will fill in and do a good job.
"We have other guys who have to step up and play," Reid said. "That's what we expect to happen. It is a very important game; they all are. I've said this in the past, if somebody gets hurt, that next guy needs to crank it up, along with everybody else around him."
The fact that Reid made it clear who is and is not going to play on Sunday should make it easier on the players stepping in for the injured.
"They're the ones who practice, and now they can get themselves ready to go," Reid said. "They might have expected it, but now they know it. It's cut and dry. Brian doesn't need to travel, and Reggie doesn't need to travel. In particular, Brian, with the pain that he's in. We'll relieve him of any motion there and it allows 'Buck' (RB Correll Buckhalter) to get himself mentally prepared."
As for Westbrook's long-term health, Reid said the time off-- Sunday followed by the bye week--should allow for his playmaking back to return to the lineup Oct. 26 against the Falcons.
"If he were to get hit on it this week, it would slow down the process of healing," Reid said. "I think the bye week will help him. I think it will take some of the sting out of that thing. It buys him some time so, when we get back, the ankle and ribs are ready to go. It will be smooth sailing here."
Meanwhile, defensive end Juqua Parker, who leads the team with 3.5 sacks, did not practice this week but will "most likely" play, according to Reid.
Also, second-year defensive end Victor Abiamiri practiced fully this week and is expected to make his 2008 season debut on Sunday.
"He has done a nice job," Reid said. "He hasn't played in a game for a while, so he needs that. He needs to get incorporated in there gradually and he will be fine."
Finally, Reid had no new update on Andrews and his back injury.