Christina Weiss Lurie attended the Green Sports Gala last night at The Liberty Warehouse in Brooklyn, New York, where she was presented with the Environmental Leadership Award. That award is given annually to a member of the sports industry who has demonstrated leadership and has provided significant contributions to environmental sustainability. It was voted on by the Green Sports Alliance Board of Directors, which is comprised of representatives from professional sports organizations and environmental leaders. The inaugural winner of the award was MLB commissioner Bud Selig in 2012.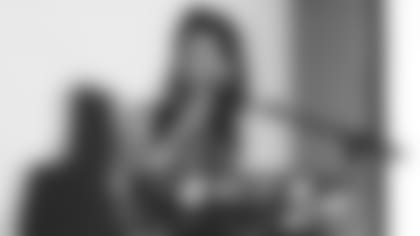 "It's an honor to be named as the recipient of the Environmental Leadership Award," said Weiss Lurie. "When you look at the teams who comprise the Green Sports Alliance, you see a commitment to enhancing our environmental performance through a variety of different strategies. I've always believed that the path to sustainability is a journey, not a destination. We're proud to be a part of such a dynamic collection of organizations who share that same goal and I am humbled to be selected as the recipient of this award."
Weiss Lurie is a strong advocate of social and environmental causes, interweaving many philanthropic endeavors into the fabric of the Eagles' brand. Through the team's Go Green initiative, which started in 2003, the team has worked to better the environment by creating and sustaining programs that improve the quality of life in the Philadelphia region, protect the environment and reduce the team's impact on the planet. Last year, the Eagles were able to divert over 99% of the waste they produced from landfills, and the organization also recently completed a major project that will allow them to generate around 30% of their annual power needs through solar panels and wind turbines located on the stadium and in the parking lot.
"Christina was the driving force behind the Eagles' Go Green initiative, which was the first comprehensive sustainability effort by a professional sports team," said Scott Jenkins, Board Chair of the Green Sports Alliance and Vice President of Ballpark Operations of the Seattle Mariners. "The Eagles have shown tremendous leadership over the past ten years and continue to provide a great example for professional sports teams to follow."