When offensive lineman Todd Herremans caught his touchdown against the Seahawks last Sunday, nobody was happier for him than offensive tackle Chris Patrick.
Patrick was sitting with his roommate and fellow practice squad player Andy Studebaker at Chickie's and Pete's in South Philly, which is about 2,825 miles away from Seattle's Qwest Field.
But when an offensive lineman scores a touchdown, it has a certain ripple effect that can be felt from sea to shining sea.
"That's a lineman's dream!" Patrick said with his arms raised over his head. "That's awesome. That never happens."
Patrick and Studebaker, along with the rest of the practice squad players, toil in relative anonymity during the week, usually playing the role of someone from the other team to give the first-teamers a look at what they may see during the game.
That's on top of trying to improve and impress the coaching staff so they won't be on the scout team anymore.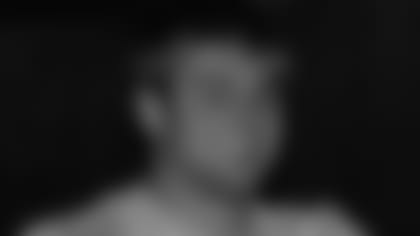 LB Andy Studebaker
On game days, when the rest of the team is gearing up for battle, players like Patrick and Studebaker become fans. They don't travel with the team and they're not allowed on the sidelines, so when game time comes, they're either in a box at Lincoln Financial Field for home games or in front of a television for away games.
So there they were at Chickie's and Pete's last Sunday watching the Eagles get off to a sluggish start in rainy Seattle.
"It's weird because we practice some of the game plan," Patrick said. "I kind of know what's coming. When things don't happen the way they're supposed to, you get really frustrated."
After the Eagles gave up a 90-yard touchdown pass to fall behind 7-0, most of the fans at Chickie's and Pete's were feeling exactly that.
But both Patrick and Studebaker never wavered.
"The TV says it's so-and-so's fault, but they're not always right," Studebaker said. "They're not right a lot. Until you see the film, you don't know. I guarantee that will get fixed right away."
Studebaker was right. Those points were the last the Eagles' defense surrendered all game. Eventually, the Eagles offense got on track and began moving the ball at will against the Seahawks defense.
Meanwhile, Patrick was quite focused on tackles Jon Runyan and Tra Thomas. Both guys watched the players ahead of them on the depth chart to try to catch subtle techniques they hadn't picked up before.
For example, Studebaker studied how linebackers Chris Gocong and Tank Daniels performed.
"To me, this is another opportunity to see guys in game situations and see what they do," Studebaker said. "It's good to watch these guys and learn from them."
Patrick said that one of the biggest differences between playing for the Eagles and playing for other teams is how much attention the coaches give to practice squad players.
According to Patrick, offensive line coach Juan Castillo works with Patrick every day to help him improve. Since Castillo has helped develop players like Jamaal Jackson, Shawn Andrews, Max Jean-Gilles and Jermane Mayberry among others, Patrick knows how valuable Castillo's coaching can be.
"He has a reputation for developing young linemen," said Patrick, who spent the preseason with San Francisco and Detroit. "When my agent called and said I'd be working with Juan, I thought it was great."
It's also funny to hear them talk about guys on the team. Studebaker marveled at DeSean Jackson's speed.
"He's unbelievably fast," he said.
Both guys were pumped after Thomas delivered a crushing block on Dononvan McNabb's quarterback sneak.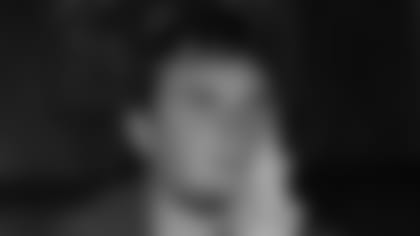 OT Chris Patrick
"Watch Tra here: Wham! One play like that and they won't miss another fourth-and-one all year," Studebaker said. "That's a confidence builder."
After a sack in the fourth quarter, linebacker Omar Gaither did a little dance that caught everybody's attention. It involved a hip shimmy, an arm wave and some snapping fingers.
After taking a moment to let it sink in, Studebaker decided to give it a thumb's up.
"It's original," Studebaker said. "You have to give him credit for doing something original. I'm going to ask him what that was."
Which brings us back to Herremans' touchdown. While it didn't have the style points of Gaither's dance, the spike that followed was truly worthy of someone's first touchdown.
"For his first NFL touchdown, that was a good one," Patrick said.
Especially since it led to another Eagles' victory.
"That's a team win right there," Studebaker said. "No penalties, good quarterback play – that's a championship team."