On the day when dreams are both fulfilled and temporarily put on hold, there's no better representation of the unpredictable nature of the NFL landscape than the three undrafted rookies who earned their way onto the Eagles' 53-man roster. Offensive lineman Matt Tobin, defensive tackle Damion Square and linebacker Jake Knott all sat idly by during seven rounds of the NFL Draft in April, never to see their name flash across the screen.
Undeterred, they each put in the requisite effort and showcased enough skills to impress the coaching staff and force their way onto the roster.
"It feels good," said Square, in a brief moment away from watching Alabama's season opener. "Obviously all the hard work that you put into it pays off. That's always big for me and my family and all of the people that provided for me coming up and just helped me out. Moreso for them than me, they're real excited to see the hard work pay off."
Each of the three undrafted rookies to make the team were priority free agents for the Eagles following the conclusion of the draft, though it took longer for some to make their impression felt in Philadelphia. Square, who has worked almost exclusively with the second-team defense this summer at several positions, stood out right away.
"When we watched Square, we always knew that he was a good player and fit this scheme," said general manager Howie Roseman. "To get him as an undrafted free agent, we felt very fortunate about that and it didn't take very long to see him in pads and to see how violent he was and what a good technician he was. I think that was pretty quick that we realized he was going to be part of this."
Knott, meanwhile, was an early standout as well. In fact, he was in heavy consideration to be selected by the Eagles during the draft itself.
"Jake Knott's another guy that it didn't take long," said Roseman, adding that Knott would have been drafted in the middle rounds if not for a history of shoulder injuries. "Even without pads, you saw the instincts, you saw the quickness, you saw the athletic ability and then when the pads came on, you saw that he was very willing to be physical. It's funny because you go through the draft-day decisions and Jake was a guy that we were really considering taking at all the three of those seventh-round picks and we felt very fortunate to get him, his character and his football intelligence. He's a good player."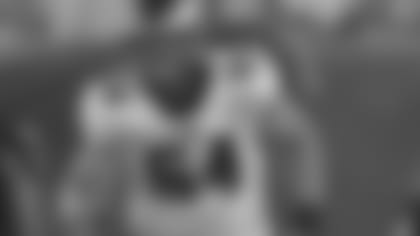 On the other hand, Tobin's career with the Eagles began slowly.
"I think when we talk about (Tobin), that comes on a little bit more," Roseman said. "You saw that he was a big guy, athletic guy, tested well, went to Iowa. I think you waited for the preseason, you waited to see how he played against the Patriots in those preseason games. He's also a guy who's versatile. He can play guard. He's done that in college and we think he can do that here. He's probably a four-position backup if you put him on gameday active and I'm not sure at the end of the day that he couldn't play center."
For his part, Tobin agreed that it took time for him to become comfortable in the NFL.
"I got here and the first couple weeks, I didn't have pads on for quite a long time because we didn't make a bowl game last year, so I was pretty rusty and I was awful homesick," said Tobin. "So it was a rough first couple of weeks and then I finally sort of got used to it and got into the swing of things, being able to play football better than I was the first couple of weeks anyway."
Tobin received the good news on Saturday not from the team, but from his father, who had been monitoring the team's transactions online. That he's made the roster means that the rookie is already ahead of schedule.
"The original plan they said was they wanted me to come be on the practice squad for a year, then a backup for a year, then a starter the third year," Tobin said, recalling a conversation with offensive line coach Jeff Stoutland as the team wooed him following the draft. "I knew that coach Stoutland liked me and I liked coach Stoutland. I liked his background. I liked coach Kelly. It just looked like the best opportunity for me as far as the roster at that point. That's the way my agent said it too, so from there he just said it was a good idea to go to the Eagles and I said, 'Alright, that's where it is.'"
While the focus in the micro sense is on the success of this trio of overachievers, there's a ramification of their presence on the roster that helps the Eagles in the long term. Next year, when the Eagles are looking to recruit the next crop of undrafted rookies, they can emphasize that this is an organization that truly gives those players a fair shot.
"No question," said Roseman. "We'll also hopefully get a couple on the practice squad here and I think that's how we're going to be. We're going to go with our eyes and the opportunities are going to be here. It's not going to matter where you're drafted. We're going to have credibility with that process. That's a good selling point for us going forward."
After Kelly's first time through a roster cutdown, it's clear that the focus remains on identifying the best players, no matter where they come from.
"I think coach Kelly says it's all about winning," Tobin said. "He doesn't like it being about a business, it's about winning games. Coming in as a free agent, I liked seeing that and he backed up his words with the final roster."