Last January, rookie linebacker Joe Mays was sitting in a room with some teammates and friends in North Dakota watching Brett Favre and the Packers play against the Giants in the NFC Championship game.
On Thursday night against the Jets, Mays just might find himself staring across the line of scrimmage at the future Hall of Fame quarterback, which is almost as surreal as a North Dakota State linebacker making an NFL team after being a sixth-round draft choice.
"Oh, it's going to be crazy man," Mays said. "Just not too long ago I was watching that man play in the playoffs on TV. It's going to be exciting just to be on the same field with him, let alone meeting him."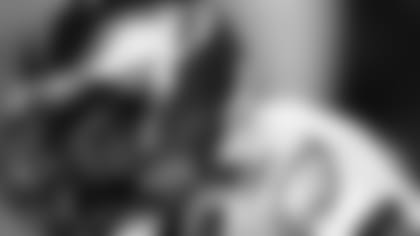 LB Joe Mays
After Mays' performance against the New England Patriots last Friday, when he recorded a team-high seven tackles in the Eagles' 27-17 win, the man dubbed "Headbuster" might get a chance to stare down a boatload of different quarterbacks over the course of his career.
"I think Joe Mays had a great game the other night, no question about it," defensive coordinator Jim Johnson said. "I think Joe showed up big time in that game and showed what a hitter he is. When we looked at him coming out of college, he showed he was a very physical linebacker, so that was a good game for him."
Mays has been turning heads most of the preseason. In the opener against Pittsburgh, Mays led the Eagles defense with five solo tackles and against Carolina he recorded three tackles, including one on special teams, in another Eagles win.
Despite Mays' moderate success, Johnson has made sure to keep this Eagle grounded.
"He was telling me things I did well and some things I need to work on, just to make sure I don't get too big headed," Mays said. "That's cool with me. I appreciate everything they tell me. In the long run, it's going to help me out."
According to Mays, the coaching staff has been working with him to specifically help hone his coverage skills.
"We work on that a lot, especially just with me," Mays said. "We knew that was a part of my game we needed to fix up. We're doing a lot of work on it, a lot of hard work. It's starting to pay off, but I still have some small things I need to work on."
Mays expects to flash some of that improvement against the Jets, which may be the last chance to leave an indelible mark on the coaching staff.
"It's the last go-around," Mays said. "It's really valuable in the decision making, whether they want to keep you or whether they want to let you go, so I have to go out there and show them why they should keep me.
"In all reality, you haven't made the team. You go out there and try to impress the coaches. Not just the coaches, but your peers too. The fans are cool, but it's the people (here) that I'm more worried about."
Rest assured, if Mays gets to lay a big lick on Favre, his cell phone bill may never recover.
"A lot of guys that go to North Dakota State are from Wisconsin and Minnesota, so they're going to be calling me, and trying to text me too, asking me questions about Brett Favre. I'm already starting to get texts. It's going to be a lot of fun."