Do you remember those old fast-food commercials in which the nice lady yelled, for comedic purposes, "Where's the beef?" into the air and we all laughed because, well, here's this kindly little woman yelling for beef ...
And here's Isaac Sopoaga, chilling on a Friday afternoon at the NovaCare Complex wearing a basketball jersey and shorts and a baseball cap on his head covering up one of the most unusual hairstyles I've ever seen. He's got a big bun of hair on top of his head and a long, bushy ponytail, and the rest of his head is shaved.
"It's just who I am," said Sopoaga, as we settle in to talk.
The Eagles signed Isaako Mikelancelot Sopoaga on the first day of the 2013 free agency period and they expect this 325-pound athlete to anchor the defensive line, whether they play in a 3-4 scheme or a 4-3 look or a 5-2 or whatever defensive coordinator Bill Davis plays. Sopoaga is in his 10th NFL season and his background is, to say the least, not run of the mill in the NFL.
Both in Pago Pago, American Samoa, Sopoaga was an island kid through and through. He played football, yes, but he also climbed trees and played rugby and worked out carrying bags filled with coconuts and logs from harvested trees.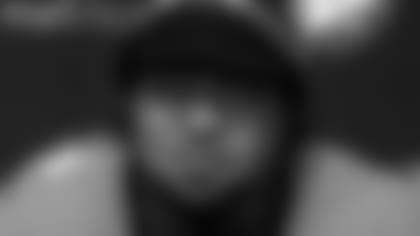 If he seems a long ways away from the island after nine years with the 49ers in San Francisco, he is. Everything about South Philly is new for Sopoaga, who is used to open land and swaying trees and warm breezes.
"I'm blessed to be here and I feel great. It's a good, new experience for me. I want to give thanks to our Heavenly Father for everything He has done for me and my family and for my new family, the Philadelphia Eagles," said Sopoaga. "It's not hard for me to fit in. We are professional athletes and you have that mindset and have it in your heart and in your spirit. You have to be there for your team and for your coach.
"I'm a veteran in this league. This is what I do. I'm expected to play great football and I will. There is no other option for me."
Exactly how the Eagles plan to use Sopoaga is not yet determined, but you can pretty much figure he will be asked to take up space and occupy blockers and be a gigantic presence in the middle of the defense. Sopoaga isn't just another ponderous big man; instead, he is a tremendous athlete who has been used on both sides of the ball in his career and has the reputation of being able to heave the football as far as 70 yards down the field.
The Eagles needed some bulk in the heart of their defense and so they went after Sopoaga early in free agency, inking him to a three-year contract. He now has the challenge of fitting into a new football culture and a new way of living day to day.
"I work here at the office, the stadium is over there and I have my family," he said. "That's all that I need. I'm sure I will see things, but I'm not one to spend a lot of time seeing the sights. I'm here to work and help the Philadelphia Eagles win games."
Sopoaga will help inside with his veteran presence, his know how and his toughness. His job is to keep the blockers occupied and to free up the linebacker corps to run cleanly to the football.
It isn't pretty work, but Sopoaga isn't a pretty guy. And that's just fine with him as he gets to know his teammates and his surroundings.
"Ah, it's been so great already. Everyone is so nice and helpful. We all want each other to have success. There is a lot of energy here and I like that very much," said Sopoaga. "Our defense, we're coming together. We are getting to know each other every day. I'm excited. I'm glad to be part of this."
We're going to enjoy Sopoaga on and off the field as he finds his place in the Eagles defense. He is something different -- in just about every way -- from what we've seen from an interior defensive lineman here, and so if you are wondering "Where's the beef?" for this defense, look no further than Sopoaga, who relishes the role.