So it didn't take long for Russell Shepard, a much-hyped quarterback in high school and a multi-purpose threat at LSU who was not drafted in April, to stick like glue to wide receiver Jason Avant here.
The two have been nearly inseparable as the Eagles move into next week's full-team minicamp. Avant has been more than willing to show Shepard the ropes, to teach him how to put in the extra time to work on the details of the game and to make sure the rookie understands just how committed a player has to be to succeed in the NFL.
"I'm willing to help anyone that's willing to work," said Avant. He came to me and asked me, 'What I can do to get better? What can I do to give me the best opportunity to make the team?' If any guy wants that, you want to give him the best opportunity, so I just do what I normally do – catch passes, talk to him about life, talk to him about plays, talk to him about what to do and what not to do in order to be successful, eliminate distractions, those types of things.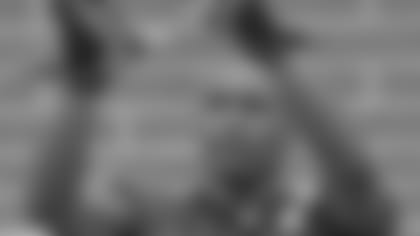 "But he has the heart and want-to and I'm just doing my job."
Shepard joins Avant and other receivers and defensive backs after every practice catching passes from a machine -- 100 each day, said Shepard. The two watch film together and talk about the offense and the tempo of practice and everything else that Shepard wants to digest.
It's a great example of leadership from Avant and it's a commitment from Shepard, who says he felt he did not live up to the hype at LSU even though he was a triple-threat option at wide receiver, running back and quarterback.
"That was the first piece of advice that we got talking to Harold (Carmichael, the franchise's all-time leading receiver and the team's player programs director)," said Shepard. "He said, 'Find Jason and watch what he does and do everything he does.' That's what I'm doing."
Shepard says his time at LSU was a "great learning experience," and he comes to the Eagles after four years in Baton Rouge where he was used just enough to keep defenses off balance. LSU, for all of its success over the years, has been a bit offensively challenged lately, particularly at the quarterback position. Sheppard gained 733 yards rushing and added 565 yards as a receiver there, scoring 10 touchdowns in his career after earning attention as one of the nation's best dual-threat quarterbacks in college.
Here, he has a long road to go to make the 53-man roster. Shepard knows the Eagles are talented at the wide receiver position. He knows he has to make a lot of plays to get noticed by the coaching staff.
"Great talent, great personalities and they're great mentors," said Shepard of his fellow wide receivers. "A lot of times when rookies come in you don't get that mentor aspect from the veterans, but all of these guys took me underneath their wing and they really helped me out.
"I love this offense. The position I'm playing, the slot, the 'A,' you get a lot of balls and you get to move around a lot and you're able to find the mismatches in the defenses. It's great."
Shepard thinks he's grown up a lot in a short period of time. He quickly realized that the NFL is all about production every day and if you don't take advantage of the reps, you aren't going to be around.
So that's why he is putting in the extra time. He is on a mission to emerge from the "up-and-down" collegiate career and trend in the right direction permanently.
"It's crazy how much I've improved," he said. "This is what we do. We catch footballs. Running around and all of that stuff is timing. Catching footballs is pure concentration. I don't care how big your hands are, how small they are, how big you are ... I've become a much better pass catcher and Jason has helped me a lot."
We'll see how Shepard fits into the big picture when the pads go on. The Eagles are fairly stacked at wide receiver, but that's not going to stop Shepard from developing his game, honing his craft and seeing what happens when he puts maximum effort and concentration into every day as a professional.