We don't think about it much when a player changes teams and the reality sinks in that a family life must be uprooted. James Casey played four seasons in Houston and then exercised his free-agent opportunity to test the market, which welcomed him with open arms.
Casey agreed to terms with the Eagles on the first day of free agency and then took a deep breath and turned to his wife and said, basically, "It's time to move to Phil-a-del-phia!"
And here he is. Wife Kylie and son Cannon James remain in Texas while Casey learns what it's like to be a Philadelphia Eagle.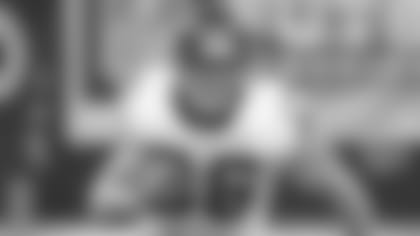 "There's a lot that goes on that you don't really think about," he said, just after finishing a radio interview with a station in Houston, a city that still loves Casey. "You want to get your training in every day, of course, because you're heading into an offseason conditioning program that is going to kick your butt if you aren't ready. Free agency started and, boom, I was an Eagle.
"The biggest process is moving. We were renting in Houston and our lease was up at the end of March, so we were kind of up in the air. I had to move regardless of what happened. Once I signed here, I was hoping to find a place at the end of March here and move my stuff, but I decided to take my time to find the right place. So I have everything in storage in Houston. My wife and son are staying with family in the Texas area, because I didn't want them to stay in a hotel like I'm doing.
"Right now I'm pretty much at the facility all day learning as much as I can and at the same time I have a real estate guy helping me learn about the area, showing me places and where is best for my family. It's wild. It's fun. Eventually, I will find a place and then my family will come, I'll ship my cars and all my stuff and I'll be here full time."
When he was making the decision on which team to join, Casey wanted the right fit for football. In what offense would he be best suited? With which coaching staff did he feel most comfortable? Did these teams really want him enough to call his number and let Casey showcase his skills with the football in his hands?
Casey reportedly had as many as 18 teams inquire once free agency began. It didn't take him long to decide on the Eagles, who plan to move him around the formation and give him his touches down the field.
The Eagles see Casey as a threat as a fullback, a tight end, a slot receiver, and a red-zone target.
That's something that appeals to Casey a lot.
"It was pretty easy, because I liked what they were telling me and what I knew of Chip Kelly's offense and how the Eagles can use my talents," said Casey. "Now that I'm here, with all the guys and the coaches, it's awesome. There is so much energy here. Everyone wants the same thing. The coaching staff is great.
"The rest of it, I'm learning. Philadelphia is a big city and I know I have a lot to see and I want to experience all that the city has to offer. My early impressions are very positive. The people move fast. I know they love their sports. I want to see the Liberty Bell and Independence Hall and all of the historic things. I want to see New York City and Washington, D.C. and the areas around Philadelphia.
"I'm excited. I wake up and can't wait to get to work. I have so much confidence about what I can accomplish to help this team win. I'm going to be ready. I'm learning it all so that when I get on the field I'm going to play fast and let loose and show what I can do athletically in this offense."