Four years ago, I spent 25 to 30 hours a week working at my family's sandwich shop, Joyce's Subs & Pizza, in Middletown, New Jersey. While I was proud to support the family business, it wasn't necessarily what I envisioned doing for the rest of my life after playing football at Old Dominion.
When I wasn't making delicious breakfast sandwiches and hoagies at the restaurant, I was doing what I could to stay in shape with the hopes of landing a spot with an NFL team.
Working in a small business in a small town meant everyone knew me. Everyone in Middletown knew of my NFL dreams and aspirations. I always had my friends, family, anyone I knew come in and ask me, "Hey, when are you getting that call from the NFL?" I was just sitting thinking, "Gosh, as much as I love being part of this family business, I have bigger dreams."
Making it to the NFL was my No. 1 priority. Any phone call I got for a workout or anything like that, I knew I had to be ready for it because there's only one opportunity and you have to take full advantage of it every single time. It is hard to make it to the NFL in general, but especially as a long snapper. There are only 32 of them and a lot of those guys have long tenures. Spots rarely open up, but in 2016, I got a call from the Eagles and the rest, as they say, is history.
It blows my mind how much I've already accomplished in my career, but there is so much more I still want to do. How far I've come in just a short amount of time is truly a blessing. Being voted to the 2020 Pro Bowl is the latest one.
I can vividly remember where I was when I got the call that I was selected to the Pro Bowl. I was driving back to Philadelphia from my parents' house in New Jersey and I got a call from Doug Pederson. When I saw his name come up, I immediately thought something was wrong.
This was a week after I had signed my four-year contract extension, so I ruled out the chance of being cut, but I was still kind of nervous. He said, "Hey, I want to congratulate you. You got invited to the 2020 Pro Bowl." Once I heard that I began shouting as loud as I could in the car.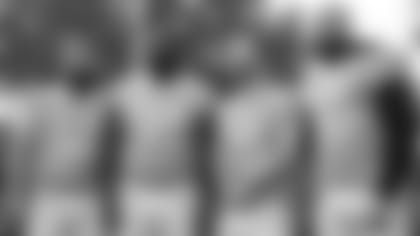 Being voted to the Pro Bowl meant a lot on so many levels. It was cool for me personally, but it was also cool to be the third Eagles long snapper to make it along with Jon Dorenbos and Mike Bartrum. It is special to be a part of that trio of guys who accomplished so much in their careers.
But to be able to be voted in by my peers was the biggest thing for me. For the first time ever, the NFL allowed specialists and special teams coaches to vote on a long snapper. It was a huge step for long snappers and I hope that one day the voting is opened up to the fans as well.
In years past, the long snapper was picked by the coaching staff, or if a punter or kicker had a good year, they'd bring their snapper in. I was taken aback to be selected in the first year that specialists and coaches could choose the Pro Bowl long snapper. I've only been in the league for a few years, yet I'm already being recognized, which is such an honor.
Being at the Pro Bowl was so much fun. Even the practices are so much fun. They're so laid back and I got to snap to a couple of the best players in the league in Tress Way and Wil Lutz. There were numerous legends walking around and I'm like, "Gosh, I get to be a part of this!" I'm talking guys like Michael Vick, Bruce Smith, Darrell Green, and Terrell Davis. Even current guys like Drew Brees, Russell Wilson, Lamar Jackson, and Derrick Henry, who is a monster! I was just trying to take it all in by getting videos with all of the guys.
Being an NFL long snapper is an exclusive fraternity. I've looked up to these guys ever since I started long snapping. I remember watching videos of Ravens long snapper Morgan Cox when I was in high school. Now, I'm playing with him at the Pro Bowl. It's such a cool opportunity to be amongst these people.
I never thought I'd make it in the league after being cut three times. When I finally made it with the Eagles, that just put all of that hard work into perspective. I can't thank everyone enough, especially the Eagles organization, for choosing me to be a part of this illustrious group.