Back in Philadelphia ready to practice for the first time since publicly revealing his clinical depression, Shawn Andrews stepped onto the scale Saturday morning. It read 331 pounds.
For all the concerns about what kind of playing shape he would be in, Andrews weighed in, officially, four pounds lighter than his typical playing weight.
But that slightly extra wiggle room around the waist meant little to the Pro Bowl guard, at least in comparison to the stress alleviated when he, for the first time in his life, "opened up to anyone about anything."
"It's definitely been a big weight lifted off of me," Andrews said. "I can just stay prayed up about the situation and just know the difference of when I walk on the field and just try to compose myself, because I've always felt alone."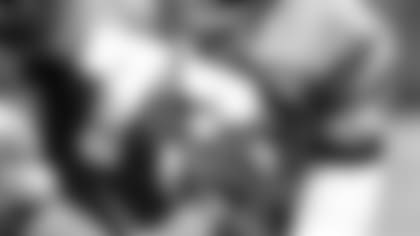 In the past few weeks, Andrews, finally, admitted he didn't know exactly where he was, or where he wanted himself to go. "On the edge," he said. He said he didn't care what people thought, but he found reading message boards and blogs contributed to his stress. He contemplated quitting football, but found working out an exceptional outlet for his pent-up aggression. And, though they never got to suicide, his thoughts were "unrealistic."
So, looking for a little respite, he admitted he made up rumors about his status. Unhappy about his contract? That might work. Done with football forever? Maybe. Nobody could understand what was really happening, and it was frustrating. Eventually, though, he knew he had to open up.
He didn't want his mother, Linda, to worry, so he found his medium for communication – an unnamed mentor he's known for almost a decade.
It was then Andrews was ready to make his ascent back up the hill it took years to climb in the first place.
That same day, he met with his doctor in Arkansas. Phone calls with head coach Andy Reid and correspondence with his teammates followed. Other public figures let him know that no man can simply shrug off depression.
There, he discovered the first certain thing in his life in a long time; he had support.
"I've also learned that, among African-American men, and really men period, we just hold things in," Andrews said. "Whether it's a football player or a man, you are still like, 'I'm a man, nothing bothers me.' But, if you internalize it, it has to come out somewhere."
Andrews said the last week since he's been with the team has been difficult, trying to get back his killer instinct. His goal is to earn back the same respect off the field that he's earned on it as an All-Pro.
Should things continue down the current path, it might come quickly. He addressed the team as soon as he arrived to training camp at Lehigh University, something he "needed to/had to do." And Saturday, in practice, Andrews found himself in the same huddle where he'd become a mainstay, flanked by Jamaal Jackson and Jon Runyan, down the line from the other first-teamers.
"If there's anybody that doubts me, nobody shows it," Andrews said. "There's nothing but support here. That's the good thing about the organization; they do a great job of getting good character guys here. I feel back at home."
Will Andrews play Friday at New England? He hopes to. But that's just a crawl compared to the running he's done lately. Saturday, on the practice field, was the culmination.
"A beautiful day," Andrews said.
This article has been reproduced in a new format and may be missing content or contain faulty links. Please use the Contact Us link in our site footer to report an issue.