It's Nothing More Than A Slump

There must be a way to fix this offense. I still think the players there can win games. And certainly the coaching staff is capable of sifting through this thing and finding ways to win. But it's not going to be easy. The thing that's troubling to me is that the same problems have continued for weeks and weeks and weeks, and by that I mean the short-yardage situation. The fact is that this team is throwing away first quarters. There's got to be a way to fix it, but at the moment it's tough to feel optimistic.
I think Donovan McNabb is struggling. I think quarterbacks, like sluggers, like golfers, go into slumps. Right now, he is having trouble coming out of the gate and playing at the level we expect him to play at.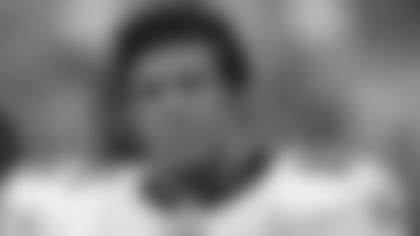 LB Stewart Bradley
I've seen quarterbacks go through slumps before, absolutely. I saw Randall Cunningham have stretches when, as gifted as he was and as explosive as he could be and as much of a playmaker he had been in the past, went into games where he threw passes that he shouldn't have thrown, where his accuracy was off. I've seen quarterbacks go through bad stretches. Donovan has a lot of ability, we know that. We've seen Donovan during a lot of great days. I have to believe he'll find a way out of it.
I like the growth of the defense through the first 10 games of the season, but I have to see more from the defense against the run. I thought they were great against Cincinnati. However, Cincinnati's offensive line isn't the Giants' offensive line. Jim Johnson will be the first to tell you that. I want to see them stop the run in the next part of the season against the better running teams. I want to see them be able to shut down Clinton Portis when they play the Redskins. I want to see them do a much-better job against Brandon Jacobs and the Giants' running backs, and that will tell a big, big story.
The Ravens are absolutely a good team and they are coming off a loss. They're still in position to win a playoff spot. So, yes, you're going against a tough team, a team with high hopes and a team with a bright, young coach. Although, they still have a young quarterback that Jim Johnson should be able to do certain things to confuse. I think the world of Joe Flacco. I really do. And I thought he was an absolutely outstanding prospect when I watched him at the University of Delaware. Even in his rookie year, he has displayed one of the strongest arms in the National Football League. He's going to get better and better and better. But he's still a rookie quarterback and he's still prone to mistakes and the Eagles have got to find a way to make him fall into those problem areas this week.
Right now, I'm not even thinking about the playoffs. I have to be honest with you. It doesn't mean that mathematically, I don't think there's a chance. But, at this point, I really have to say to myself, you know, until this team plays a good game for four quarters, until they are able to succeed in short-yardage situations, until they are able to get away from the turnovers, until they are able to reverse that area and play a good, solid, sound football game and come away with a statement win where they dominate on both offense and defense, until that happens, I refuse to let the word "playoffs" creep back into my vocabulary. If they play well for a couple of weeks, then I'll start doing the math and studying the standings and starting the what-ifs once again. But until that happens, I'm just going to watch each game, one at a time, and say, "Let's see them straighten out these problems before we worry about where the rest of this season is going to take them."