Eagles Youth Partnership and the Eagles made Saturday one to remember with the help of some great partners for the 4th Annual Give Kids Sight Day in Center City, Philadelphia. The event drew so many thankful families who lined up around the block and down the street from the Wills Eye Institute for a free vision screening, a thorough eye exam and new glasses for their children.
"For me as a parent, it's a beautiful opportunity. If we catch anything now, it's a benefit to my children for the rest of their lives. I am very thankful to have this day," said Hawkins. "I had to get my kids (Malik, 10 1/2, Dayshanah Pearson, 15) up early because it's like a concert out there. There are so many people who the Eagles are helping today."
Eagles Youth Partnership is in the schools of the region every day of the year with the Eye Mobile and the work never stops for the charitable wing of the Eagles organization, but Saturday was something special. Eagles Youth Partnership worked with the great partnership of Wills Eye Institute, Public Citizens for Children and Youth, Visionworks and Jefferson Medical College to make the day happen and on a sun-drenched day, it couldn't have gone any better.
"It was a remarkable feeling and so many families expressed their appreciation, and that's what this is all about," said Eagles Youth Partnernship executive director Sarah Martinez-Helfman. "It was just a great day."
Families arrived early in the morning and advanced through the process to secure glasses for their children. There were more than 500 volunteers who aided the process and it all came together seamlessly.
I understand the landscape, and I know that most fans are focused on the draft in a couple of weeks and the vision that the Eagles have for the 2013 NFL season. But the vision off the field is clearly what matters the most as the team uses its platform to change lives for the better.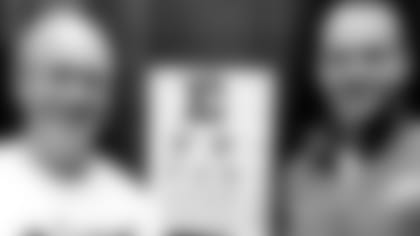 "Being part of the Eagles provides us that platform so that whether we are on the field or off the field, we bring awareness and we bring attention to what is needed in our community," said team president Don Smolenski. "It allows us to be integrated in the community every day. We are part of this community and it's humbling and very gratifying to be here and help out."
Smolenski arrived in the early hours on Saturday morning and helped as a screener for kids. You know the routine. You have seen an eye chart. Smolenski wasn't here to simply shake hands and say hello. He was here to work at a time when he could have taken a well-deserved day off.
"Giving back to our community is fundamental to our culture. It's who we are," he said. "Eagles Youth Partnership is part of what we've done here for a long time. We live it. We breathe it. It's part of our makeup.
"I'm fortunate to have this opportunity. I'm honored to be here."
Eagles Youth Partnership is ramping up for its prime event season. There is an Eagles Chess Tournament with school kids at Lincoln Financial Field, an event that draws some players who don't mind being whupped by 15-year-old high school sophomores. There is the Top Achievers event at the NovaCare Complex, during which the Eagles recognize football players in the region who have achieved in the classroom. There is an event to honor school nurses, who are stretched thin by tight budgets.
The Eagles Book Mobile is out in the school yards constantly helping children improve their literacy skills.
And, of course, the team comes together with the community in a big way when it partners its Reading Buddies program with the annual Playground Build and transforms a school and the lives of the kids in that school.
So Saturday was just a start of a spring and summer of Eagles Youth Partnership events and it was a huge hit.
"If you're a kid and an 'O' looks like an 'E' and a '5' looks like a '6' on the board this is one of most special days of your life," said Martinez-Helfman. "It's an extraordinarily collaborative event and the end result is that the parents are happy that they can take care of their children and the children are happy that they can see, and that makes us very, very happy.
"There's always a lot happening with us and it's so rewarding. Days like this are ones you never forget."