The Eagles continue to support nonprofits that work to reduce barriers to opportunity and end racism. In support of Black History Month, the Eagles are proud to recognize the work of one of these nonprofits each day.
Melanie Richter, the senior director of development for Project HOME, gets straight to the point when she is asked about the mission of the nonprofit.
"Our focus is on eliminating homelessness in the City of Philadelphia," she says.
How? HOME is an acronym that highlights the myriad of services provided:
• H is for Housing – There are 936 units of affordable and supportive housing for people who have experienced homelessness and low-income persons at risk of homelessness in Philadelphia.
• O is for Opportunities – Project HOME provides workforce training to help adults secure and retain competitive jobs.
• M is for Medical Care – Through the Stephen Klein Wellness Center, Project Home offers prenatal through geriatric health care.
• E is for Education – From after-school programs and summer camp for children to college access programs for teens to adult education and vocational training, Project HOME knows that knowledge is key to eradicate homelessness.
Richter is a first-generation college graduate in her family. As a Southwest Philadelphia native, she witnessed the situations and traps that others were not so fortunate to escape – drugs, foster care. Project HOME is her way of giving back to the city that has molded her into the person she is today.
"It's about respecting the individuality of people and their journeys and not making them ashamed about it, but helping them figure out where they want to go and what pieces they need to fill in that puzzle to get there," Richter says. "We look at it as whole-person care. There's no cookie-cutter way of treating a person. We're all individuals. We're all different."
Some people need dental work to obtain the confidence needed to land a job. Some people just need a roof over their heads for the night.
"The biggest challenge that our city is facing right now is not having enough spots, not having enough affordable housing available," Richter says. "We're close to being able to actually eliminate homelessness in the city. We just have to get there."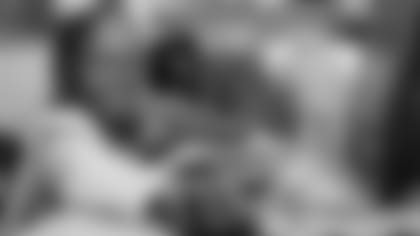 Project HOME is a beneficiary of the Eagles Social Justice Fund. Project HOME utilized the grant money to expand its workforce development program, which has been a critical necessity during the COVID-19 pandemic. There is added competition for the jobs that Project HOME aims to fill due to the rash of businesses closing.
"It was hard because we're so used to being a big community, doing things in person and letting someone share their story with you and looking them in the eye. We just had to figure out a way to do that safely," Richter says. "We had to come up with virtual ways to be together and not leave anybody behind due to technology."
Project HOME manages the entire city's homeless outreach response. If you call to report that someone is living on the street, you're calling Project HOME. There are around 400 people employed by Project HOME and the trust that they've developed with the homelessness community over the past 30 years is critical now more than ever between the cold winter months and the rollout of the COVID-19 vaccine.
"It's challenging because for a lot of people, especially if they've lived on the street for a long time, there's just a general mistrust of something new, different," Richter says.
Project HOME's motto is, "None of us are home until all of us are home." Through education, health care, and housing, Project HOME is inching closer to that goal every day.
Learn more about Project HOME: