Some Eagles perform magic with their time off like Jon Dorenbos or hunt like defensive end Trent Cole. But wide receiver Hank Baskett tried something a little different while he was away from the football field.
The third-year receiver taught an eight-week online course called "Sociology of Sport" at Clovis Community College in New Mexico this past offseason. The course covered a wide range of topics on the culture of sports and its effect on society, including sports and business, sports and violence, the role of parents and the role of the African-Amercian athlete.
"They asked if I wanted to teach a class online and I was like 'sure'," Baskett said. "It ended up being something that I might end up doing later on, after football or in the offseason. I enjoyed it."
Baskett picked the textbook "Sociology in Contemporary Society" for the course. He said it was "so crazy to learn how much society is linked with sports."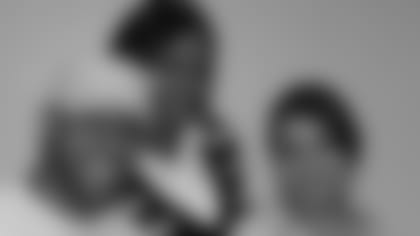 Baskett taught a sociology course at Clovis Community College in New Mexico
Dr. Ruthie Hefner is the head of the sociology department at Clovis Community College and also happens to be the Hank Baskett's Godmother.
"I realized early on in Hank's life that he had a different perspective being bi-racial," Hefner said. "His ability to fit in with so many different groups, regardless of socio-economic status, regardless of race or ethnicity, or religious differences, I knew that we had something special here in Clovis."
During her 26 years at Clovis Community College, Dr. Hefner said that she has developed the ability to identify an exceptional student and Baskett was one of them, not considering their personal relationship.
Baskett attended Clovis High School in New Mexico, where he earned all-state honors as a punter and receiver, lettered in basketball and track and graduated with a 4.0 GPA. During junior high and into high school, Dr. Hefner says that Baskett volunteered reading to children with disabilities and made other limitless contributions to the community. Hank Baskett III worked with his father, Hank Baskett II, counseling abused children at "The Oasis," a children's advocacy center.
Baskett was a business major, but he took about six sociology courses while he was at the University of New Mexico. His father is a sociology professor so the subject was not completely foreign to him. If nothing else, he had good mentors and guides to follow in both his father and Godmother.
Did Baskett make the grade? Dr. Hefner says that Baskett is going to teach the course every year that the Eagles will allow him to because they were so pleased with his maturity and integrity.
"I love people and sociology is all about understanding people and our culture," said Baskett who had the most fun interacting with people and learning more about them.
Baskett still has a lot of football left to play before he thinks about a career move, although it never hurts to have a backup plan. And it never hurts to give back to a town that has given him so much.