It was a tough day at the NovaCare Complex as wide receiver Jeremy Maclin suffered a torn ACL. Here is a recap of everything from the injuries to the latest on the quarterback front and an update on the rookies ...
The big story on Saturday was when wide receiver Jeremy Maclin suffered a torn ACL in his right knee during a non-contact drill in practice.
In addition, wide receivers Arrelious Benn (knee) and B.J. Cunningham (right foot) missed practice as did cornerback Cary Williams with a hamstring injury. Benn took part in some individual drills, while Williams stretched on the sideline.
Nick Foles, who began Saturday's practice with the first-team offense, may not have the speed of his primary competitor for the starting quarterback job. But the second-year quarterback doesn't believe that affects his chances of winning the job. After Friday's practice, head coach Chip Kelly said that if he calls 20 read-options plays with Foles as his quarterback, then he should be fired.
When Foles was asked about that comment, he laughed and told reporters he is confident that his skill set fits well into the new offensive system.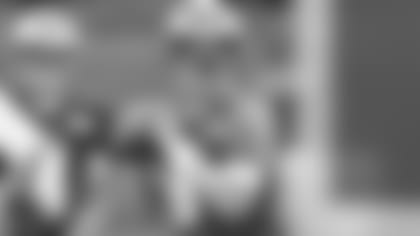 "When you have a quarterback in there, you go to what his strengths are," Foles said. "If I see a seam, I'm going to get as many yards as I can, I'll tell you that. I'm going to go as hard as I can each and every play, but I think my strengths are dropping back and throwing the ball and making decisions using my head."
Foles added that even though he may not be the fastest player on the field, he is still athletic enough to be mobile in the pocket, which is a skill that makes him dangerous.
"I feel comfortable moving around," Foles pointed out. "I might not necessarily break a 100-yard run but I feel like I'm athletic enough back there to make plays and move around, dodge defenders and keep the play going with my feet.
"I have a basketball background; I played all different sports growing up, so I do feel really comfortable, if a play does break down, getting out of the pocket and throwing on the run. I feel like that's one of my strengths. That's one of those things that I've worked on since I was a kid, so I take pride in that. That's something that I work on each and every day. So I'm not just going to drop back and hope the pocket stays there. You wish for that to happen every time and we have a great offensive line to do that, but sometimes something's going to happen and you're just going to have to make a play with your feet and get the ball to your playmakers."
The second-year pro out of Arizona is learning his second offense in as many years, but is more comfortable this year thanks to the on-field experience he gained as a rookie.
"As time goes on, running this offense, I feel more and more comfortable," Foles explained. "I've got to keep pushing and have to keep working so it stays that way, because the defenses are going to start figuring out our concepts a little more, so they're going to be a little tighter and we're going to have to be more precise with our throws and be even more accurate. That's the great thing about Training Camp."
---
Meanwhile, Vick's athleticism has occasionally gotten him into trouble. Specifically, when he's running down the open field and is forced to dive forward, often incurring an unnecessary hit. Vick has always been somewhat allergic to sliding and he explained why on Saturday.
"I'm going to try to slide (this year)," Vick said. "I know I've said that before. But don't be surprised if you see me doing my natural fall, flop, get down. The most important thing is protecting the ball. Someday, I'll get it. I'm hoping and praying that maybe I can run with a different type of lean. I think when I run I lean forward so it makes it harder to slide."
As Vick competes for the starting job, he fully understands that he may not be the long-term future at the position for the Eagles.
"I watch all the quarterbacks and I also help coach them," he said. "I feel like these guys are going to play longer than I've been playing. I know that I'm enjoying the next four to five years, I pray that it's that long. These guys have 10-, 11-, 12-year careers. There are a lot of things that have been ingrained in me and I know the nature of this business and I want to see them grow, I want to see them prosper.
"I'm still aiming for a lot, still shooting for the stars. I'm thankful that my body feels great. I'm thankful to have the God-given ability that I've been able to possess throughout my career, still running the same way, still moving the same way."
---
As for the rookie, Matt Barkley believes he too makes strides every day.
"I feel better and better every day actually," he said. "I think the timing really helps a lot, being back with the guys, just having a sense of their timing on each route because they can do so many things on each route it does take reps I think to get to know them. I felt good today. I felt better than the last two days."
He's also very much looking forward to the open practice Sunday at Lincoln Financial Field.
"I'm looking forward to playing across the street, putting the pads on for the first time," he said. "Looking forward to tomorrow."
WHAT HAPPENED ON THE FIELD
Tight end Zach Ertz made some really nice catches throughout practice. The first was a back-shoulder snag from down the right sideline. Ertz skied over the defensive back, high-pointed the ball and came down with it. It was the first time on the day that the crowd erupted in a collective "Ooooooooh!!!!" and cheered. He and quarterback Nick Foles high-fived after the rep.
Foles was efficient with his reads and accurate all over the field. He fit passes over the middle/down the seam and unleashed some absolutely gorgeous deep throws, particularly on back-shoulder fades down the sideline. On one, he launched the ball 50 yards in the air and perfectly dropped it over DeSean Jackson's far shoulder, right into his waiting hands. The cornerback had no shot to make a play, despite pretty good coverage. Foles couldn't have placed the ball any better had he been standing next to Jackson. He also had some nice scampers on keepers when he saw the middle of the field open up. Foles is a THREAT with his legs, folks.
"If I see a seam, I'll get as many yards as I can," Foles said citing the mantra of head coach Chip Kelly - touchdown, first down, get down.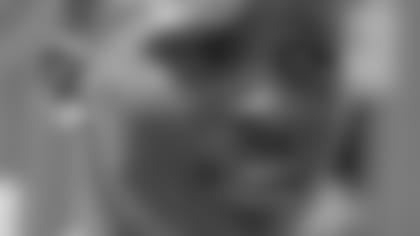 Tight end Derek Carrier consistently gets separation on his routes and had some nice catches on Saturday, including a diving, over-the-shoulder grab for a touchdown while battling tight coverage from linebacker Chris McCoy.
Wide receiver Damaris Johnson was the best player on the field. He looked like DeSean Jackson did on Friday. Johnson caught everything thrown his way and was scooting all over the place, making sharp cuts and exploding through the slimmest of holes. Johnson also excelled on kick returns, getting a running start and catching balls while going forward full speed. He was able to attack holes without hesitation. Johnson is an incredibly exciting player to watch, with an arsenal of moves that's second to none. Johnson could have a major role in this offense, especially in light of Maclin's injury.
Wide receiver Jason Avant had the play of the day deep down the left sideline on a pretty throw from quarterback Matt Barkley. It was a beautiful, one-handed, over-the-shoulder catch as he fell to the ground with a cornerback draped all over him.
Wide receiver Russell Shepard's work with the JUGS machine after practice seems to be paying off. He bounced back from a few early drops to make some slick, full-extension catches, as well as an over-the-shoulder catch that he pinned against the side of his helmet after bobbling it at first.
Cornerback Brandon Boykin, running back Bryce Brown, wide receiver Damaris Johnson, wide receiver Riley Cooper and running back Chris Polk all got reps in kickoff return drills.
OL vs. DL 1-on-1s: Admittedly there were no pads on, but a few players opened some eyes as a cadre of former Eagles (Mike Quick, Ike Reese and Garry Cobb, not to mention Tra Thomas on the field) watched on. Brandon Graham was lightning quick off the ball, and sped past Lane Johnson in the early portion of the drill. Danny Watkins actually had a standout session, holding his ground against the likes of Cedric Thornton among others. Watkins continues to have a strong offseason. The play that elicited the biggest reaction came when Phillip Hunt rushed against right tackle Nic Purcell, who was anticipating an outside move by Hunt. Instead, Hunt got both of his hands inside Purcell's chest and shoved the lineman to the ground.
During 11-on-11 team drills, the biggest plays both came down the left sideline. First, Foles connected on a perfectly thrown longball to Greg Salas. Later, Michael Vick tossed one up to Shepard, who wrestled the ball away from Bradley Fletcher for a sparkling catch.
The rookies have been at Training Camp for nearly a week and some will be counted on as key contributors for the Eagles in 2013. They have been making plays all over the field and already left positive impressions on their coaches and veteran teammates.
Offensive line coach Jeff Stoutland on Lane Johnson: "He's really fast, really quick, great change of direction, really long. I don't know if you realize how long he is until you watch him. I remember when I worked him out, I went down to Texas to his high school ... He was doing a 'v' stretch, he was sitting on the ground. I was about standing where you were, and he put his arms out and he reached to the chair (three-plus feet away). Dude's just long. And then he got on the bag drills; you watch him do the bags and his feet are so fast. He's really like a skill player playing offensive line. And he's physical. Really unique guy."
When asked about players like James Casey and, in particular, Zach Ertz, given their size and athletic ability, Bradley Fletcher offered: "The way the NFL is now, a lot of teams have tight ends that can run like wide receivers, and for us to have a few guys like that, it'll definitely put our offense in position to win."
Nick Foles on Zach Ertz, with whom he had a few nice connections during practice: "Zach's done a great job. I played against him several times in college so I got to see what he could do. He's very good with his body. He's very good with getting back on top with defenders, stretching them out and giving us an opportunity to get the ball out there. He has a large range, where we just have to get it in his area and we know he'll go and make a play, and the worst case scenario is that the ball is going to be on the ground. I've seen that he's caught almost all of them, so he's done a great job."
Defensive backs coach John Lovett on Earl Wolff: "He is very fast and powerful for a guy at his position. He runs really well, he's a very physical kind of guy, he's explosive, he can jump, he's sudden, he can change directions. He plays safety, maybe some other spots, maybe in the nickel ... the point is he's gotta learn how to play safety in this system. He's gotta get enough reps where he's comfortable with it. That's the focus.
"The other thing is he can help us on special teams because he can do all those things. And he's got just a great personality, great work ethic. I'm just really excited for him. I remember when I first met him at the Combine, I said, 'Gosh, what a great kid,' and he's just got a great demeanor about himself. He's in the weight room, he's working; he's out on the field, he's working; he's in the classroom, he's working. He wants to be a good player. He wants this really bad, I'm just excited for him and hopefully it all works out."
Lovett on Jordan Poyer: "He's very smart, he picks this stuff up quick. It's just going to be a matter of making the transition and going."
Defensive line/Assistant head coach Jerry Azzinaro on Joe Kruger: "You're looking at a guy who has the ability to move up and down, be able to do a variety of different things across a given game, across a given season. We look for talented guys that can run, that can hit people, that have a good work ethic. Joe (Kruger) certainly has all that."
Azzinaro, when asked about Kruger's length and propensity for getting his arms/hands up: "When you play with long athletes, they create space problems for quarterbacks. It's just like in basketball, when you watch Syracuse University play their 2-3 zone, they create passing lane problems for people. When you have guys that are long and tall, it's just a natural instinct to (put their hands up)."
Vick on what he said to Russell Shepard after the Jeremy Maclin injury: "I told one guy today, I told Russell, that it's time for him to step up. It's time to see what he can do. Him specifically is the one that stands out to me. I like all the young guys, but I challenged him today."
Dan Klausner, Alex Smith and Bo Wulf contributed to this report.*