There's really no way to look past it at this point. At 4:15 PM Sunday, when the Eagles kick off against the Dallas Cowboys at Lincoln Financial Field, they'll know whether or not they're playing to get into the playoffs, or simply to keep the hated Cowboys out.
The Eagles need the Tampa Bay Buccaneers to lose at home to their pirating comrades, the Oakland Raiders, to even have a shot at the postseason. By the time 4:15 rolls around, the game in Tampa will be all but over.
Hard to imagine that not being a distraction. So perhaps it's best that it's Dallas rolling into Philadelphia – a Dallas squad that can clinch a playoff berth with a victory.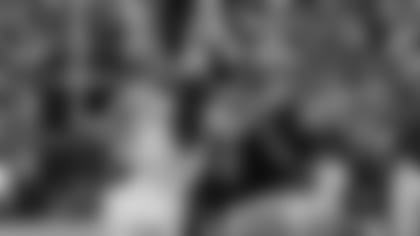 RB Brian Westbrook will go airborne no matter what the cost this Sunday
With that, the Eagles expect to be ready for the game, regardless of the situation.
"I think we play this game to go out and play well, and obviously leave your mark," quarterback Donovan McNabb said. "This game has been set on the schedule, and we all know that we get fired up to play the Cowboys."
What's all the more nagging for the Eagles is the amount of games decided by one play, or even inches. Dallas in Week 2. Chicago in Week 4. They lost both games to Washington by about a combined three feet. Of course, all the mistakes made throughout those contests have an impact, as well.
Take back any of those magnified miscues and the Eagles are controlling their own destiny, as they did for three hours on Sunday.
But despite all that, they still do have a shot. It's slim indeed, but it's still a shot.
"It's definitely frustrating when we look back at those games and we see that we could have done something different here or there," running back Brian Westbrook said. "But at this point in the season, you can't dwell on that now."
That's why the practices are the same this week, the preparation as rigorous. A disappointing loss and a hectic holiday aren't changing that. The Eagles still need to beat Dallas, or nothing happens at all.
On top of an Eagles victory, Tampa, as said, must lose to Oakland, and either Minnesota must lose to the playoff-secure Giants or the Bears must drop their contest with the Texans.
"If Tampa loses and Minnesota loses, and we lose a game, we're not going to get in," McNabb said. "So we have to win this game. So we should be fired up going into this game no matter what."
That doesn't mean the Eagles won't be rooting. And they may even offer some help.
"We might have to send some go-go dancers down to Tampa and send some Red Bulls out to Oakland," cornerback Lito Sheppard joked, "you know what I'm saying?"