BETHLEHEM, PA -- On the eve of the first ever Eagles Flight Night!, the Eagles players expressed their excitement about getting out on Lincoln Financial Field for the first time this season and showing some of their fans the kind of season that they hope lies ahead.
"It's an event that we want to treat like a regular practice and still show a little something extra for the fans," said quarterback Donovan McNabb. "So I'm looking forward to it."
For Eagles newcomers like fullback Leonard Weaver, this is the first time they'll be stepping foot onto the Lincoln Financial Field grass in front of a stadium filled with supporters.
"I am so looking forward to that opportunity," Weaver said. "It's going to be great just to be at my home. This is my home now, and I'm looking forward to the opportunity to show some of the fans that haven't been out here that we have a great thing going."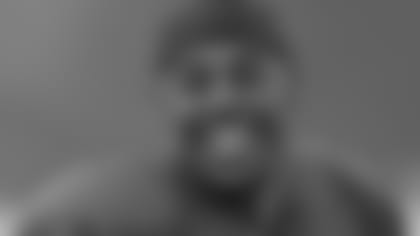 QB Donovan McNabb will be miked up for Eagles Flight Night!
Stacy Andrews, the team's new right guard, agrees.

"Oh man, it's going to be electrifying out there," Andrews said. "It's going to be packed with energy, so it's going to be a good feeling. I'm very, very excited."

Other first-timers to don the midnight green in front of a supportive home crowd include LeSean McCoy, Cornelius Ingram, Sean Jones and Ellis Hobbs. Jason Peters returned to the practice field Sunday morning, so he should be able to participate as well.

In addition to being the first action the team will see on its home field this season, the players are also excited about the positive results Flight Night! will produce for the community.

"It's for a great cause, the Eagles Youth Partnership, which does great work in the community," said middle linebacker Stewart Bradley. "We're all proud to be a part of that."

The Eagles Youth Partnership (EYP) was founded in 1995 and serves over 50,000 low income children in the Greater Philadelphia region every year with a focus on health and education programming. EYP's mission statement is "to enhance opportunities and improve the quality of life for children and youth in the Greater Philadelphia region through health and education."

That's a goal that should certainly be met thanks to the Eagles Flight Night!, because all the money that is raised by the event will benefit EYP's community programs.

"It's exciting man, it's something we're doing for the first time," said Darren Howard. "Ever since I've been here, we've been doing the Carnival, so I guess this is taking the place of that. It's going to be interesting. They laid it out for us in a meeting earlier, it's going to be an exciting time for us and the fans, so it'll be awesome."

Fans will also get a chance to listen to both McNabb and Bradley throughout the practice, as they will both have microphones on them.

"If it gets a little competitive out there and some jibber jabber pops out, then it'll be fun," Bradley said. "I'm a clean speaker anyway, that's probably why they nominated me ... It should be a fun affair, I think the fans will like it. It's also a chance for us to get on the field with some of the young guys who haven't played a game yet."

Another thing the player's are excited about is that each starter has been given the opportunity to choose his own entrance music.

"I am happy about that," Weaver said with a laugh. "I have a couple of songs picked out. I gave them my three, now I'm ready to roll."

Other players are excited about the change of pace Flight Night! will provide from the routine of training camp.

"We have a great support system here with the fans when it comes to Lehigh, so we're lucky in that regard," said quarterback A.J. Feeley. "But to go back and play in (Lincoln Financial Field), under the lights, with some fireworks, and it's for a good cause, it's just a good change of pace."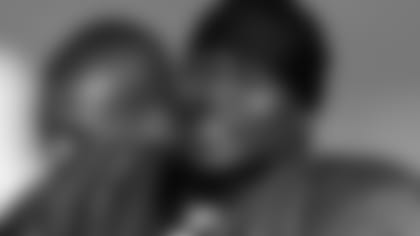 FB Leonard Weaver can't wait to be introduced in his new home
"It's a good way to break up being out here all the time and go down there and have some fun," said Quintin Mikell. "It's going to be like a spring game, we're going to have some fun, get some music playing. You get to play around with the crowd, so I'm excited for it."

"I'd be excited if we could stay longer down there," joked McNabb. "But you know, it's an opportunity for the fans to get an eye who can't get come up here to Lehigh because of whatever situation it is, work or kids or something."

And for some, it's an exciting proposition simply because playing on the home field should help improve the team's play heading into the season.

"Obviously, it'll be a different atmosphere,"" said wide receiver Kevin Curtis. "It should be exciting. I've never practiced there before. It will be good for everyone here to get in and get used to that atmosphere."

"It'll give us an opportunity to continue working with the team," said Chris Clemons, "And try to gain that edge going into the season. It'll be a great night for the fans to come and see us."

In addition to the action on the field, there will be thousands of random prize giveaways throughout the night, including the autographed jerseys of 21 players including Brian Westbrook, DeSean Jackson and Asante Samuel. The practice will culminate with an eye-popping fireworks show, choreographed to music and Eagles highlights.

The festivities begin Sunday night at 5 PM on the HeadHouse Plaza with a live band. That will be followed by the practice at 7 PM, which will include performances by SWOOP, the Eagles Cheerleaders and the Eagles Pep Band as well as alumni introductions, sideline interviews and other surprises.

The only question left is who's more excited, the fans or the players?