Rookie defensive lineman Trevor Laws has an interesting idea on how the Eagles defense can prepare for Giants running back Brandon Jacobs' visit to Lincoln Financial Field on Sunday.
Jacobs, who's listed at 6-foot-4 and 264 pounds, is built more like a defensive end than a running back.
Laws suggested letting fellow defensive lineman Victor Abiamiri play Jacobs' role on the scout team this week. After all, Abiamiri is listed at 6-4, 267 pounds.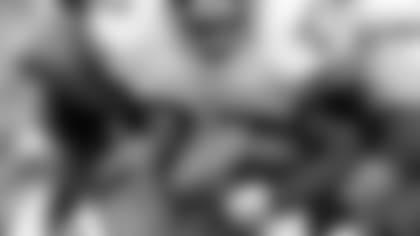 It will take a team effort to bring down Giants RB Brandon Jacobs
"He's a tough running back, no doubt," Laws said. "We're going to focus on tackling this week and hit him low, grab him and bring him down. You do whatever you can. You definitely have to put a big focus on your tackling.
"He compares (more) to Victor Abiamiri than any other backs (we've faced), so it's a little different."
Jacobs enters the game ranked fifth in the league in rushing, posting 680 yards on 131 carries. The only other back in the top 10 with as few carries as Jacobs is Tampa Bay's Earnest Graham and he's gained 120 fewer yards.
Furthermore, of the top 25 running backs in the league, only teammate Derrick Ward has a higher yards per carry average than Jacobs. Ward averages 6.1 yards a lug, while Jacobs posts 5.2.
"He's a beast," free safety Brian Dawkins said referring to Jacobs. "He knows it. He knows he's a beast coming through. You have to bring your lunch with you. You have to bring everything that you have against him. He still might gain another three yards after contact."
That means if the Eagles are going to be successful in stopping the Giants' running game, they're going to have to put multiple hats on the ball carrier.
"The thing about him is that you have to swarm to the ball," Dawkins said. "One guy can't be in there trying to bring him down every time. We have to get to the ball and get to him to not let him get that steam going. He definitely is a beast to bring down."
Obviously that's something defensive coordinator Jim Johnson has been preaching to his defense this week. Johnson said that Jacobs' success has a lot to do with New York's offensive line.
"You got an offensive line that has been there together for four years," Johnson said. "Then you have three of the better running backs in the NFL, probably three guys that could play for anybody, start for a lot of teams. They know exactly what they want to do, that offensive line, as far as picking up stunts, run stunts, stuff like that; a very solid offensive line. And they have good running backs. They're committed to it."
Johnson went on to say that while the Giants have three backs that might be able to start for anybody, there's only one Jacobs.
"They're all good running backs, but I don't know you face a guy that big as Jacobs normally," Johnson said. "Here's a guy that can just roll over you. He's a special back, just because of his size. You don't face a running back that big in the NFL."
Defensive end Juqua Parker used the same words as Dawkins to describe how the Eagles have to attack the Giants' big runner.
"There are going to have to be a bunch of people on the tackle," Parker said. "It isn't just going to take one. It's going to take more than one. Everybody has to swarm to the ball."
That's the only way they'll be able to stop a back with Abiamiri's size. You know, a back like Jacobs.