To say that defensive end Trent Cole is hungry for a sack would be a profound understatement.
When the Eagles play the Steelers on Sunday, it will have been 282 days since Cole last recorded a sack. Not only does that obviously date back to last season, but it also exemplifies the Eagles' need to put more pressure on opposing QBs.
"It's going to come," Cole said. "I'm going to be patient, keep playing and, shoot, if I don't get any sacks for five games, as long as I know I went out there and did something to get that quarterback to run around and get him pressured and cause turnovers, I'm going to be alright, as long as our team is winning.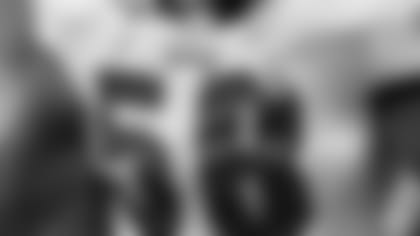 DE Trent Cole
"We know we need to get some sacks and the pressure needs to be on our D-line. We need the pressure right now, we need that motivation. That's part of our game – motivation and getting there."
The Eagles defensive line seems motivated enough. It's getting there that seems to be the issue. Against the Cowboys on Monday night, Cole almost got to quarterback Tony Romo a few times, but even though he's battling through constant double-teams, getting close isn't good enough for Cole.
"You have to fight through them," Cole said. "They're going to be there – you can't get around them. You have to get used to it. I'm making myself get used to the double-teams. I go against them like I'm pass rushing against one offensive lineman. I just do what I have to do – split them, be skinny and split the guys, go around them. Do anything I have to do to get to the quarterback.
"If I have to jump over them, I'm going to jump over them. If I have to go under them, I'm going to go under them. If I have to dig a six-foot hole and come up from under them or a little behind them, then I'm going to do it. I'm going to do whatever I can to get to that quarterback."
Cole isn't the only one feeling the pressure because of, well, the lack of pressure.
Defensive coordinator Jim Johnson said that while it's not time to panic, the defensive line needs to get to the quarterback.
"I don't think you make a full judgment after two games," Johnson said. "The first game, I thought we had good pressure; thought we did a good job. No question about it, the second game, not as good. We had some hurries, a little bit. (Romo) scrambled around and made some plays.
"We made some plays on the ball, but we all want more pressure, no question about it. You have to do a better job, but we'll see. We'll evaluate after two or three games coming up and we'll see. We're getting effort and we just didn't have great pressure Monday night, simple as that."
Johnson witnessed first-hand how Cole was a focal point for the Cowboys' offensive line.
"You're going to get that; you're going to get that chip," Johnson said. "We try to hug up with our 'backers in man coverage so the linebackers have to be blocked by the backs and stuff like that. That's part of it; that's part of the scheme. We're not going to move him around a lot, but he's going to get chipped and it's going to free up some other people. There are certain things we can do as far as our linebackers to take off the chip, as far as man coverage."
Even if Cole beats the double-team, he's found himself getting held on a consistent basis.
"I'm seeing a lot of holding, but you know, they are excuses in my book, so I don't even pay attention to them," Cole said. "I keep (saying to myself), 'Well, get up and go back at it again.' Dust off and go again."
Johnson said it's only a matter of time until Cole, and the rest of the Eagles' defensive line, erupts.
"Yeah, he gets a lot of holding calls, he really does, because he plays so hard," Johnson said. "He'll get his. He'll get his."