Starter jackets were must-have clothing items in the 1990s. They were iconic. They were fashionable. And they doubled as a shimmering pledge of allegiance to your favorite sports team, stitched in fine satin, accented with snap buttons.
Nothing felt cozier than the warm nostalgia of those old-school jackets. Dot Cromwell owned a Starter jacket – a beautiful Kelly Green one, etched with an Eagles logo – and the talented local musician wore it around the halls at Our Lady of Loreto in Southwest Philadelphia. He also threw it on for Sunday watch parties, where everyone was glued to the television set watching the Eagles play football.
"I was born into a huge Eagles family," Cromwell said, "and I remember every single Sunday going over to my grandparents' house, on my dad's side, and listening to everyone argue about the Eagles. It was usually about Randall Cunningham or Ricky Watters."
Those memories came flooding back when Chill Moody called Cromwell to ask if he wanted to participate in the Eagles Gameday Poster Playlist presented by Pepsi for Week 12. He wanted a high-energy track for the Eagles-Packers matchup: a "dope collaboration" between Cromwell and local singer-songwriter Lester London, with Chill Moody serving as executive producer.
"That's my guy. Whenever Chill Moody blows up my phone, I'm always picking up," Cromwell said. "Because I know he's going to tell me something good."
It was an easy sell. Vice versa, when Chill Moody first phoned London to gauge his interest in joining the project, he smiled and started thinking about his own childhood memories.
"My family was huge Eagles fans. It's a crazy feeling to be a part of this," London said. "I'm thankful and blessed. I think it's legendary, never been done before."
Chill Moody did have one question for him on that initial outreach: Do you mind if Dot Cromwell is on the track with you?
"Mind? I already knew Dot," London said. "We used to run into each other at listening events in Philly and New York. We were already supposed to link up on something."
That something turned out to be Tunnel Vision, a motivational anthem written by London, who channeled his early struggles in the business while penning it. Next, the positive thinker enthusiastically handed it off to his buddy to do the "Dot Cromwell thing."
"I got the track from Lester over the internet and cut it in Atlanta, then sent it back," Cromwell said. "I think I only cut it one time and Chill was like, 'This is it.'"
The track itself is pure poetry in motion. London starts it off with an infectious, catchy hook. He shouts "Real Goatie" into the mic, which plays on his reputation as "Lil Goat," a nickname given to him after he won the Curtis Mayfield Scholarship Award in 2021. Then, about one minute into the upbeat track, Cromwell delivers the dagger: "I've been a starter since pulling over the jacket, running routes with the homies, flying over the traffic."
The line gets stuck in your head like a chewy piece of gum. Turns out, Starter jackets are still being worn in 2022, just on football bangers instead of people's backs.
Hap: Boxing Up the Green Bay Packers
Hap is the poster artist for Week 12, which doubles as Eagles Hall of Fame induction weekend. The franchise will immortalize former defensive ends Trent Cole and Hugh Douglas at halftime. Watch the ceremony online.
"The Eagles are winning, so we're celebrating the players being honored that night, but we're also saluting the team's accomplishments," Hap said. "I enjoy telling stories through surroundings and settings. I feel like everything that we look at it doesn't need to have a focal point to be interesting."
In Hap's illustration, Brandon Graham stands victorious atop the ramp on a moving truck slinging an incapacitated (not dead) Packers player over his broad shoulders. He's "resting" in bubble wrap with no chance of escaping. Packing peanuts — green and white in color — are scattered all over the field, surrounded by busted moving boxes as Cole and Douglas clutch packing tape and stare approvingly at Graham.
It's a celebration. The Eagles are moving on. The Packers are all boxed up in defeat. The whole illustration has a sort of Where's Waldo vibe, an intentional move by the artist.
"I call it puzzle illustration," Hap said. "I try to keep people's eyes all over the place, like you never see the same thing twice. That's kind of my whole vibe."
Hap, a Lancaster, Pennsylvania native, was trapped halfway between Eagles and Steelers country growing up but quickly took a liking to the men in midnight green upon moving to Philly in 2020. Originally, they considered going to school for Chemical Engineering, but it wasn't calling them. Not like the one thing they started doing at age 5.
"I've been drawing ever since I could pick up a pencil — it wasn't good back then, if I'm being honest — but I loved it," Hap said. "I didn't want to pursue something for a career that I was going to hate. I'd rather do something I'm going to enjoy, something I'm passionate about."
When the Eagles first emailed Hap about joining the Pepsi project, they thought it was a joke.
"I thought it was spam," said Hap. "Like, is that a real thing? Someone told me, yeah, I should probably respond."
They did. And it's been an amazing experience.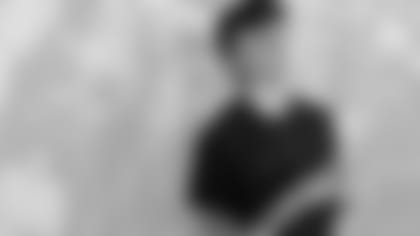 Lester London: 'It's crazy to be a part of this ... it's a dope feeling'
Dot Cromwell and Lester London have endured a lot of barking over the years while proudly donning the Philly underdog cape. Tunnel Vision is them biting back, leaving enough meat on the bone for others to eat and draw inspiration from.
"Tunnel Vision is having this unwavering level of confidence, whether you're a creative or an athlete, you have to have it to push the envelope," Cromwell said. "There are all these reasons and distractions that can push you away from the goal if you don't have it. You have to believe you can do the things you want to do."
London was an unrelenting fixture on the underground rap battle scene, solidifying himself as a boundary-breaking DJ, songwriter, producer, and lyricist before Jerry Wonda – the award-winning producer and first cousin to Wyclef Jean – caught wind of him in 2010. He spent seven years learning the business under Wonda until branching out on his own and breaking ground on a private recording studio in Pennsauken, New Jersey.
"I started making music at age 10," London said. "My mom was on my first hook, on a song called New Day. I made the decision that's what I wanted to do for the rest of my life."
In 2020, London established Bridgeport Productions. Relying on long-standing relationships (via Wonda) with industry stars like Busta Rhymes and Raekwon, the Germantown native is set to drop a new album called Ordinary Girls next year. It's been a whirlwind year, a never-ending cycle of positivity and pride.
"Keep the pride, the Philadelphia pride," London said. "As much negativity as you hear about this city, there's just as much positivity, you just gotta look in the right places. And that's for the music industry, too. There are good things happening."
Cromwell started his rap journey by dropping bars in his basement, then received a scholarship to the University of the Arts. In between, he would pop into rap battles and connect with like-minded creatives like London. He got his first big break in 2017 on a Wale collaboration, parlaying that into "pitched up" vocals on Maybelline and Hyundai ads. Everything changed in 2020 when Pharrell Williams hand-picked Cromwell for a SoundCloud partnership.
"Things started popping off from there," Cromwell said. "But, putting in the 10,000 work hours is only half the battle, you have to be laser-focused."
The deluxe edition of Vanity Fair – his popular mixtape – is due out on November 30, exclusively on SoundCloud. And, of course, the official release of Tunnel Vision.
"This project checks multiple boxes," Cromwell said. "Doing it at this level, doing what I love, and for the team I grew up cheering for, it really means a lot to me."
London, who attended Abraham Lincoln High (the old one), is planning to wear his custom Eagles jersey to the Packers game on November 27 at Lincoln Financial Field. He still can't believe his song – the one he originally wrote and produced to motivate himself – has been turned into a rallying cry for the hometown football team.
"Man, I still can't find the words for it," London said. "Being from Philly, and the Eagles are 9-1, it's crazy to be a part of this when they're winning. I'm just proud to be a part of the city, I feel like I'm engraved in the city. It's a dope feeling."