Bengals head coach Marvin Lewis has seen a lot of the Philadelphia Eagles in his career. He thinks he knows what to expect. And that's precisely why he might be a little nervous about Sunday's game in Cincinnati.
Before taking the job in Cincinnati in 2003, he spent a year as the Redskins' defensive coordinator. He's aware of what Andy Reid's offense can do, but, as a defensive mind, he respects most Jim Johnson's abilities to dial up pressure.
For Lewis' patched-up offense, struggling with injuries almost across the board, it could spell trouble.
But Lewis has been taking a lot of looks at the Eagles this season – not only because the two teams meet up, but because of their common opponents. In preparing for NFC East opponents like Dallas and New York, as well as AFC North foes like Pittsburgh, Lewis has been studying what the Eagles did well and what they failed to do.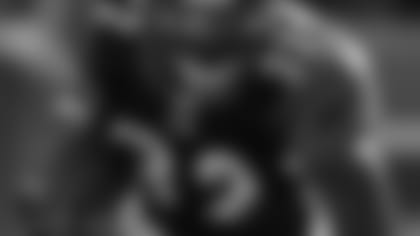 RB Cedric Benson has given the Bengals some semblance of a running game
So, in essence, he has been scouting them for the entire season.
"If we're playing common opponents, I always want to be conscious of them," Lewis said. "It's a well-put-together football team and one that's a good challenge for us, a great challenge for us, come Sunday here at home."
Nothing has come easy to the 1-8 Bengals, who might be challenged to simply wake up in the morning at this point. But it seems like some things may be finally starting to come together for them.
Ryan Fitzpatrick, who has been filling in for injured Pro Bowl quarterback Carson Palmer, had struggled without the benefit of a running game. That is, until recently. Chicago castoff Cedric Benson arrived midway through the season and immediately turned the tides on his troubled career so far, gaining over 100 yards in Week 9 against Jacksonville, Cincy's first win after losing eight straight to start the season.
With Benson seemingly asserting himself and with the Bengals coming off a much-needed bye, this could be an ideal time for them to pull a big upset and gather some momentum in advance of a division showdown at Pittsburgh on Thursday night.
"We didn't get off to a very good start running the football. We've missed a guy here, missed a guy there," Lewis said. "I think the combination of not making any (big plays) offensively, not being able to consistently run the football and provide for a better opportunity on third down has kind of been our Achilles heel."
The Bengals' defense has been a glaring weakness, especially against the run. But if the offense starts to get moving, it could be a big boost for Lewis' boys. Offensively, they rank 28th in the NFL in time of possession, meaning their defense has had ample time to get tired and worn down.
Fortunately for the Bengals, the Eagles have had difficulty establishing a consistent ground game all season. This game might come down to which struggling unit takes control.
And Lewis assures his men will be ready to play.
"I think these guys have all had to do a good job of kind of keeping their head down and staying the course," he said.