LaDontay Bell is focused on putting Exit 6 on the map
The Eagles' nominee for the Don Shula NFL Coach of the Year Award was honored at the Pro Bowl this week for his impact on the Chester community.
Exit 6 might just look like a typical exit when you pass it on 95, but there's more to the City of Chester. It's a city of pride, resilience, and opportunity. Once you get off Exit 6, you're officially in the City of Chester.
Drive about a mile and you're at Chester High School, a place making a name for itself. Before this year, Chester High was known for the basketball team with multiple championship titles, but head football coach LaDontay Bell wanted to change the narrative.
And that's exactly what he did.
Coach Bell brought energy to Chester, and he turned a 2-8 team into a championship squad in just a couple of years.
"The community is definitely behind us, and they know what we're doing with the program. Chester has always been a basketball school, but now it's football as well," said Bell, who completed his sixth year as head coach. "I'm very thankful but also humbled to be in this position."
Throughout his time as head coach, Bell paved the way for his team to make history, not once, but twice during the 2021 season. It all began when the Clippers brought home a United X League Championship in the spring and that momentum carried into the fall. Coach Bell and his team started their season undefeated with a 7-0 record, which led them to the playoffs for the first time in school history. With Chester's climb to the top, it was only right for Coach Bell to be named the Eagles' High School Coach of the Year.
In early October, Coach Bell was honored as the Eagles' Coach of the Week, presented by Hyundai. Then on a chilly Sunday afternoon at the last Eagles home game of the season, Coach Bell found out he was Coach of the Year and the Eagles' nominee for the Don Shula NFL High School Coach of the Year Award. All of the NFL High School Coach of the Year nominees were invited to Las Vegas for the Pro Bowl festivities.
"It was a total shock. To be acknowledged earlier in the year and then to be Coach of the Year I was shocked," said Coach Bell. "I was blown away. It was a beautiful evening. I really am thankful for the Eagles"
"I was shocked, excited because he's worked so hard," said Markeisha Dixon-Bell, Coach Bell's wife.
At Chester High, Coach Bell wears many hats as a physical education teacher, interim athletic director, and head football coach. While Coach Bell is known for the work he does on the field, sometimes the work he does off the field goes unnoticed. Safety has been a top priority for Coach Bell's Clippers after losing multiple students to gun violence. Chester High gave Coach Bell keys to a van so he could ensure his students returned home safely after practice.
"Coach Bell has gone above and beyond the call of duty," said the Mayor of Chester Thaddeus Kirkland. "It's more than just a van ride. It's more than just making sure our young people are safe."
"There's been some tragedy among our players, parents, and their peers of losing three young men in my time as the head coach. Losing student-athletes has been very tough for me," Coach Bell continued. "When we come out of the huddle, and we come out of the locker room, it's one thing that they always say, 'This is for the guys.' They're talking about their peers, the young men who have fallen to gun violence on the streets of Chester. It means so much more than a game. It's bigger than a game to us."
The three young men the Clippers have lost were Ny'Ques Davis, 13 years old; Edward "Lil Ricky" Harmon, 15 years old; and Zion Abdullah, 16 years old. The City of Chester is known for the violence that goes on in the area. While Philadelphia had its deadliest year on record with over 400 people losing their lives to gun violence, Chester saw a decrease in violence for 2021. For the people who live in the area, there's much more to the community that people don't often see.
"Chester in one word, I would say opportunity. When you think about Chester, there's so many things that someone can think of like, 'I wouldn't bring up a child there,' or want their student-athlete to reside in Chester to go to the schools and play in Chester, but there's so much opportunity," Coach Bell continued.
"We have young men and young ladies who go through such tough times, but they show their resiliency. They show their tenacity to say, 'You know what, I can stay focused even though I go through such hardship.' There's so much opportunity for our students and in the City of Chester, some of the things that are troubling our youth but for them to say, 'I got the game of football,' or, 'I have these other sports to play,' is such a great opportunity for them."
"Chester means pride to me. You can see the pride and when you grow up here the pride is instilled in you," said Markeisha Dixon-Bell, who is a Chester High School alumna. "It means a lot to come from Chester and I'm glad to be able to give back to my community through teaching and to watch all of these young students grow."
Coach Bell got to put Exit 6 on the map in Las Vegas at the Pro Bowl.
"To be able to go to the Pro Bowl is such an awesome opportunity," Coach Bell said. "It does help our program out. This allows for football to get some recognition and it is something that our young men really truly believe in."
"It means to the City of Chester great things for the future. Coach Bell is a young man. This is a great honor for him and this community. Having such a young man on staff at the high school and in the Chester-Upland School District bodes well for the entire school district. I'm extremely ecstatic and excited about this honor and him being able to go and represent our community in this fashion. The only problem I have is that he has not invited me to join him," Mayor Kirkland chuckled.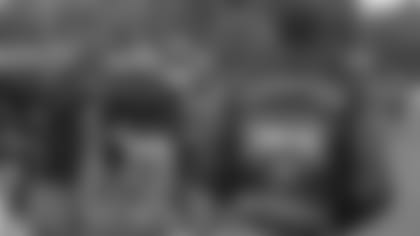 The community of Chester rallied around the Clippers' football team, packing the stands each week, but for Coach Bell, the game of football means more than the score.
"We created such great momentum and culture for the football program. It truly is a blessing to the community. We get so many texts, emails, and phone calls, saying how appreciative they are the fact that we've been able to turn the program around," Coach Bell continued. "I couldn't do it alone. With the booster program, with the coaching staff, even with the community members, we have so many people who push us to do more."
"Coach Bell is an individual that pulls the talent out of our young people," said Mayor Kirkland. "Coach Bell has been able to pull our young people together and fill that void in their lives. Pure teamwork and brotherhood."
The Chester Clippers pride themselves on being a family, it's a one-of-a-kind atmosphere when you walk into their locker room. As much as his players mean to him, Coach Bell means even more to his athletes.
"Coach Bell is the heartbeat of the team, without him our program would not have been able to do what we did," said Clippers senior Makel Martin. "He has guided and encouraged me in every way no matter what was going on around us."
"Coach Bell is everything and more. He's the glue to our masterpiece," said fellow senior Isaiah Freeman.
While winning is a nice perk in football, Coach Bell has made his players focus on their academics. He stresses the "student" in student-athlete.
"Some young men just love the game of football and if they could just play that they would, but there's a school component to it. Football is really driving young men to come to school and stay in their books," Coach Bell said. "What we do is we encourage them. I'll tell them, 'You want to play this game that you love, first get your academics together and then let's play the game of football.'"
"Coach Bell has never let me fail to reach my potential and that goes for all of us," said Freeman. "He knows your potential and he won't let you do anything less than what you can do, whether it's in the classroom or on the field."
"Coach Bell instills in our young people the importance of being in class and not just being in class but asking excellent and necessary questions. Participating in those classes, and excelling in those classes," said Mayor Kirkland. "These young people, their eyes are open. Their minds are always churning, and they're focused on the right things with academics."
The 2021 Chester Clippers set a new standard for the football program, thanks in large part to Coach Bell. Proud of what they accomplished this season, the hope to build on it throughout the next couple of years.
"The goal is to make playoffs, states, but we want to make sure that the overall program is really thriving," Coach Bell explained. "That's academically as well as on the field."