Quarterback Nick Foles performed admirably in relief of Michael Vick on Sunday in helping lead the Eagles to victory. He directed the offense confidently and smoothly and made a number of tremendous throws, particularly on the final two touchdowns. Kelly made it clear on Monday that the offense did not change when Foles came in for Vick, and, regardless of who starts at quarterback for the Eagles, that will continue to be the case since both can operate his vision effectively.
"We do the same things offensively with Nick that we did with Mike," Kelly said. "We didn't have to deviate much from anything in terms of what we're doing, and I think that's the beauty of those guys. … We've had enough time with both those guys – we've all been here since April – that we have an understanding (of what they can do). Obviously there are some things that Nick does a little bit different than Mike does, but it's not like we have to say, 'Hey, we're going to be an I-formation team on Sunday if Nick's in the game.'"
While the core philosophy on offense might not have changed, the playcalling against the Giants did shift in favor of the pass with Foles. Before Eagles got the ball back with 2:33 minutes left in the game and went into run-out-the-clock mode, Kelly had called 20 passing plays to just nine runs in the second half. While the run game had stagnated, Kelly insisted that skewing the playcalling to the pass had more to do with how the Giants were playing coverage. He felt the Eagles could take advantage through the air, and he was right. As Kelly has said since he arrived in Philadelphia, he is an equal opportunity scorer, and on Sunday those opportunities presented themselves via the passing attack.
"I don't know if it slipped," Kelly said of the run game. "I don't think I called as many run plays. … We were trying to take advantage of some of the things they were trying to do to us coverage-wise and get some guys uncovered. From a playcall standpoint, there were a lot more passes called in the third quarter than there were previously to that."
Kelly had no reservations about inserting Foles into the game because he observes his weekly routine and knows the second-year pro is ready to play.
"Nick has prepared himself like he's going to be the starter every single week," Kelly said. "And when his opportunity came I think he took advantage of it."
That said, he still feels there is a lot of improvement to be achieved by both Foles and the offense overall.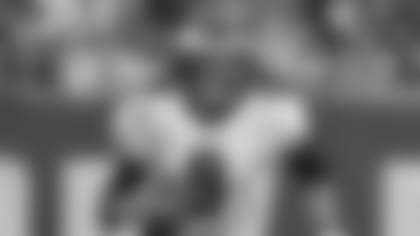 "I still think we're inconsistent," Kelly said. "I think Nick was inconsistent at times when he could've delivered the ball and we should've made some more plays. I think every game so far, even though we've been productive, we've still left a lot of yardage on the field. I think Nick and Mike, both those guys understand what we really mean about not turning the ball over. That's two straight games without turnovers. … We have to clean up the penalties again, we had three false starts … and we have to pick up the drops."
Kelly was also sure to update the status of Michael Vick and emphasized that no decision has been made about who will start at quarterback this Sunday against the Tampa Bay Buccaneers.
"Mike's day-to-day," Kelly said. "He had an MRI, (the trainers) said he had a pulled hamstring, and we'll see where he is coming back from that.
"We have not made any decision on who our starting quarterback is next week."
A final note about the offense is that Jeff Maehl could soon become a potential pass-catching option at receiver. Though he was not targeted against the Giants, he saw a sharp rise in his playing time and was on the field for a quarter of the Eagles' snaps. He has progressed rapidly, impressed the coaches in practice and moved up the depth chart, to the point that Kelly feels he must be integrated into the regular offense.
"Jeff's starting to get a real good feel for what we're doing offensively," Kelly said. "He keeps showing us things in practice every day that we need to get him on the field a little bit more. … I'm excited to see where Jeff continues in his development. … He's really, technically, our fourth receiver. He's playing in the slot. He's playing on the outside right. He's playing on the outside left."
Kelly also liked what he saw from the defense against the Giants and feels both individual players and the unit as a whole are progressing. He was especially pleased with the pass rush and the pressure it generated. While the stat sheet only shows one sack, Eli Manning was forced into three intentional grounding penalties and his first interception was the result of a deflected pass by the front four.
"We were getting pressure," Kelly said of the pass rush. "Sometimes it doesn't go in the stats, but you get three intentional groundings – to me, to be honest with you, an intentional grounding is like a sack because not only do you gain the yardage but it's also a loss of down.
"I thought what happened in the fourth quarter is we got pressure on Eli and we had guys in his face. Then all of a sudden we got the ball coming out and got three fourth-quarter interceptions. It was a byproduct of not only the coverage but the pressure, too."
Kelly highlighted a group of young players who he says are coming on and playing strong up front. Leading the way is Cedric Thornton, whose unique blend of body type and athleticism lends to crucial positional versatility. He moves all over the line, has seen substantial playing time at nose tackle and ranks as the team's most productive defensive lineman.
"He's gotten a little bit bigger since we got here in April," Kelly said of Thornton. "He's almost 315 (pounds) now, he's starting to gain some weight. And I think that versatility helps. … (Thornton) adds that element of athleticism in there, too, where he's not just a run-stopper, first- and second-down player. … He can turn that run-read into a pass rush. He was our most productive (defensive) lineman, I thought him and (Fletcher Cox) played really well up there, but I think that versatility with his ability to play end and play nose, not a lot of guys who can do that. But I think because of his strength he can do that. … We're really pleased with our young defensive linemen, I think Bennie (Logan) really is coming along. Vinny(Curry) is starting to play a little bit more and starting to grasp things."
On the back end, Kelly singled out Nate Allen and Brandon Boykin as players who have emerged and made an impact.
"I think Nate's improved," Kelly said. "He's getting a grasp of what we're doing, getting a better understanding of everything that our defensive package entails. I think he's starting to see things, things are starting to slow down a little bit for Nate, and he's starting to get an idea of what the route recognition is, what's coming at him and things like that. He's a guy that I've seen over the last couple of weeks really make some strides from an improvement standpoint."
As well as Boykin has played, Kelly does not want to remove him from his slot cornerback spot.
"I think (Boykin) is doing a really good job at nickel," Kelly said. "And we're in nickel enough where I look at Brandon as a starter."
Finally, Kelly updated the status of Patrick Chung, who has missed the last two games with a shoulder injury.
"I think he's improved," Kelly said. "I think the strength is back, from what (head athletic trainer) Chris (Peduzzi) told us. It's a matter of how he functions and carries himself around the field. He and Mike are the two guys, from an injury standpoint, that we have to keep an eye on."