After a couple of quiet and somewhat confusing weeks, Lane Johnson made it to the first day of Eagles Training Camp after all. The fourth overall pick in April's NFL draft signed his contract Monday morning and will not miss any of the action taking place at the NovaCare Complex.
"I wanted to get it done, and I told my agent that I wanted to close things before camp," Johnson said after signing his deal. "We got it done today so everything's taken care of and it took a load off of my shoulders."
Though Johnson signed his contract only this morning, reporting to camp on time was a top priority for the fourth overall pick since there is so much work to be done.
"I told my agent that I wanted to be here for camp, I wanted to be out here with the guys, so there were no worries for me," said Johnson. "I think it's very important (to be here from day one), especially as a rookie you don't want to miss any time to learn from others players. Being out here with the guys at the start of things is beneficiary to me."
Johnson also stressed the importance of this Training Camp for all of the players, not just the rookies.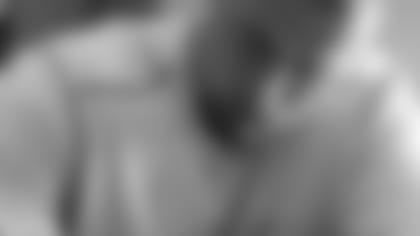 "I think (Training Camp) is everything," he said. "We want to get off on the right foot. I know all the players, all of the linemen, they're a pretty tight-knit group, so moving forward we're going to try to learn the playbook as much as we can and know the offense. Going into preseason games, we're trying to put all of the pieces together."
While his agent took care of the contract negotiations, Johnson was hard at work preparing for his rookie season. He traveled to Arizona to work out with new teammate and fellow offensive lineman Evan Mathis. The two worked out at Zone Athletic Performance, a training facility opened by Mathis in 2010.
"I spent two weeks (training with Mathis in Arizona)," Johnson said. "We worked out at The Zone Athletic Performance. It's a really good place because it's kind of  low key, and not too many people come. It was good, working out with Evan; Evan's a real strong dude. He pushed me and it went well…It was kind of similar to what we did (in the spring). We do our weights and we do our conditioning, but Evan also has a trainer."
Johnson understands the pressure that comes along with being the fourth overall pick, but he is very confident in his own ability.
"All I can focus on is what I'm doing right now," Johnson said. "I can't control everybody's expectations; I mean I have pretty high expectations of my own. If I go out there and play hard, everything will take care of itself.
"That's what I got drafted for, to play some football. I want to go out there and compete. I expect to compete at a high level from day one. Going into the season, I want to start and I want to be competing every day."
Many questions were asked about how Johnson would be affected by the up-tempo nature of head coach Chip Kelly's practices. Johnson says his time at Oklahoma was a perfect tune-up for Kelly's system.
"I've gotten so accustomed to (playing fast) in college," Johnson said. "It's the only way I know how to play now, so it feels normal. You want quick players for a quick offense, so you've got to think fast and be on your toes. I think when you get that, then you have a good offense."
The 6-foot-6, 308 pound offensive lineman admits that he is anxious to find out what the NFL has in store for him, but he knows that he will get more comfortable as the season progresses.
"A lot of the anxiousness comes from the unknown," Johnson explained. "This is my first year being in the league, and (there are) a lot of unknowns right now, but the (further) you go into the season, the more you learn.
"It feels good. I'm just ready for all of the guys to get here, and get used to the camp atmosphere, and get some practice under our belt. I think everyone will get more adjusted and more comfortable with it."