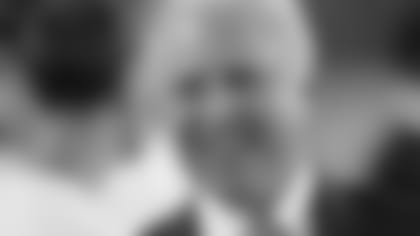 Eagles chairman and CEO Jeffrey Lurie addressed the media for over 40 minutes on Tuesday at the NFL's Annual Meeting. After a busy start to the offseason for the Eagles that included a restructuring of the front office, a pair of blockbuster trades, the introduction of a new quarterback and the signing of several big-ticket free agents, Lurie addressed everything that has happened within the organization since he last spoke following the team's final game of the regular season.
On why he chose to give head coach Chip Kelly final say over personnel after initially saying that Howie Roseman would remain the team's general manager:
"I changed my mind. What we do at the end of every season, which is why it's probably not the greatest idea to talk about things in the locker room as the away team in the final game, we sit down and have really serious conversations with all of the senior people. I know that we were one of three teams to have double-digit wins twice in a row, but that's not what we're about and I think you all know that.
"That's not what our goal is. We really sat down and looked at ourselves and we were as self-analytical as you can possibly be. After thinking about it, I thought that the best way to align ourselves was to try to do this relatively rational, seamless way with Chip of taking scouting and integrating it into every aspect of the operation in terms of making it seamless with on-field performance and sports science and all of that.
"There was a vision that I wanted to support, and it would have been easy to say, 'Well, we had it going well and we already said we were going to stick to the status quo that way,' but I don't think that's the best way to operate. You learn after the season exactly how you might become better and it was worth taking that alternative structure and acting on it."
On whether there is a risk in giving Kelly "full control" over personnel:
"I think there is a risk no matter how you structure it. The only model to me that correlates to having success in the NFL is having a Hall of Fame franchise quarterback. You can put any system around that player and you can rationalize that structure. No matter what other structure you pick in the NFL, whether it's the structure the (New England Patriots) have and Seattle has – that's fine. You can have a system like Green Bay has or Baltimore has, that's fine. There's no perfect structure. I think you always have to find a way to maximize the people you have. Don't think that structure is the answer. It's people and trying to maximize and manage the people that you have and finding the best head coach you can and the best evaluators that you can. Don't put your feather on structure because the best structure is a franchise quarterback who is going to play for 10 or 15 years for your franchise.
"In attracting Chip, I wanted him to be able to come to the NFL and get the best out of him. That's what an owner, I think, needs to try to do. You don't want to say, 'Here's the NFL, adapt to it.' You want to bring in somebody who's innovative, sharp, hard-working, selfless about trying to become a really good team and support that."
On why he decided to give Kelly final say after Andy Reid and Ray Rhodes did not win Super Bowls with similar structures:
"I tried to make the best choice I could in a head coach. I thought Chip was the most exciting candidate out there (during the hiring process after the 2012 season). I think that he brought something that was refreshing, innovative but also really well-grounded and smart. He's so much about all-football, all the time. As a fan, we've got someone working in our best interests at all times and somebody who really thinks, not just outside of the box, but he thinks it through. He studies. These are not flippant decisions of a head coach. These are very studied decisions. He watched Sam Bradford hundreds of times, talked to every coach he ever had. This is well-researched. It wouldn't satisfy me if it wasn't."
*On why the organization believes that Sam Bradford can be a franchise quarterback: *
"When he was scouted out of college, and this goes back to Andy (Reid) and the group, we thought he was best young quarterback we had seen in a long, long time, probably since Peyton Manning coming out of college. He was Rookie of the Year his first year, outstanding. (Offensive coordinator) Pat Shurmur had him as an offensive coordinator (in 2010 in St. Louis), reconfirmed everything we had heard about him in the draft process – extraordinary competitor, incredibly accurate and needs to stay healthy."
On whether the front office restructuring was a result of the team's 2014 draft:**
"No, it's much more in the training of the scouting staff by the coaches in terms of what exactly is needed. It's so defined in Chip's system. I've never seen anything like it. It's incredibly detailed, both psychologically, athletically, in so many categories. There are notebooks you could read. It's incredibly defined and I think in order to maximize Chip, I think this was the best way to go."
On bringing in players who fit Kelly's system:
"For two years Chip has been talking about getting players that fit more what he's all about in terms of their style of play. LeSean McCoy is a great running back. He's the all-time franchise leader and a great guy in every way. To maximize (Kelly's) power spread offense, he always admired the one-cut runners. You have to let a coach try to bring in the players that he thinks fit best and what he's all about to maximize what he's trying to accomplish. It really boils down to that. You have a decision as an owner – do you want to fight that or do you want to adopt it? I went all out to try to get Chip as the coach and I'm really happy that we did. I think he has a great potential future and I'm happy to provide him resources to try to maximize what he's all about."
On whether the current roster better fits Kelly's ideal than the previous two seasons:
"I think what we're evolving into is a roster that fits much better what he wants to accomplish schematically and play-style and all of that. He's talked about this for two years. This is not new news for us internally. He's been very definite about how he wants to evolve. He was patient and wanted to play it out, I think, in terms of these outstanding young athletes we had. This has allowed Chip to take a step back and take a look at where the program is at. As an owner you have to be accepting of that and you have to respect that and I completely respect it."
On the boldness of some of the team's offseason moves:
"When you're trying to go from good to great, you have to take some gambles. You have to take chances. Yes, there's a chance bringing in a running back [DeMarco Murray] who doesn't know what we're all about, who has a sterling reputation as a player as a teammate, all that – (Ryan) Mathews as well -- will not be as productive as LeSean. But you have to make that judgment. You have to take chances in order to be great. I don't know any other way about it. We're not interested in being predictable in terms of what we do in player personnel. We have to be not risk averse, and sometimes trades are the best way to accomplish that. It's not easy to trade the young quarterback that you're developing who had a terrific year the year before and got hurt this year. But you have to go on your evaluations and there was an opportunity to do an upside gamble with an outstanding young quarterback who you hope can become healthier throughout his career. It is so hard to get a franchise quarterback, as you know. It sets the ceiling on what you have as a team and do you want to take upside gambles or not? You have to make that decision."
On parting ways with several long-time Eagles this offseason:
"You know, the NFL is a people business and we went through some changes in terms of free agency and trades and, I have to tell you, as an owner who's been in it for a while, you discover you're a fan first and also an owner.
"It's very difficult to trade players who you're very, very fond of. It's almost easier for someone in the organization who is newer to be able to bolder than you would be. I think I recognized that weakness in myself. I think it's always better to allow those who are really studying it and who are less, at times, emotionally connected.
"You grow up with the players you bring in through the draft. I can't tell you how difficult it is to trade a LeSean McCoy or a wonderful young man like Nick Foles. I talked to Trent Cole the other day for a long, long time. Todd Herremans played injured and is one of the toughest guys we ever had. Jason Avant last year. The two things that are hardest when it comes to owning a team are when you get really attached to the players because of what they've done for you and the city and you get to know their family environments, you get to know what their challenges are from youth through becoming a professional. And the second is losses. Well, they're both losses, but you always struggle with the fact that you spend so much more time going over the loss of a game than you do going over a win and that's a hard thing to manage."
On Kelly's management of the salary cap:
"The whole organization manages the cap. This is not all on Chip. We're very philosophically committed to being very sound in the future with that. We want to re-sign our best young players. Chip will decide which of those best young players are the best to put resources in, but that's exactly what the plan would be. I think in terms of building, the draft is the way to go. We all are committed to that. There are moments in free agency where you have either market opportunities … but we're not a team that wants to build around paying top dollar per player in the free-agent market. That's not the way you're going to win. You fill holes through it. Philosophically, we're all on the same page and that's never changed."
On whether he agrees with Kelly that mortgaging the future for one player is bad business:
"Well, I think it's a great question. I think it's great to mortgage the future for Peyton Manning and it's not very good to mortgage it for Ryan Leaf. It's great to mortgage it for Donovan McNabb, but not for Tim Couch. Again, it's about people. It's not a system. If the Redskins had traded for Andrew [Luck], we all would have been saying how it was a great trade, so you tell me."