Head coach Andy Reid will be the first to tell you that last Thursday night's win over the Cardinals was the most-complete win of the season. He said that it was the first where all three phases made significant contributions to a victory.
Should you have been surprised?
Quite honestly, not at all.
"Every week is a must-win situation and it's been that way for the last couple of weeks," quarterback Donovan McNabb said. "And even going into the Cincinnati game it was a must-win, Baltimore game was a must-win and this was no different. But you look at the race and it's very tight right now and we have to go into each game knowing that we have to create turnovers, we have to eliminate turnovers on offense, special teams has to pick up big yards for us and obviously pin them down inside the 20 and just give ourselves opportunity to win the game and score points."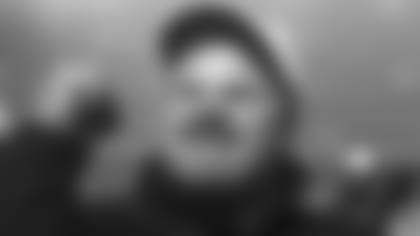 Reid's Eagles won five of six to end the 2001 season as NFC East champs
The Cardinals entered the game in search of a win to wrap up their first division title since 1975. Arizona boasted the league's second-best passing offense and a better-than-average defense. But the fact that Arizona doesn't play well in the East (0-4 this season) or the Eagles' success against the NFC West (a clear sweep this year) isn't the reason.
Since 2000, Reid's teams have typically played their best football at the end of the year. That is what you want, after all. You want your team to peak entering the postseason. In 2000, the Eagles won six of their last seven games. In 2001, it was five wins in their final six games. 2002 was a repeat of 2000. In 2003, the Eagles won a staggering 10 of their final 11 games. There were six straight wins in 2004 before the Eagles rested their starters for the final two games.
The only anomaly is 2005 when the Eagles lost four of their last five and didn't make the playoffs for the first time since 1999. But in 2006, the Eagles bounced back to reclaim the NFC East title after winning their final five games. In 2007, the Eagles notched wins in their last three games, but they were already out of postseason contention.
This year, it will take a 2006-esque rally to get back into the playoffs. With a 6-5-1 record, the Eagles can at the very best be in ninth place at the end of the weekend. And the schedule doesn't offer any gimmies with three NFC East games and a Monday night showdown with Cleveland - the only team to knock off the New York Giants.
"You take them one at a time. It was important that we took care of business (Thursday)," Reid said. "We have the Giants in a week-and-a-half, so we have to be ready for them. We'll focus on them, and we'll go from there."
Then again, in 2006 it didn't look like a successful finish was possible either. In the middle of the final five games was a three-game road trip against all of the NFC East teams. Somehow, some way, the Eagles got it done. One of the reasons why they were successful was that they came together as a team. And with the effort put forth on Thursday night, it appears the same could almost be said for this year's team.
"We're all on the same page, I believe, now," free safety Brian Dawkins said. "I believe that all of the scrutiny and all these accusations, or whatever you want to call them, has brought us together, and we're going to see what we can do the rest of the way."
Another example of the Eagles coming together on Tuesday night was the synergy in how the offense took care of the football and the defense created turnovers. Against Arizona, the Eagles turned the ball over once on a fumble, but they forced four turnovers - three of them interceptions on passes thrown by Kurt Warner, a chic pick for league MVP to this point. In 2006, during the five-game win streak, the Eagles had a 7 turnover ratio. McNabb knows that the fire that was sparked on Thursday must continue to burn, or any shot the Eagles have at the postseason will go up in smoke.
"It puts us in a position where if we win next week and then we win the following week, we get more wins than losses," McNabb said. "You know I think that this is a mental game for us, so obviously (to) bounce back from our two losses, or I should say, our loss against Baltimore and then our tie against Cincinnati. It's just kind of get back into a whole winning attitude. I think that was something that was missing and being able to execute in all phases, of just going out and creating positive plays, that's something we have to do going up against a Giants team that kind of drives off of turnovers and mental errors. If we go into that game being able to execute, good things can happen for us."
And with history setting a precedent, there is every reason to believe that the Eagles can produce ""good things"" over the final four games of the season.