Running back Ryan Mathews was selected by the San Diego Chargers in the first round of the 2010 NFL Draft out of Fresno State. While in San Diego, Mathews earned Pro Bowl honors in 2011 after a career high in carries (285) and rushing yards (1,255). Prior to being picked up by the Eagles in the 2015 offseason, Mathews had a standout season in 2013 and was named the Chargers' Offensive Player of the Year. Learn more about Mathews in this amazing feature on he and his mother, Tricia.
First Job: Sweeping floors at a motorcycle shop so he could get a discount in the store
Fun Fact: Has played with Seyi Ajirotutu throughout his football career (Fresno State, Chargers, Eagles)
Best Players He's Ever Faced: Brian Dawkins, Ray Lewis and Ed Reed
Three Items Desired On A Deserted Island: His pitbull Goose, a lighter and a machete
Favorite TV Shows: The Walking Dead and *Game of Thrones *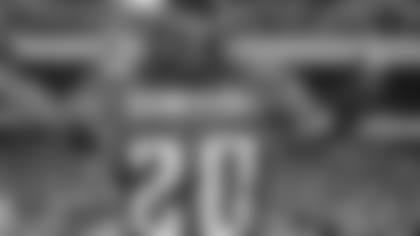 With the help of his friends, Seyi Ajirotutu, Bobby Lepori and Navy officers Drei Carnes and Kareem Smith, Mathews had a hand in creating BodyFly Fitness. BodyFly is an exercise tool that can be transported to any workout location. Mathews spends a lot of time in the gym due to BodyFly, but also works out in the offseason with Drew Brees, Darren Sproles and Ajirotutu. !
READ: Get To Know: CB
READ: Get To Know: LB
READ: Get To Know: DB